According to our 'final call' for the second round of the French presidential election, incumbent Emmanuel Macron is set to see off far-right challenger Marine Le Pen
This Sunday, French voters will once again go to the polls in the second round of France's 2022 presidential election.
On 10 April, both Emmanuel Macron and Marine Le Pen advanced through a crowded and fractious field into this weekend's show down. In a rematch of the 2017 second round, Macron and Le Pen will face off at the ballot box for control of France's highest office once again.
Ahead of the vote, the final YouGov/DataPraxis poll gives Macron a 12-point lead over Le Pen, by 56% to 44%. Such a result would represent a 10 point drop on Macron's share of the vote from 2017, but nonetheless give him a clear victory over his opponent.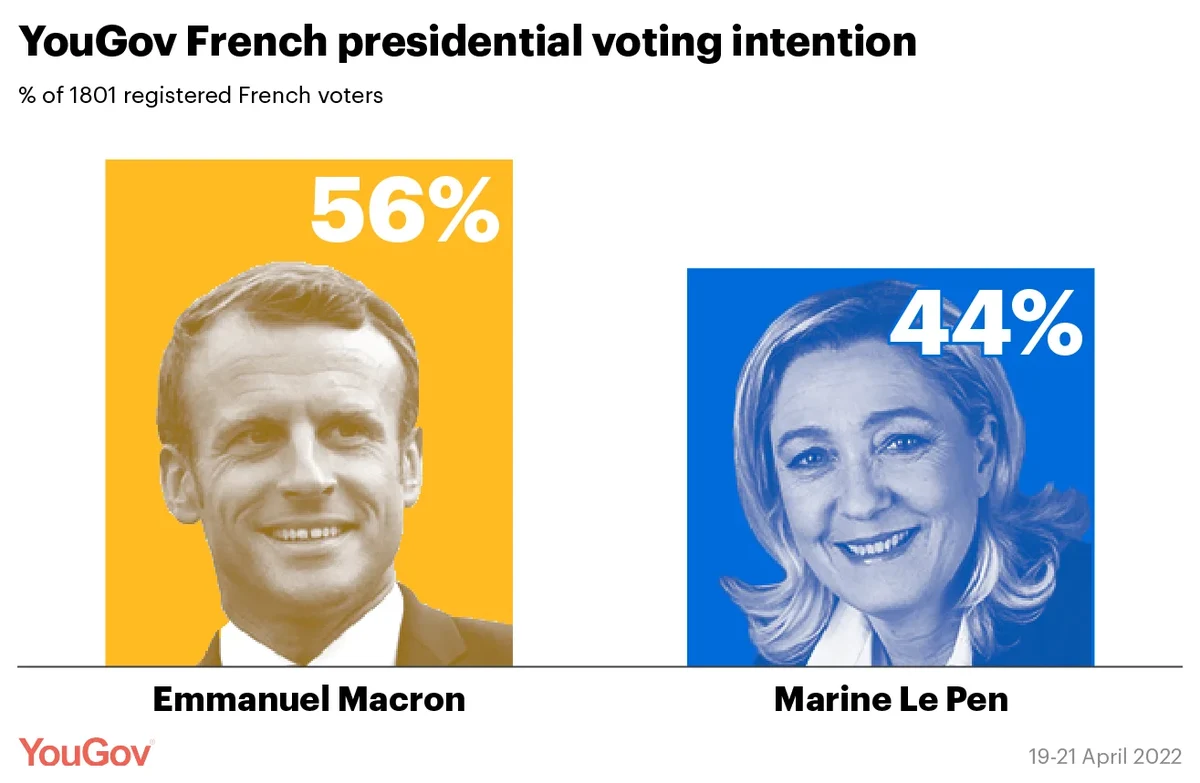 One of the key deciding factors in the second round of this election will be how the 22% of voters who supported far-left Jean-Luc Mélenchon would break. With Le Pen focussing her 2022 campaign on economic issues including the cost of living and retirement ages, and Macron unable to enthuse voters on the left, there was a sense that Le Pen could seriously harm Macron's prospect of re-election by targeting far-left voters.
Our final figures suggest this has not happened. While around one in five (18%) first round Mélenchon voters now intend to vote for Le Pen, around two in five (38%) intend to vote for Macron.
Le Pen has not been able to fully capitalise on frustration with Macron among Mélenchon's base, with around one in four (24%) still intending to 'vote blanc', and a further 9% not intending to vote at all.
Voters of other parties in the first round have largely followed the endorsement instructions from their defeated candidates. Of those giving us a vote intention, 90% of voters who backed the Green candidate Yannick Jadot now intend to vote Macron, along with 69% of those who voted for the Republican candidate Valérie Pécresse. Meanwhile, 95% who voted for the far-right Zemmour in the first round now intend to vote for Le Pen.