As the Rio Olympics approaches, new YouGov research indicates that seven in ten believe athletics has a problem with performance enhancing drugs.
YouGov asked respondents about a series of Olympic events, and how likely they believed the disciplines were to have a drugs problem.
Athletics is regarded as the dirtiest sport. Seven in ten (69%) believe the sport has an issue – 44% believe it to be widespread, 25% say it has a problem but is not widespread. Only 4% say it doesn't have a problem.
Another sport that has been synonymous with doping in the past is cycling. Over half (54%) believe that the sport is beset with drugs issues. Slightly over a tenth (11%) believe the sport has cleaned up its act in the post-Lance Armstrong era, and no longer think the sport has an issue.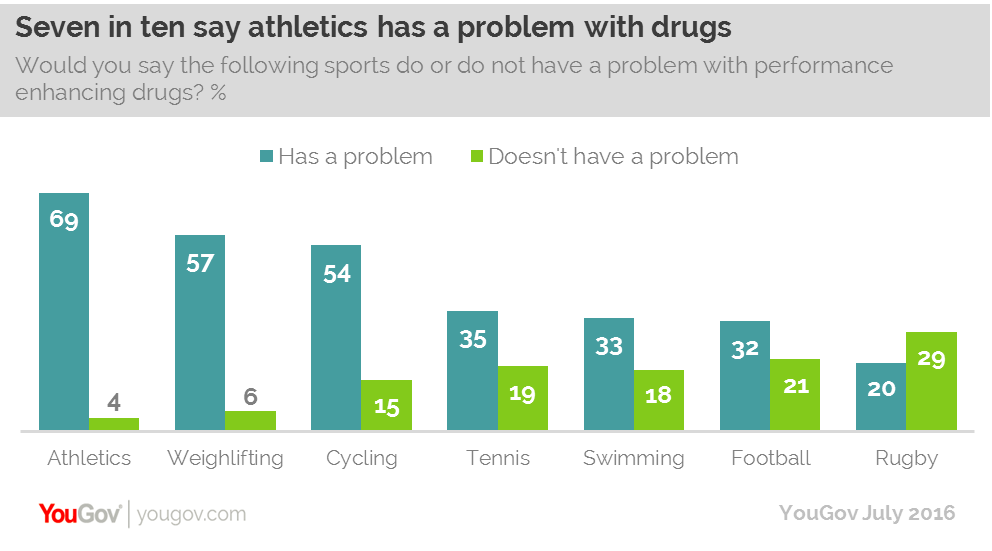 There is a similarly depressing theme among other sports. Almost six in ten (57%) say weightlifting has a doping problem, while 35% say the same for tennis and 33% believe swimming is dirty too.
Notably, the number of people that believe tennis has an issue with drugs has increased by 19% since November last year. The game was rocked by the drugs scandal involving former Wimbledon champion Maria Sharapova. 
The recent furore around Russia's involvement in the Rio Olympics has cast a shadow over the event, and depressed those that had hoped for a zero-tolerance approach towards performance enhancing substances.
Which country has the biggest problem?
Over three quarters (76%) believe Russia's has a problem with its athletes using drugs – 69% say it is widespread.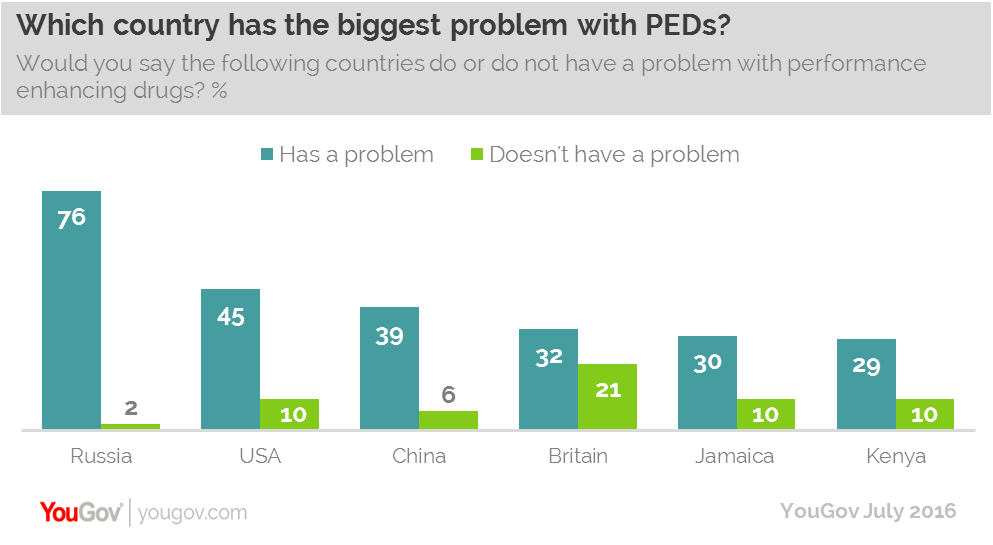 America is always one of the favourites to top the medal table, however 45% say that it faces a doping problem.
Jamaica has of course dominated several sprint events in recent years, and boasts the fastest man ever on its team. Nonetheless, 30% say Jamaica faces the same issue.
The public does not absolve Britain of blame however. British athletes provided so many memorable moments four years ago, and will be aiming to gain a similar haul of medals this time. However, 32% say the British team has an issue with PEDs.
Despite claims that doping in Russia was state-sponsored, a plurality (39%) believe that the decision to dope is the responsibility of the athlete first and foremost. A third (32%) believe coaches and the team are behind the choice, while 9% say it is the country the athlete represents. 
Will there be drug cheats at this year's Olympics?
With scepticism as this level, it does pose a question about how much of the sport on offer this summer that viewers will truly believe.
There is a general acceptance that athletes that have used PEDs will be at the Olympics. 16% say there will be more doped athletes at this event than in past years. 36% believe there will be around the same amount. However, a quarter (24%) optimistically think there will be less.  
What this suggests is that viewers will be resigned to the fact that some dopers are one step ahead of the testers at this moment in time. Regardless of this, athletes, coaches and sports federations should be increasingly wary – fans will disappear if there are too many high-profile blows to the Olympics' major events.  
Image PA