This month's Brand Spotlight looks at how the public has viewed the Royal British Legion over both the 2012 and 2013 Poppy Appeals.
Looking at the charity's Buzz score between October 2012 and the end of November 2013 a couple of things are clear. The first is that, while the charity's score – which measures whether people have heard good or bad things about the organisations in the media in the previous two weeks – is always positive, it has substantial peaks in late October/early November in both years.
The second is that the 2012 peak is noticeably higher than the 2013 one. We use a three-week rolling average on this data meaning the full impact of an event can sometimes show up in the data a little while afterwards. The figures show that in 2012, the peak Buzz score was +27.1 on November 23rd, while in 2013 the crest came on 26th November, when it hit +20.5 on 26th November. This is a full seven points lower than the previous year.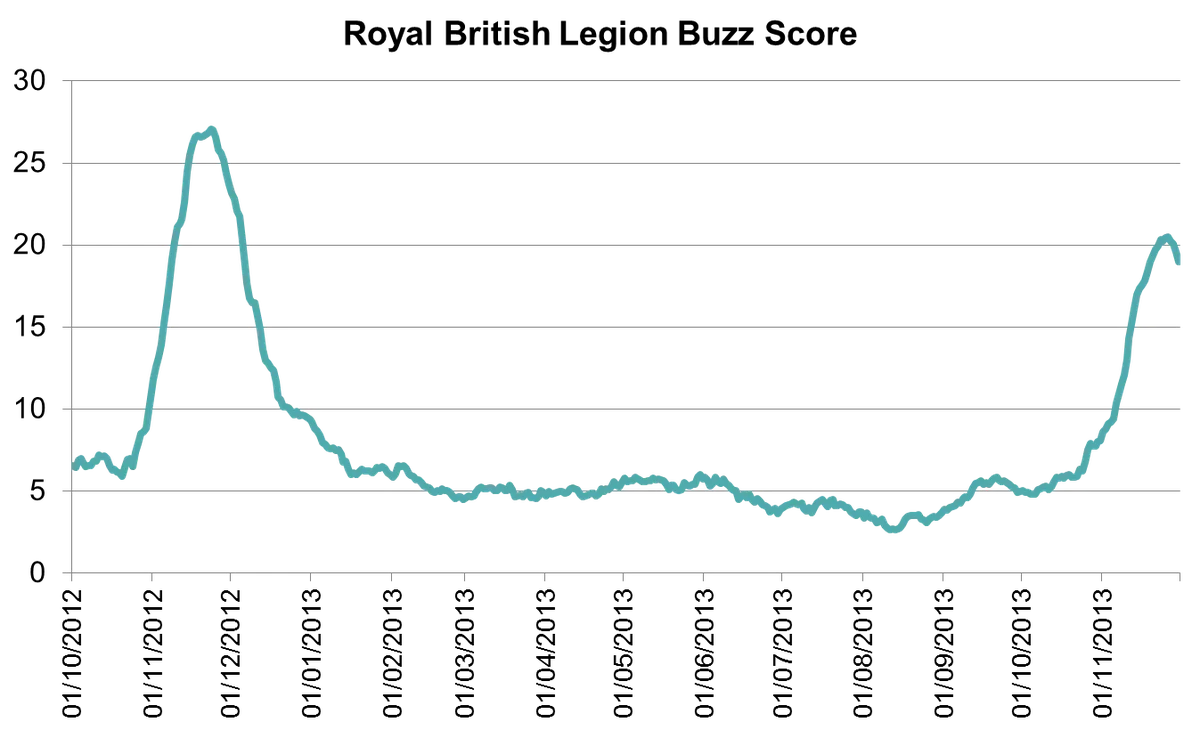 The Royal British Legion stages its major fundraising drive and awareness campaign around Remembrance Day. Given the charity and the day were both established after the First World War to bring a focus on the sacrifices of military personnel, the ties between the two are inevitable and strong. Given many people refer to it as "Poppy Day" it is clear that the charity has done a great job in cementing its major campaign in the minds of the public.
The charity does face challenges in the future, though. It may not be particularly surprising that the younger generation do not engage with it as readily as older people – especially given the ever-increasing length of time between the present day and the conflicts that inspired the Remembrance Day's creation. With this in mind, next year's 100th anniversary of the start of the First World War provides a fitting platform to remind and educate the public in general and younger people especially about both the sacrifices made by others in past conflicts and the work that the Royal British Legion still does in supporting soldiers and veterans.
This is an abridged version of a longer piece written exclusively for Third Sector. The full article can be read on the Third Sector website.
More information about YouGov's CharityIndex can be found here.
Image courtesy of Getty