YouGov CEO, Stephan Shakespeare, analyses how Tesco is already bouncing back from the burger debacle
Supermarket giant Tesco has faced a brand crisis with the revelation that it sold beef burgers contaminated by horse meat in its stores. In such situations, daily tracking of the public's perceptions of the under-pressure brand really comes into its own. So – how quickly did the news spread and what was the impact on the UK grocer's reputation?
Let's first use SoMA – which is YouGov's social media analytics tool that looks at the impact through various social media – to measure the reaction on Twitter.
Though the story broke on a Tuesday evening, 51% of UK Twitter users were exposed to tweets about Tesco that night, up from 7% the previous day. This rose further to 65% on Wednesday and remained at around 40% through Friday before chatter died down somewhat.
SoMA Chart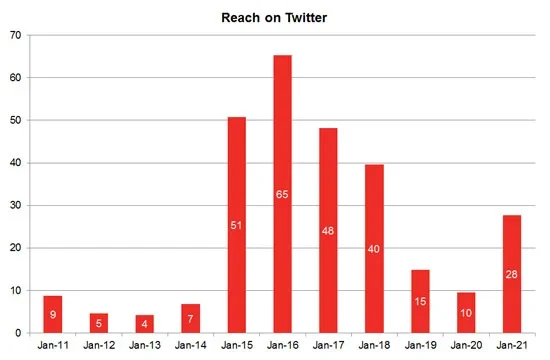 The immediate impact the story made on social media was reflected in the BrandIndex Buzz score. Having been around zero for every day so far this year, Tesco plummeted to minus 35 on Wednesday, minus 47 on Thursday and minus 46 on Friday. However Monday's figures show that the recovery has already begun as the company climbed back up to minus 32.
So the story quickly permeated the real world and was seen as bad for Tesco. However, there are early indications it has started to recede. How has it hit the brand's perception?
The Index score (a composite of six key image attributes) fell from plus 24 on Tuesday to plus eight on Thursday but again the figures started to recover and Tesco was back to plus 16 by Monday.
Buzz and Index scores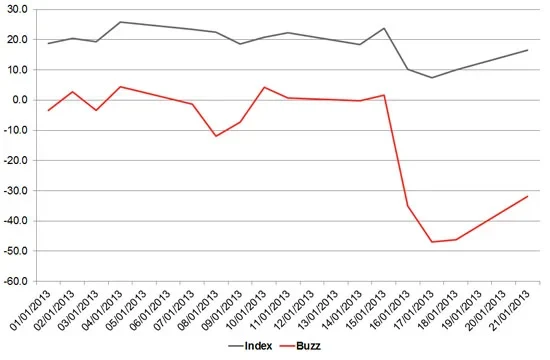 It is still early days, but the initial indications are that the crisis had a sizable immediate impact on Tesco, but that the horse meat story will ultimately prove to be a storm in a teacup. The data suggests that the Tesco brand should soon regain the ground it lost in terms of consumer perception.
This article originally appeared in City AM