Latest YouGov figures suggest voters are increasingly coming around to thinking that Labour are best placed to handle key issues
Labour have been ahead now in vote intention polls for almost two months, and, at the same time, Keir Starmer has built a double digit lead over Boris Johnson in the 'best Prime Minister' ratings.
But Labour's increasingly favourable position in the court of public opinion has not always been built on the most solid of foundations.
As has been pointed out many times, one of the most significant drivers in their polling lead has been 2019 Conservative voters switching to "don't know" rather than Tories voters defecting to Labour.
And while Boris Johnson's personal ratings have crashed and Starmer's have risen, the public were not showing signs that they are ready to fully trust a prospective Labour government led by Starmer, to handle key issues such as the economy and jobs.
That, however, is changing.
Each month, YouGov asks the British public whether a Conservative or Labour government would be best at managing a range of important policy issues, including 'the economy', 'jobs' and 'prices', among others.
In recent weeks, we have seen significant shifts in Labour's favour across these domains.
Perhaps most importantly, our latest political tracker figures show that Labour and Keir Starmer have now cut the Conservatives' lead on 'who would best manage the economy' down to just 6 points.
Back as recently as November, that figure was 15 points. In May, Boris Johnson and the Conservatives were no less than 24 points ahead.
With Labour often struggling to compete with the Conservatives on perceived economic competency, this narrowing is highly significant for Labour's ambitions to win the next election.
Similarly, Labour have now overtaken the Conservatives on our 'best at providing more jobs' tracker, and are ahead on that particular metric for the first time since January 2021, at the height of the second wave. Around three in ten (29%) believe a Labour government led by Keir Starmer would do better there, compared to around a quarter (24%) for a Conservative government led by Boris Johnson.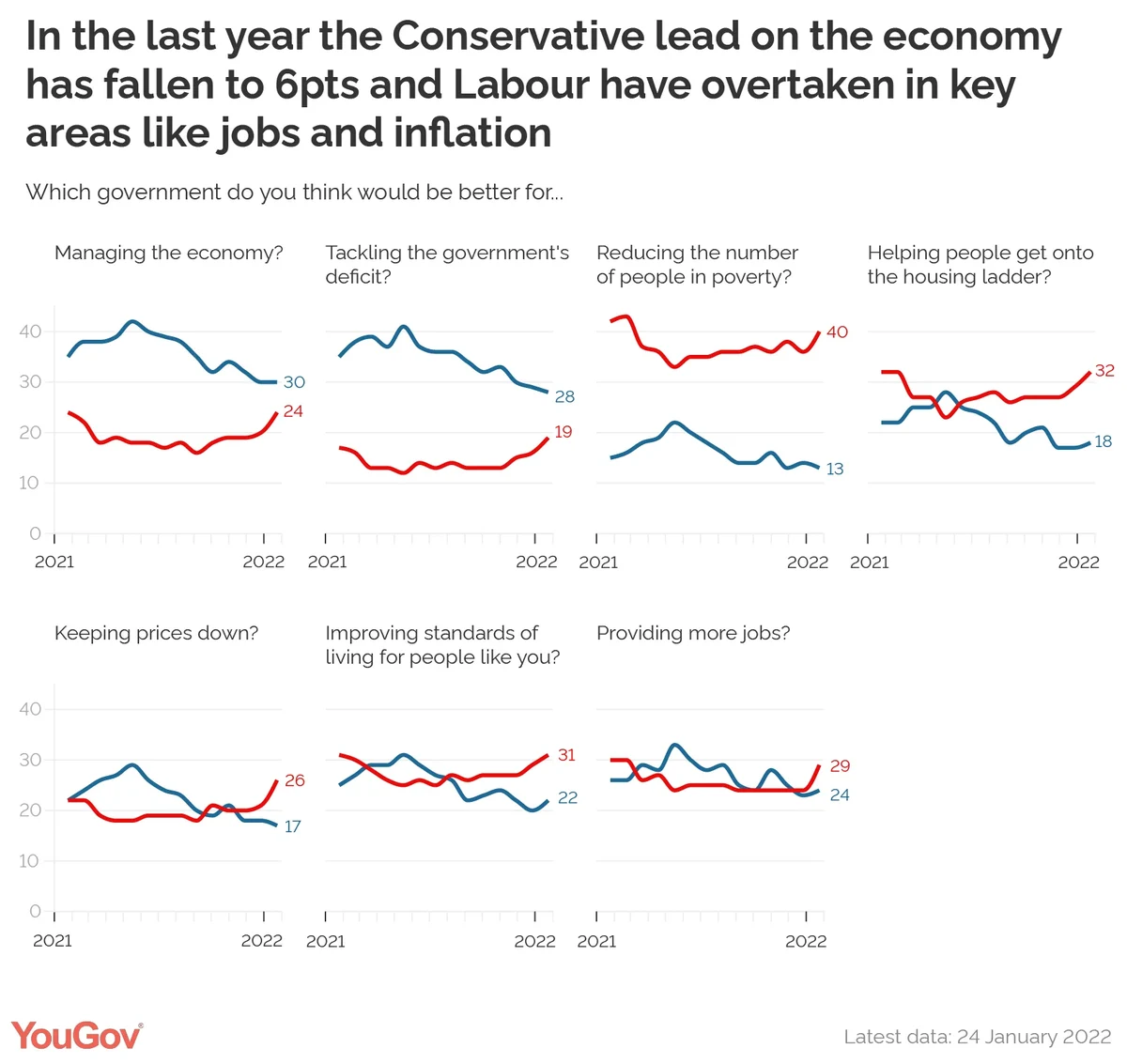 Elsewhere, Labour have being expanding their leads in other areas; they are now nine points ahead on both 'improving standards of living' and 'keeping prices down', 12 points ahead on 'helping people get onto the housing ladder', and have a whopping 27-point lead on 'reducing poverty'.
If there is some solace for the Conservatives, aside from just about holding on to their lead on managing the economy (for now), it is that they still lead Labour on deficit management by 10 points.
Even then, this lead has been shrinking throughout Boris Johnson's term in office, and it would not be a surprise to see Labour lead on all of our 'best government' measures at some point in the near future.
Equally, while the public's view on the current government is extremely dim (around six in ten 'disapprove' of their record to date), they are still completely unconvinced that Starmer looks like a prime minister in waiting, or that Labour are ready for government.
But the figures in our trackers above are an early warning system, in exactly the same way that public frustration with handling of prices back in the summer of last year was a precursor for the coming political storm of the cost of living crisis.
If Labour continue to build leads with the public regarding their management of key policy issues, then significant improvements in public perceptions on their readiness to govern will likely soon follow.