Latest YouGov Senedd voting intention figures
Our latest voting intention figures for the Senedd (Welsh Parliament) show Labour's lead over the Conservatives rise to 9 points in the constituency vote and 11 points in the regional list vote.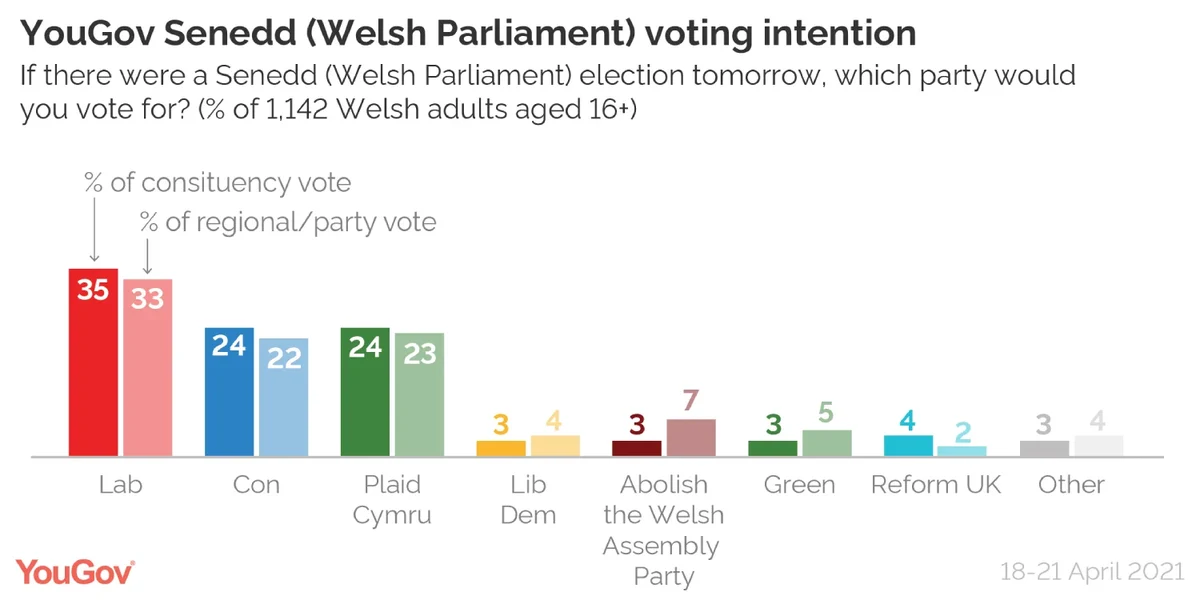 In the constituency vote, Labour now stand at 35% (+3 since March), the Conservatives 24% (-6), Plaid Cymru 24% (+1), and the Lib Dems 3% (-2).
The vote shares for the regional list vote see Labour with a 33% share (+2), Conservatives 22% (-6), Plaid Cymru 23% (+1) and Lib Dems 4% (n/c).
Secondly, we know that many voters only start to think about how they will vote in elections in the last couple of weeks of a campaign. Outside of election campaigns, voting intention polls are more of a snap-shot of general public mood towards parties rather than how they will vote if there was an actual election. While in our March poll some voters may have answered our Senedd voting questions as if they were more of a hypothetical, they may now be thinking more about how they will cast their ballot at the start of May.
Curiously, we find that 10% of those who say they'd vote Conservative if there was a UK-wide general election tomorrow say they are planning to vote Labour in the Senedd. This could mean that while these voters have a general positive opinion of how the Conservatives are currently doing, when faced with an actual election, they are planning to vote Labour. It could also suggest that Welsh Labour are doing a better job of winning over voters than Labour are UK-wide.
What vote share means for seats
While polls can give a good idea of how an election may go, they are only ever an indication of the national popular vote, rather than how many seats the parties will win – YouGov used an MRP model to estimate seat tallies in the 2017 and 2019 general elections, rather than traditional polling.
The Senedd election on 6 May could be even trickier than usual to predict in terms of how votes will transfer to seats, as small changes in vote share could have a big impact the outcome.
Our latest constituency vote figures have Labour on 35% nationally, the same vote share they achieved in 2016. At that election there were six seats that Labour won with less than a two point lead, and uniform national swing would suggest that Labour would lose three seats despite holding their vote share (Vale of Glamorgan to the Conservatives, and Llanelli and Blaenau Gwent to Plaid Cymru).
However, there is always a margin of error on polls and if we assume this is three percentage points then their actual vote share is anywhere between 32% and 38%. If Labour end up with 32% of the constituency vote then they could potentially also lose Vale of Clwyd and Cardiff West based on uniform swing. Conversely, if their vote share is 38% then they could hold on to all their seats from 2016 and even gain seats from other parties. This also ignores any local factors that would not be picked up in our national polls.
The regional list vote, designed to more equally distribute seats based on party vote share complicates things further. Each of the five regions have four top-up seats and things get very close on the final seat in certain regions, meaning a marginal difference in vote share will change which party gains the seat. This can be particularly impactful on smaller parties. The Abolish the Welsh Assembly party, for example, are currently on 7% of the national vote share, which puts them at the cusp of gaining seats.
So while opinion polls can show us the overall picture of an election, we will have to wait until after 6 May to see what the Senedd will look like in terms of seats
See full results here