New research among over 1,000 Britons living with disability reveals how they have been affected by the pandemic
Earlier this week we released Part 1 of a large study we conducted with BBC. This new research among people living with disabilities about the coronavirus pandemic finds that approaching half (47%) have been unable to socialise, a third (36%) are now unable to access medical appoints because of COVID-19 and just over a quarter (27%) have been unable to carry out essentials such as food shopping.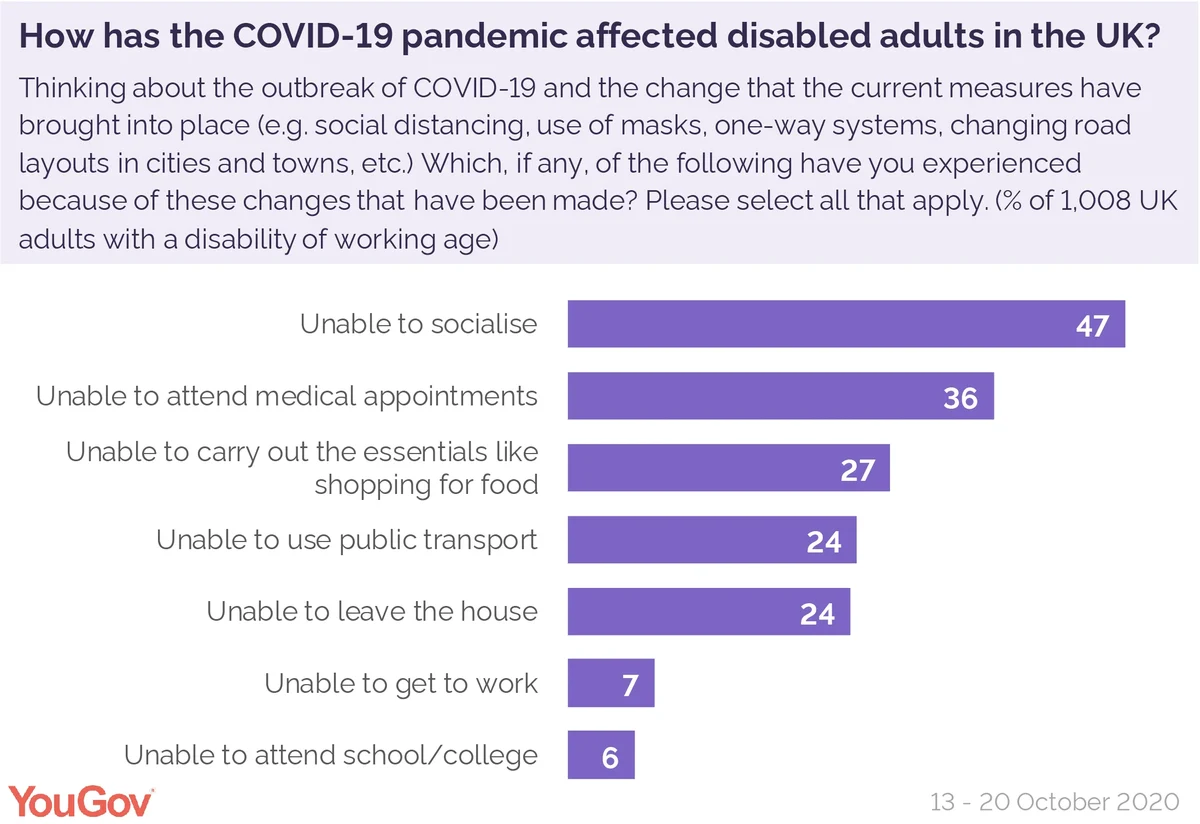 Just under a quarter (24%) say that the pandemic has left them unable to use public transport due to the changes required to keep trains, buses, and other types of transport in line with social distancing measures. The same proportion (24%) say COVID-19 has prevented them from leaving their home, with the highest figures being among adults with learning, social, or memory disabilities, a third (32%) of whom say has left them house bound.
Among people living with disabilities who are in employment, nine in ten (91%) say that concern for their health during the pandemic has not forced them to leave work> The research finds that 8% have left their job due to the COVID-19 outbreak, a figure that doubles to 16% among 18-34 year-olds.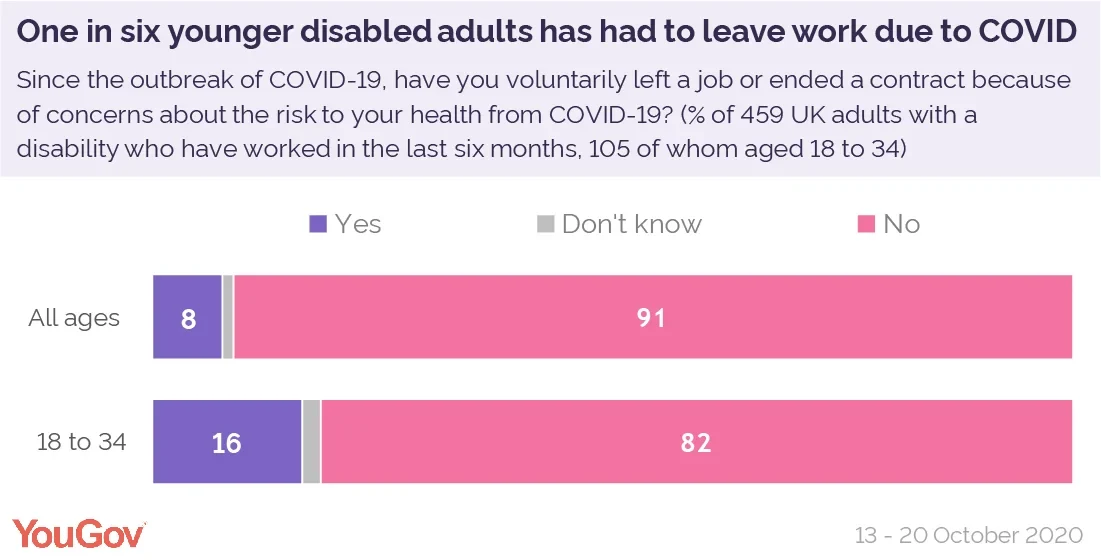 This number rises further still among adults living with disability who also receive paid care and support, 21% of whom have stepped back from their positions due to concerns about their health.
Most feel overlooked, and say the pandemic has worsened the rights of the disabled
YouGov's data shows that approaching two in three (65%) of adults living with disability believe that the pandemic has had either a very (25%) or fairly (40%) a negative impact on the rights of disabled people living in the UK. One in six (18%) say it's had no impact and one in twenty (5%) say the outbreak has had a positive impact on the rights of disabled people.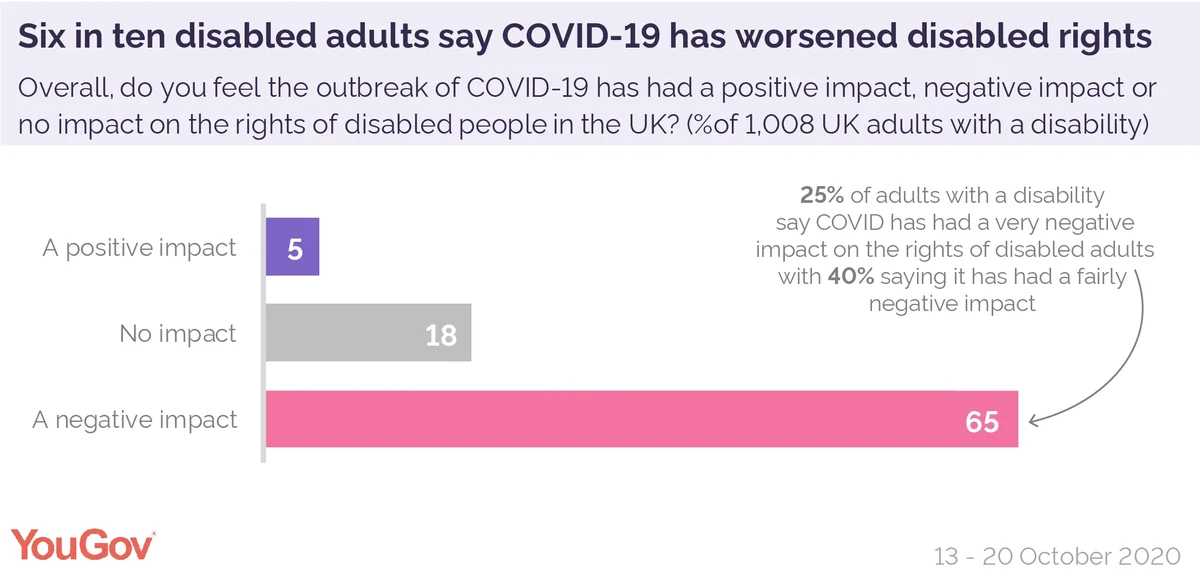 Seven in ten (71%) adults living with disability say they feel that the needs of disabled people have been overlooked either to some (36%) or a great (35%) extent during the coronavirus pandemic. One in ten (10%) believe that their needs have been overlooked to a minor extent and 7% think they have not been overlooked at all.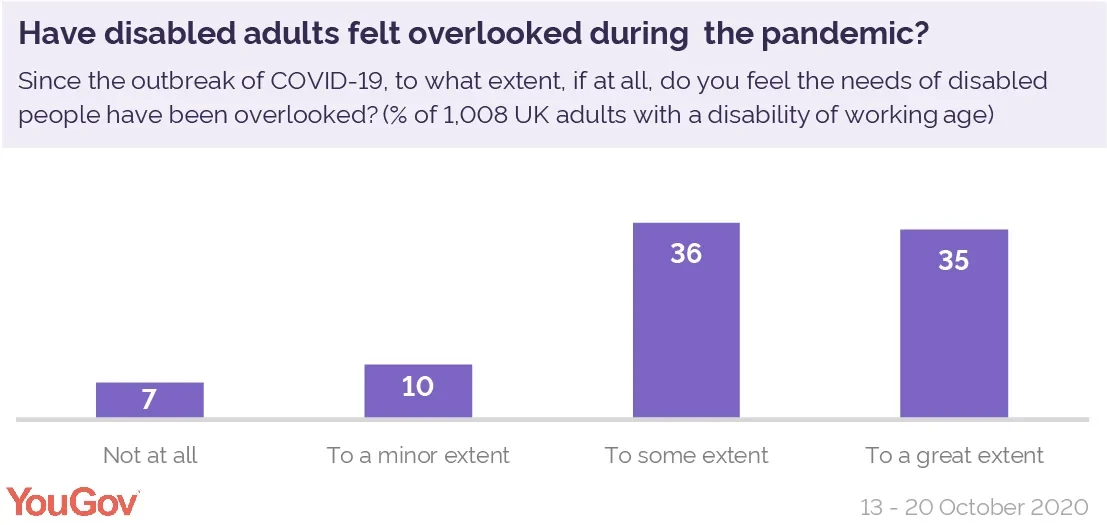 Adults living hearing and visual disabilities are the most likely (81%) to say that disabled adults have been overlooked as part of the country's pandemic response, with almost as many (80%) adults with a social, learning, or memory disability feeling the same.
Has COVID-19 affected their care and access to treatment?
Nearly half (48%) of disabled adults say their regular treatments or therapies have deceased either significantly (33%) or slightly (15%) since the outbreak began in March. A quarter (25%) believe they have stayed the same and one in five (21%) think that they have increased either significantly (7%) or slightly (14%).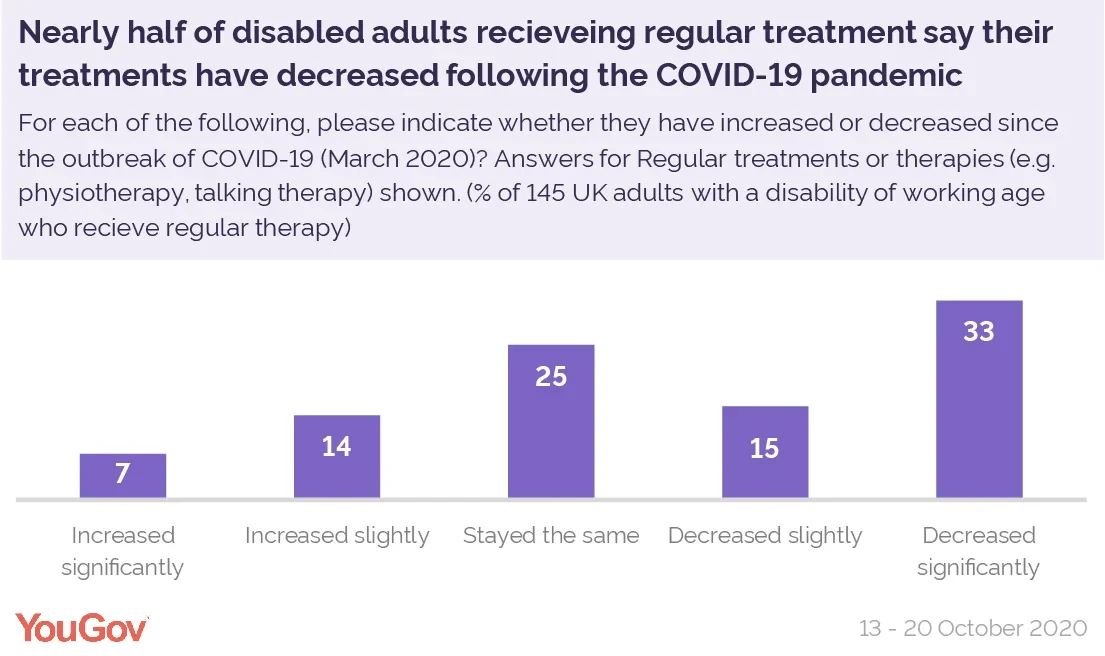 Furthermore, just over a quarter (27%) report that the number of visits they receive per week from carers and assistants has fallen since the start of the pandemic; at the other end of the scale however one in ten (10%) report more frequent visits from carers since the pandemic began.
When asked about amount of paid or professional care and support they receive overall, 22% of disabled adults who received paid professional care report that this care has also decreased since March, compared to 14% who say their overall care has increased.
The frequency and access to care is not the only issue; a third (34%) of disabled adults receiving paid care and support say they now feel less safe receiving this care than they did before the COVID-19 pandemic, however 10% say they feel more safe doing so.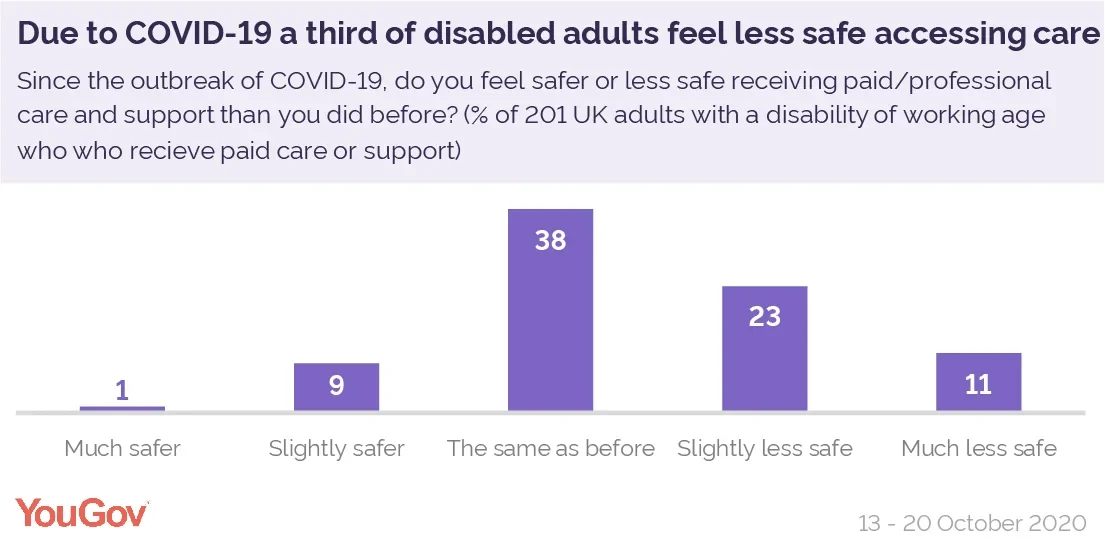 These factors of decreased frequency and access to professional care may have a substantial on these adults' lives, with 61% of them saying that this care gives them the freedom to be either very or fairly independent.
Further to this difficulty regarding care and support, over half (60%) of disabled adults receiving paid care and support report they have had difficulty sourcing medical and hygiene products since the beginning of the pandemic.
Three in ten (30%) say they have difficulty in getting their medications (including medical creams and ointments), among adults with a learning, social, or memory disability this number jumps to 43%.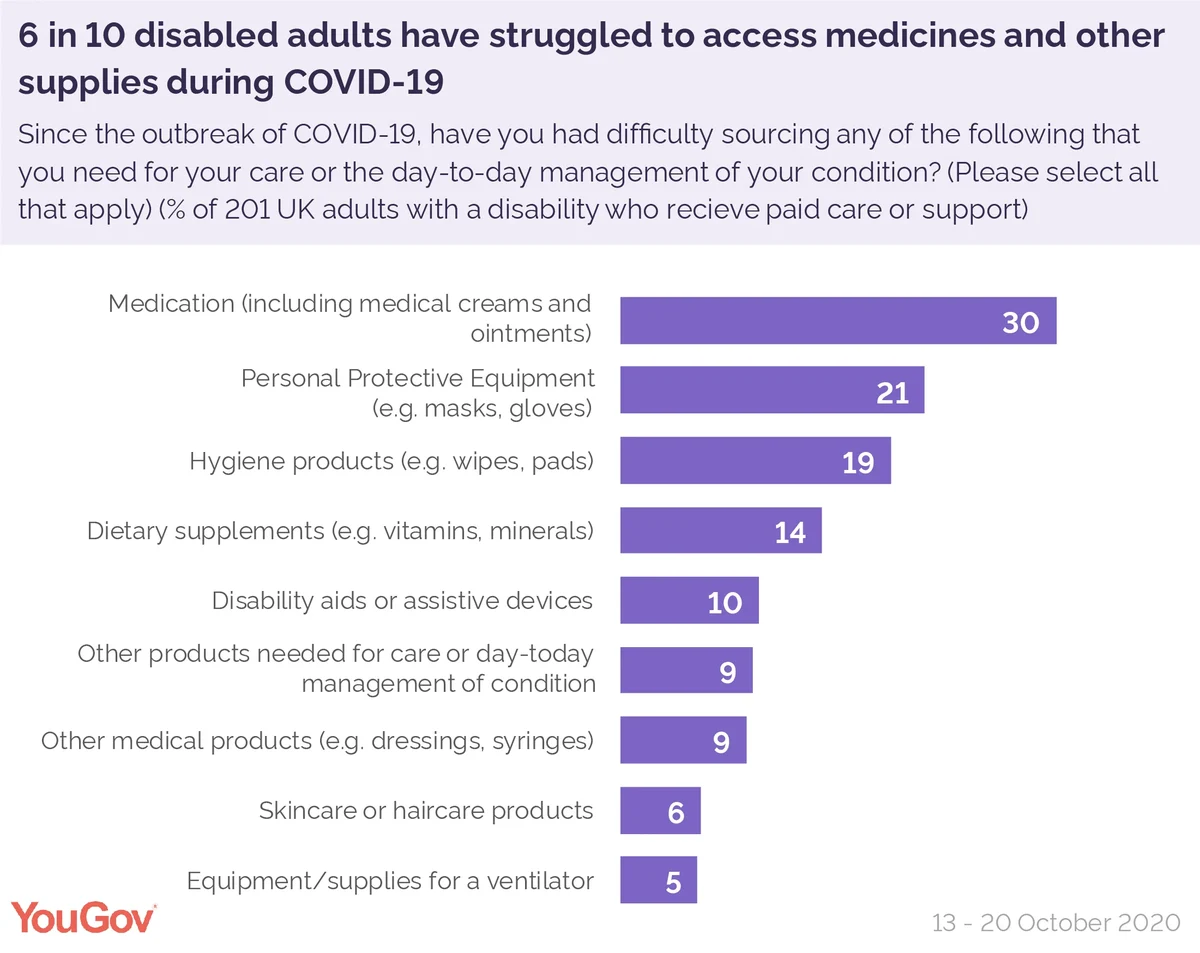 Another 21% have struggled to get hold of personal protective equipment, and 19% have struggled to source other hygiene products during the pandemic.
Issues with finding and sourcing medical and health products has affected younger disabled adults more than their elders, overall 80% of disabled adults aged between 18 and 34 who receive care reporting difficulties, compared to 32% of those aged between 50 and 65.
This data was previously featured on the BBC
See YouGov's research about how 25 years of the Disability Discrimination Act has impacted adults living with disability here