Seven in ten people believe that having a monarchy is good for Britain, while second-in-line to the throne Prince William is the country's favourite royal, and Prince Andrew the least, our survey has revealed. Fewer than one in ten think the monarchy is a bad thing, while almost one fifth feels that the monarchy is neither good nor bad for the nation.
70% of people believe that, in general, having a monarchy is good for Britain
Just 8% think the monarchy is bad thing for the country, while 19% say it is neither good nor bad
87% of people have a positive opinion of the recently married Prince William, and 7% negative, giving him a net opinion score of +78%
Currently reigning monarch, the Queen has a net score of +76%
Newcomer to the family Catherine, Duchess of Cambridge, is third most popular with +72% opinion
Prince Harry has a net opinion score of +65% and his aunt Princess Anne has a score of +48%
Prince Andrew is the least popular royal according to our poll, with a net score of -19%
He is closely followed by Camilla, the Duchess of Cornwall, who has a net score of -15%
But her husband Charles, Prince of Wales had a net score of +17%
Royal Family members by popularity among Brits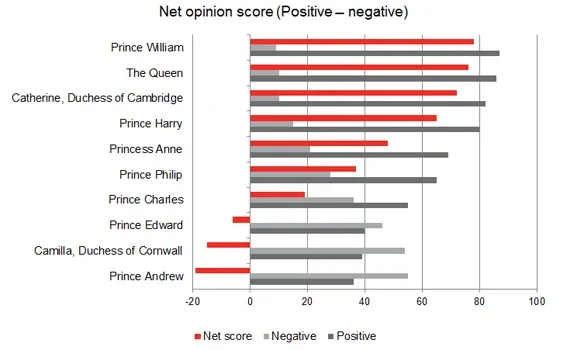 Sample size 2,728 British adults, fieldwork 9th - 10th June 2011
The Queen's second eldest son, Prince Andrew, ex-husband of the often-controversial Sarah, Duchess of York, has enjoyed his fair share of scandal recently, perhaps explaining his place as most unpopular royal in our poll. In March of this year, Prince Andrew dominated headlines due to his alleged friendship with convicted sex offender and billionaire Jeffrey Epstein, and in the same month, he was also linked with the lobbying of MPs and peers to support greater business links with Azerbaijan, an autocracy accused of torturing protesters.
Marking the monarchy
Britain's monarchy has been under the spotlight even more frequently than usual of late, with William and Catherine's wedding in April, an unprecedented visit by the Queen to the Republic of Ireland, the welcoming to Britain of President of the United States Barack Obama, and the Duke of Edinburgh's 90th birthday all taking place in addition to the usual annual Trooping of the Colour to mark the Queen's official birthday last weekend. Earlier this month, plans for the Queen's Diamond Jubilee were also announced, with the 60th year celebrations being held over a 4 day weekend in 2012.
While some commentators have taken this increased visibility as an opportunity to question the Royals' relevance in today's society, most press coverage has been positive – and it seems much of the public agree.