The tourism industry has been shaken up in dramatic fashion in the last couple of years by the pioneering start-up company Airbnb.
The company operates in 34,000 cities in 191 countries and has a value of around $25bn. It allows ordinary homeowners to rent out rooms to holidaymakers.
The service is popular among those looking for cheap and convenient accommodation, as well as those looking to make a little extra from their home.
YouGov BrandIndex data clearly shows how successful the brand has been at promoting itself since its inception, as well as how quickly its name has become known.
It's Awareness score (whether a respondent has heard of a brand) has rocketed over the past 18 months. In January 2015, its score was among all respondents was 15%, this has now increased to 42%.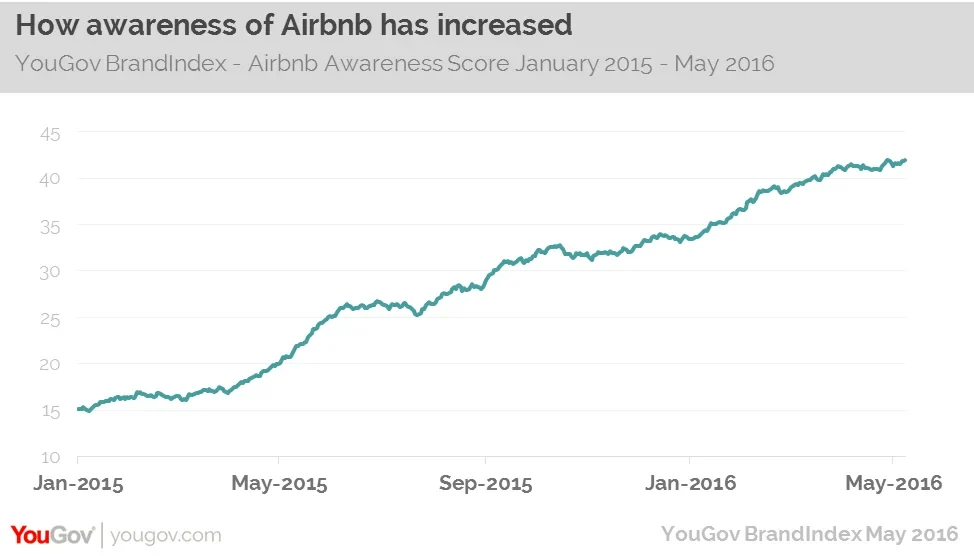 Its customers seem to love the service. YouGov's Satisfaction metric shows that 84% of current Airbnb customers are satisfied with their experience of the company.
One key contributing factor to its success has been offering a service which chimes perfectly with changing travel habits and motivations. Combined with the proliferation of cheap flight options, it has offered savvy but travel-hungry consumers the opportunity to holiday for less.
YouGov Profiles enables us to learn more about the archetypal Airbnb customer. Compared to the average, they are far more likely to be part of the younger age groups.
Those aged 25-34 are the most likely to be customers. Among this key demographic, its Awareness score is 60%, indicating the success the brand has had in targeting younger users.
They are also more likely to favour short, city break holidays, typically of 2-3 nights. 78% of Airbnb customers say that city breaks are their favourite type of holiday, compared to 37% of UK adults.
However, negative headlines have begun to appear, and in certain cities legislation has been brought in to regulate the service. The challenge of course, is to maintain current momentum and expand even further.
Image PA
This article originally appeared in City A.M.