YouGov Profiles data reveals the perfect line-up of acts for this weekend's Glastonbury festival, by analysing the favourite music artists of Glastonbury Festival fans
Festival-goers head out to Glastonbury today for the 32nd festival since it began in 1970. The weather looks set to be cloudy, but the rain might just hold off. The pyramid stage headliners are Florence and the Machine (replacing the Foo Fighters after frontman Dave Grohl broke his leg earlier this month), Kanye West and the Who.
Every year the rumour mill over headline acts begins months in advance, and with bookings for next year probably not so far off YouGov has analysed Glastonbury fans to reveal the dream lineups, from the realms of both the possible and impossible.
Using YouGov Profiles, our connected data vault of over 120,000 data points, we've idenitified the music artists that people who like Glastonbury (on YouGov.com, Facebook and also who've recently visited the official Glastonbury website) are particularly likely to be fans of.
Among current bands, (ie alive and have released an album or toured in the past five years), the band most particularly correlated with Glastonbury fans is the Arctic Monkeys. They've headlined the festival twice already, in 2007 and 2013.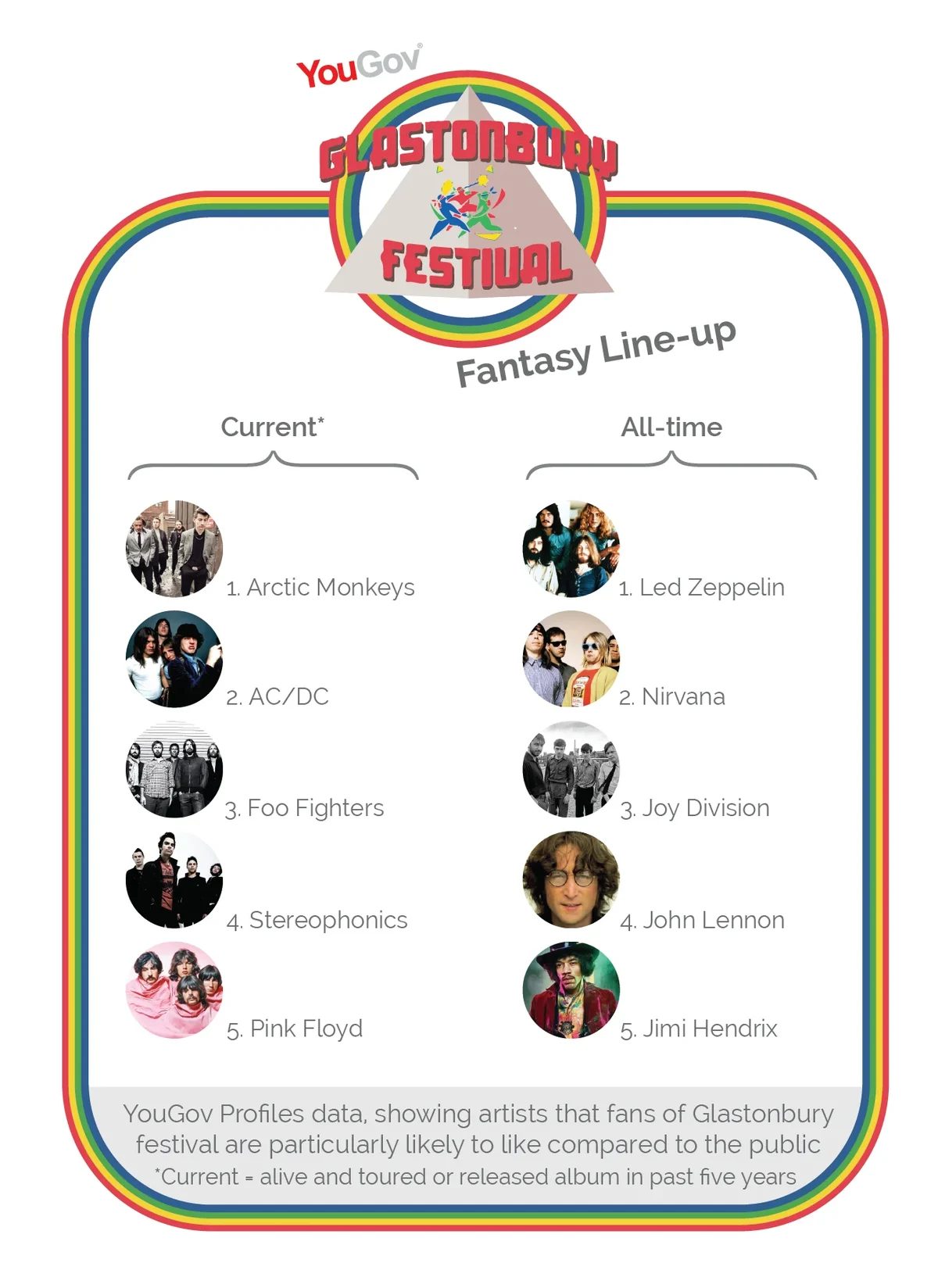 AC/DC were among the bookies' favourites to headline this year, but to date they've still never played the festival. They're the second most correlated band among artists that are still going. The Foo Fighters would have also gone down well, coming in at third – and Dave Grohl is the only musician to appear twice on the list, also in the all-time section as the drummer of Nirvana.
For the all-time fantasy lineup – those who are no longer alive or touring – Led Zeppelin would be the number one dream. Its original members are all still alive apart from drummer John Bonham. They played a gig at London's O2 Arena in 2007, but as fans where anticipating their first tour since 1980 lead singer Robert Plant slammed the idea.
The rest of the all-time top 5 – Nirvana, Joy Division, John Lennon and Jimi Hendrix – had their careers cut short by death. The same goes for acts 6 to 10 on the list except for Oasis (6th place), who haven't toured since 2009 but have played Glastonbury three times, headlining in 1995 and 2004.