For the first time since 2010, more people say George Osborne is doing a good job than say he is doing a bad job - but approval is still below Gordon Brown's after each of his past budgets
Following George Osborne's last budget of this parliament, the Conservatives (35%, up two) have taken a two point poll lead over Labour (33%, down one). It is too soon to tell whether the budget has broken the stalemate in the polls, but new YouGov research gives George Osborne another reason for cheer.
After every budget since 2002, we have asked the British public whether the Chancellor of the time is doing a good job or a bad job. For the first time since his first budget in 2010, dubbed an "emergency budget" for reducing the national debt the Tories said had accumulated under Labour, George Osborne is now in positive territory.
With an annual growth rate of around 2.5%, 40% say he is doing a good job and 36% a bad job. When the economy was growing at around 4% in 2003, however, 52% said Gordon Brown was doing a good job, 19% a bad job.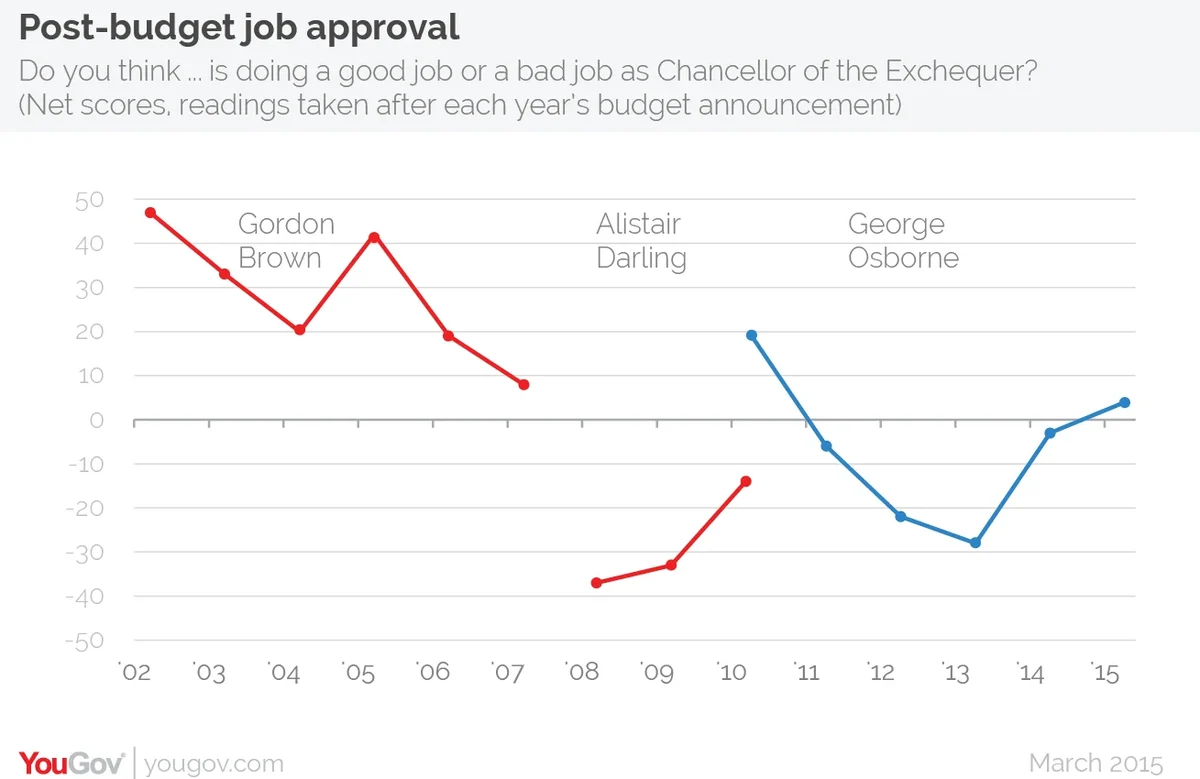 The lowest approval of a Chancellor since 2002 was in 2008, as the global financial crisis struck. Only 17% said Alistair Darling was doing a good job, while 54% said he was doing a bad job.
Shortly before this year's budget, 34% said Mr Osborne was doing a good job. The 6% boost up to 40% following his announcement is the largest budget boost since 2011, when his approval increased from 27% to 34%.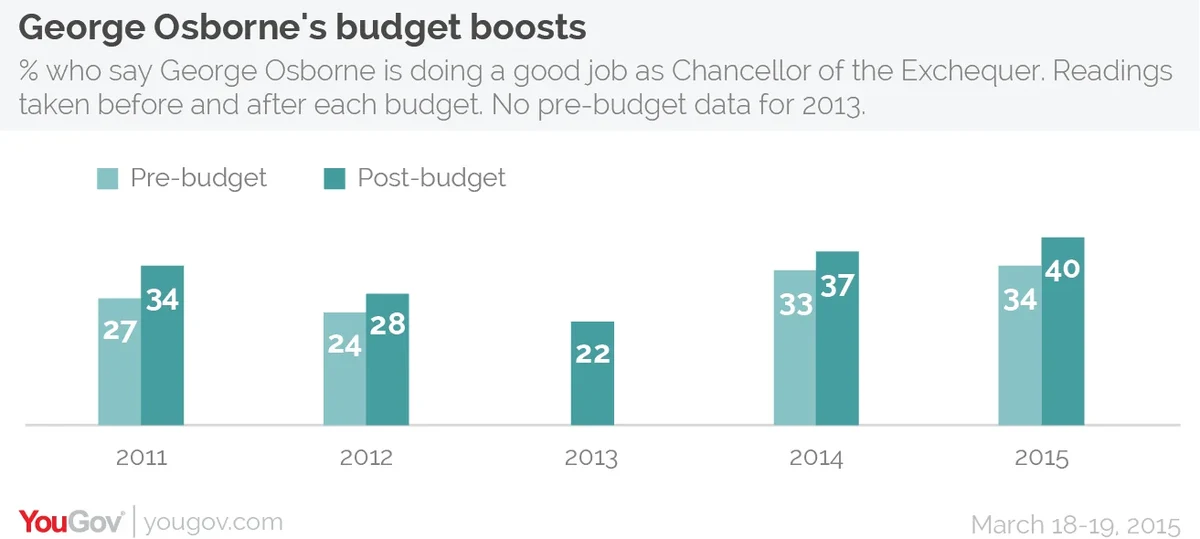 Of the policies announced by the chancellor, increasing the personal tax allowance from £10,600 to £11,000 by 2017 is the most popular, supported by 85%. Making the first £1000 of interest on people's savings is supported by 81%, and 79% support scrapping an increase in petrol duty.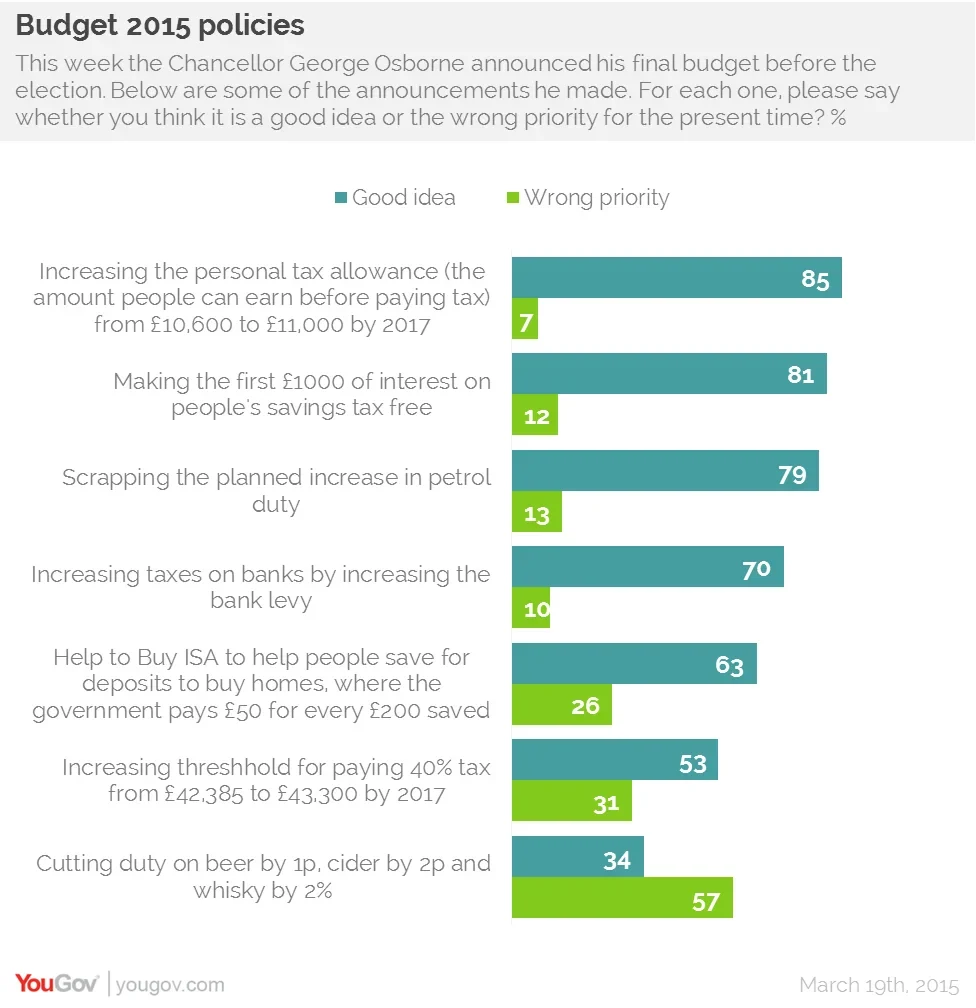 Every other policy is supported by a majority, except for cutting alcohol duty – a policy included in the budget for three years in a row – which is opposed by 57-34%. Labour voters tend to say all of the policies are good ideas, apart from cutting alcohol duty and increasing the threshold at which the 40% rate of tax is paid from £42,385 to £43,300.
Since the announcement Mr Osborne has been under pressure to clarify how he would cut welfare spending by £12bn in the next parliament. The Institute for Fiscal Studies say he has already made some of the simpler savings, which even then were fiercely opposed.