YouGov Plan and Track data reveals that – with a little help from "Star Wars" – the new platform's scores are steadily increasing across a number of key metrics
Disney+ launched in the UK on March 24 after months of hype – and questions over how the platform (which was reportedly very costly to develop) would perform in an increasingly saturated streaming landscape.
Data from YouGov Plan and Track reveals that the new service's performance across several key metrics has steadily (and in some cases significantly) grown since its initial rollout in the UK. Current customer scores for Disney+ – which track which TV services consumers have watched or listened to in the past 30 days – went from 2.4 to 16.5 in the week after launch (24/03 – 31/03), and have since increased to a high of 23.2 (14/05). Consideration has also increased from 16.3 on day one to a peak of 28.6 (14/05).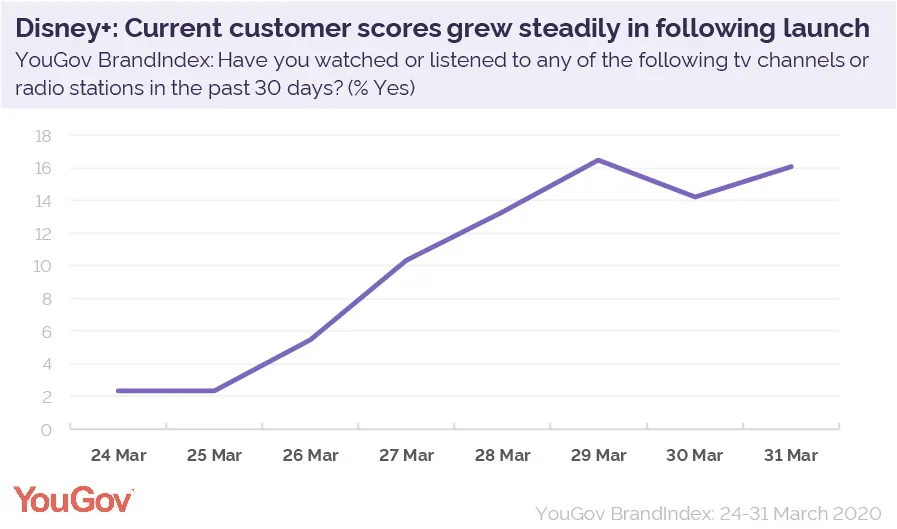 Quality scores were already firmly positive upon the service's launch, which may have been a by-product of its parent organisation's recognisable brand and popular franchises. Last year, seven of the top ten highest grossing films in the UK were Disney productions. But the service has built on this advantage since launch – with scores peaking at 31.3 on May 14 – while satisfaction among consumers rose from a peak of 2.5 to 18.6 over the same period (24/03 – 18/6).
Franchise content has played a key role in this success. Disney+ arrived on the scene offering most Marvel Cinematic Universe movies (the Sony-owned Spider-Man films being a notable exception) as well as the company's vast back catalogue of animated films. The platform also offers almost every piece of Star Wars media, with original content such as The Mandalorian forming a key part of the platform's launch line-up.
In fact, the service has leaned heavily on Star Wars in general. The Rise of Skywalker arrived on May 4 to complete the main series of films – and Disney+ marked the occasion with an extensive marketing campaign that emphasised fan nostalgia for the saga.
Plan and Track data shows that this appears to have corresponded with an increase in ad awareness (from 33.9 to 39.1 on the 14th) and consideration, which rose from 17.9 to 28.6 over the same period.
The service had planned to roll out further original series in 2020, but the coronavirus pandemic has forced it to postpone several major productions. That said, the platform has also benefited from COVID-19 at its parent organisation's expense: Artemis Fowl, which was supposed to be shown in cinemas, is now a Disney+ exclusive, while Pixar's Onward was removed from theatres early for a streaming release in April.