New research from YouGov reveals that 43% of Brits don't use them at all
Phoning the local kebab shop or pizzeria used to be a Friday night tradition – but in an age where Brits can pick and choose from a range of delivery apps, could it become obsolete?
New research from YouGov explores how the public uses these apps, which ones are most recognisable, and even how they inform restaurant and takeaway choices.
Just Eat has the highest ad awareness – but Deliveroo is catching up
Our poll reveals that four out of five (80%) Brits is aware of Just Eat. Deliveroo comes in second – it's recognisable to just over three-quarters (76%) of the public – while Uber Eats is third (38%).
Just Eat's lead can be partially explained by its considerable first-mover advantage: it's been operating since 2001 and its business model has changed considerably over the years. As such, its awareness has increased steadily, rather than dramatically: from 73% in 2017 to 80% in 2019.
Deliveroo and Uber Eats might not yet take top spot, but they've seen their awareness shoot up by 24% and 27% respectively over the same period of time.
Over half (54%) of fast food fans have chosen a restaurant before they load up the app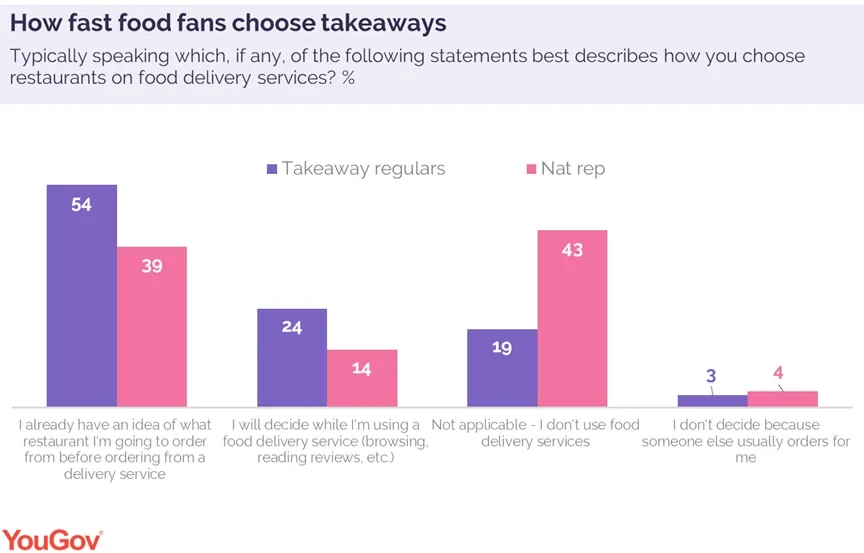 The 18% of Brits who order fast food several times a month and the general public use these apps very differently. For starters, they're considerably more likely to use them in the first place: only 19% say they don't bother with these services at all.
In terms of restaurant/takeaway decisions, almost a quarter (24%) say they like to browse through the list of available eateries on the app before making a choice – compared to 14% of the wider public – while 54% say they have a particular restaurant in mind by the time they log on (compared to 39% of Brits in general).
Delivery apps use the range of choices available as a key selling point: the notion of getting McDonalds, KFC, Five Guys, Pizza Express, or any other preferred takeout driven straight to the consumer's house is a key part of their appeal. But for most fast food enthusiasts – and a significant minority of the public on the whole – it's less about choice than convenience: they know what they want, and they want it as quickly as possible.