Over recent days, Paperchase found itself at the centre of a media furore after campaigners Stop Funding Hate attacked its decision to advertise a promotion on the front page of the Daily Mail.
In response, the brand withdrew the promotion and apologised on Twitter, sparking a second backlash from those accusing them of succumbing to bullying tactics by the activist group.
Our brand tracking data measures what impact the headlines had on Paperchase's consumer perception.
The first thing to state is that the public noticed the news stories. Its Attention score (whether someone has heard something about the brand) jumped by six points – from 3% to 9%. However, Paperchase's Buzz score (whether what the person has heard about the brand is positive or negative) remained flat at around +1. This suggests the story was quite divisive - with some people happy that they removed the promotion, and some angry with them for not standing up for their actions.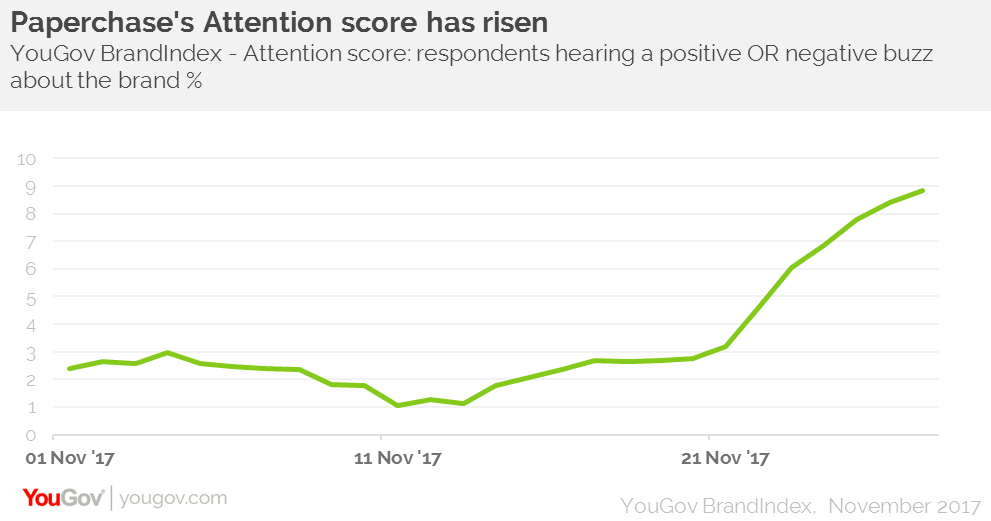 Paperchase is fortunate in the sense it has solid underlying brand perception. Its Impression score (whether someone has a positive impression of the brand) is currently +17, and its Quality score (whether someone thinks it represents good quality) stands at +17.
YouGov Profiles provides further detail on Paperchase customers and their media habits. Our figures indicate they are more likely to read broadsheet newspapers than the average (27% vs 15%). They are less likely to read red tops, 19% vs 38% but are just as likely to read the Daily Mail as the general public (both 14%).
They are also less likely than the average to get their news from a print newspaper (7% vs 10%) and have embraced consuming current affairs through apps, with close to a quarter (23%) getting news through an app on a mobile or tablet device, compared to one in eight (13%) of the public.
The recent Paperchase situation reflects the pressure that brands are increasingly finding themselves under due to advertising choices. It is crucial that they understand their own customers and foster consumer loyalty in the longer term.