As the old saying goes, "watch the pennies and the pounds will look after themselves." To some, they are frugal consumers but others use a more disparaging term – tight-fisted. But what are the broader characteristics of those that would describe themselves as stingy? Using YouGov Profiles data we explore whether being careful with the pennies alters a consumer's behaviour. 
FINANCIAL ATTITUDES
Looking at frugal consumers' attitudes on financial matters, it is no surprise to find they're risk adverse and keen to put something away for the future. More than eight in ten (82%) say they manage their finances well, compared to 73% of the public.
Similarly, approaching three quarters (73%) say they are good at saving up for stuff that they want  compared to two-thirds (67%) of the population as a whole, while penny-watchers are far more likely than the general public to consider themselves to be financially secure (66% vs 47%).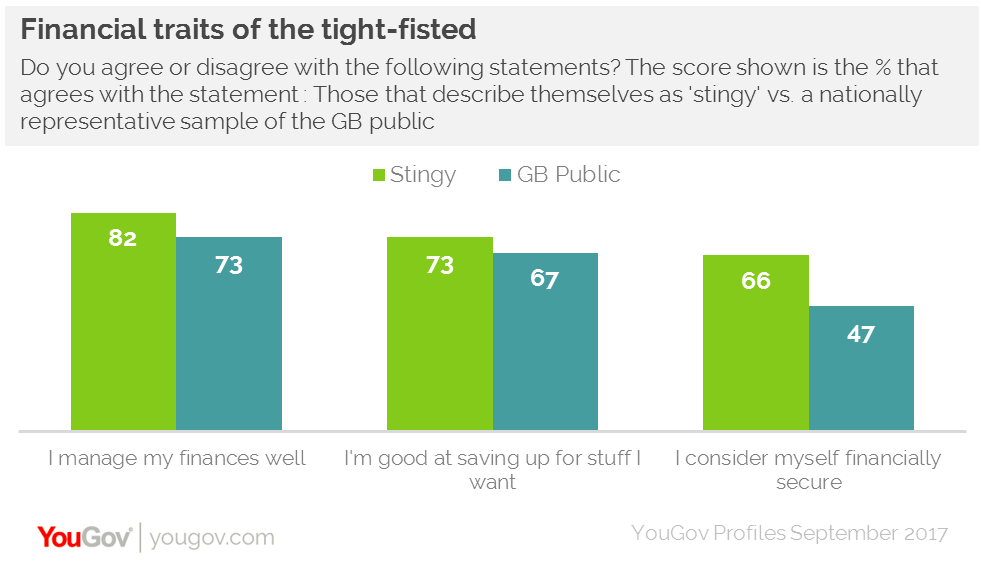 SHOPPING HABITS
Whilst in their local supermarket, they won't be swayed by attractive looking brands or packaging. They are more likely than the country at large to believe that there isn't much difference between leading brands and supermarket's own brands (69% vs. 65%). Additionally, while more than a third (36%) of the general public say buy some brands without even looking at the price, this drops to just over a fifth (22%) among the frugal.
Budget supermarkets Aldi and Lidl are particularly popular among our thrifty demographic. Looking at YouGov's Value for Money score, Aldi has a rating of +52 among this group (compared to +48 for the population as a whole), while Lidl shows a score of +49 (compared to +43 among the country at large).
PROPENSITY TO SWITCH PROVIDERS
It is perhaps no surprise that this group is more likely to shop around for the best deal. While many people consider switching energy supplier to be too much of a chore, the penny-watchers are much more prepared to. While a third (34%) of the general public have never changed energy supplier, among the frugal this falls to just a quarter (25%). Furthermore, while a third of Brits (33%) say they are unlikely to switch in the future, this rises to 40% among the thrifty.
They are also keen to look at price comparison sites before buying. A quarter (25%) of penny-watchers have visited MoneySavingExpert.com in the last six months (vs. 18%), while one in ten (10%) have gone to MoneySupermarket.com (vs. 7%).
CHARITABLE GIVING
Looking after the pennies can also mean that this group is less likely to give money to charitable causes. Our data shows that shows that the frugal are less likely than the general public both to make ad-hoc donations to charity (20% vs. 30%) and donate on a regular basis, i.e. by direct debit (17% vs. 21%). However, we cannot say whether this is because they are less able to or less inclined to.
AND FINALLY … OWED A PINT?
Our data also points to a potential friendship-wrecking bugbear among this group – getting a round in. Our data confirms that those who admit they are stingy are more likely to prefer buying drinks for themselves – half (50%) of penny-watchers say this compared to 45% of the population at large.
Image Getty