As Dolmio moves away from its long-standing puppet characters for its new advert, YouGov brand tracking data underlines why it may be a good time for the pasta sauce brand to freshen up its campaigns. 
The Italian puppet family was a mainstay of the label's advertising for 15 years. However, Dolmio's new advert now stars actor Dominic West playing a melodramatic dad who is too deeply involved in his son's video game and who only returns to reality to enjoy a plate of spaghetti bolognese with his family.
.While it can be a risk for brands to move away from characters that consumers have connected with over a period of time, YouGov BrandIndex data suggests that the Dolmio puppets may have been losing their impact.
Dolmio's Ad Awareness score (whether someone has seen an advert for the brand in the past two weeks), has grown considerably at different moments over the past three years. However, each time its score peaked it was at a lower level than the time before (19% in 2014, 17% in 2015 and 16% in 2016).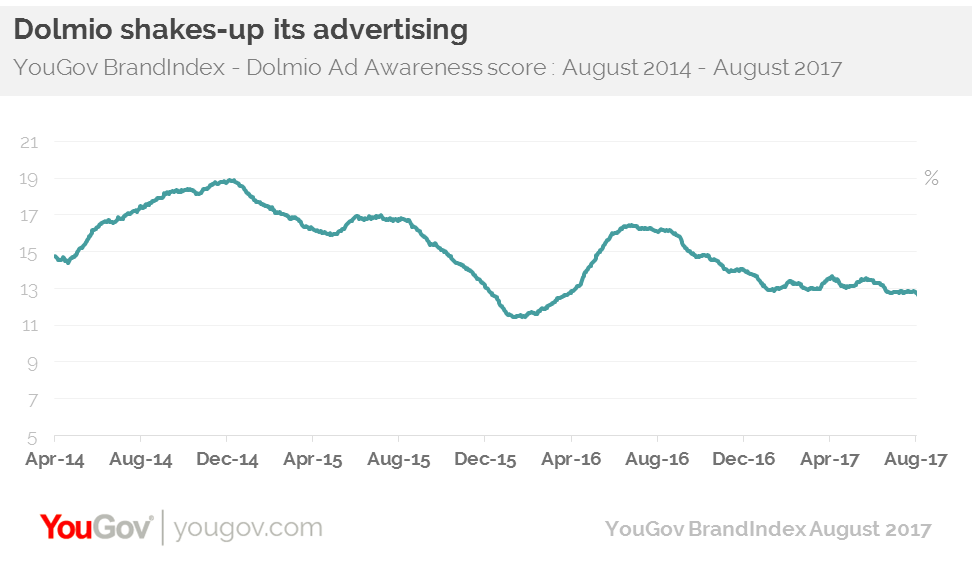 One positive for the brand is that YouGov Profiles data shows that 29% of its customers enjoy adverts featuring their favourite celebrities (compared to 25% of the public).
Dolmio has also had to work to shrug-off bad press that it experienced in April of last year, when it admitted that the public should consumer some its sauces 'occasionally' due their content.
At that time, its Buzz score (whether someone has heard something positive or negative about the brand in the last fortnight) declined by seven points.
The story also impacted on its Quality score, which fell from +16 to a low point of +8. It has yet to recover fully, showing a current score of +11. What's more, its Value for Money score also fell from (+7 to +1), before settling at +3.
This campaign gives Dolmio an opportunity for a mini-reinvention, helping to break free from past struggles and present itself to consumers in a different way. 
This article originally appeared in City A.M.
Image PA