Almost nine in ten (88%) have not donated to a user-funded website, new YouGov research finds. Only 8% have donated (the rest don't know).
The Free Platform Donators report looks at who currently donates to help fund websites and who publishers should be targeting in order to widen their net.
It shows that a majority (53%) of donors provided funding because they "used the site so much that it would have been unfair not to" and just under half (46%) gave money because the site made an appeal while they were using it. Approaching a quarter (23%) made a donation as they saw it as their "duty" because they used the site.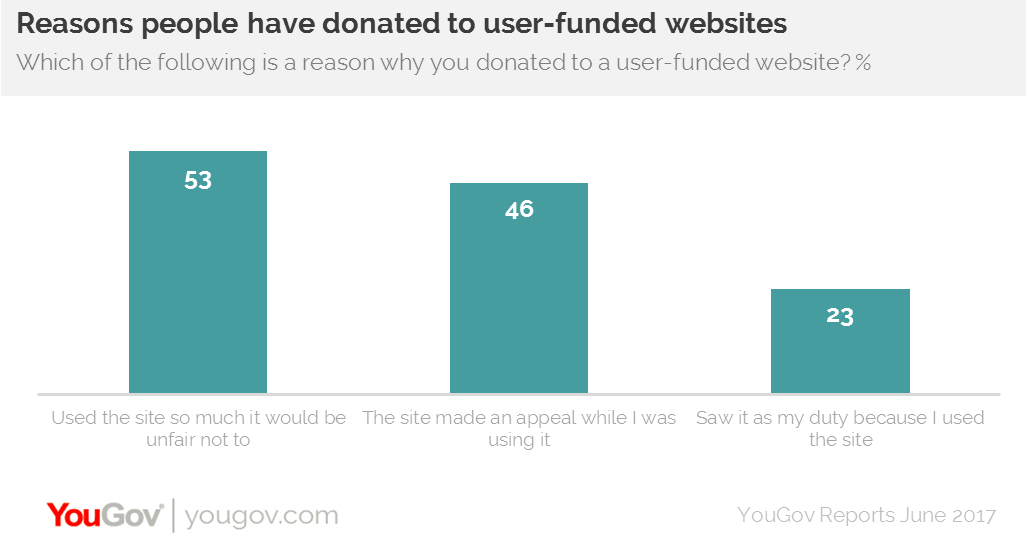 YouGov's research reveals that many website donors have decent disposable income and are used to give. Many are charity givers, being most likely to have donated between £51 and £100 in the past three months. Furthermore, they are also likely to be university educated and to have disposable income of £250-£499 a month.
The report highlights the barriers that publishers face in seeking contributions from members of the public that have not yet donated – especially in trying to get donations for news-based websites. Not only do over half (51%) who haven't given say that they would never donate to a website, but they are also more likely to use social networks as their main sources of news (53% say this is true of them)
YouGov's research also points to the main drivers for people not donating to websites. The most common reasons are that they can't afford it (34%), the belief that websites are supposed to be free (23%) and that people don't use these sites enough to make it worthwhile (22%). However, most interestingly for publishers is that one in eight (12%) say that they have not donated to a website simply because they have not been asked.
How websites – especially news websites – are funded has been a problematic area for a while. But while some opt for paywalls and others rely purely on ad revenues, those such as the Guardian and Wikipedia have sought donations from readers to keep their sites free to air. For most people, financing sites like this is simply not a priority. However, the research does throw up some hope for these operations – a group of people who say that the reason they've never donated is simply that they have never been asked.
Image iStock