Budget airline Ryanair has announced it is going to sell package holidays alongside its flights, placing it in direct competition with tour operators.
The company wants to reposition itself – from a business known mainly for cheap flights to a broader leisure offering, all while undercutting its rivals.
I have used YouGov Profiles data to see whether this new move will work. Among those that would consider using Ryanair in the future, two thirds (67%) booked accommodation and travel separately on their last holiday, suggesting a sizable majority may need to be convinced a package booking's benefits. However, around a quarter (24%) booked their vacation as a package deal, indicating that while there is already an existing market they can target.
Among those that already book package holidays, the brand's challenge is to provide a viable alternative to established travel companies. When it comes to those that don't ordinarily consider package deals, they need to persuade them to give it a try though competitive prices.
Ryanair will need to effectively target consumers that book package holidays. Our data indicates that those in this group are more likely than the rest of the population to be aged over 55, followed closely by those in the 45-54 age group.
Naturally, Ryanair is expected to undertake a fairly extensive marketing campaign to raise awareness of its new offering.
Profiles data also enables us to see what type of advertising works well among package holiday users. They are more likely than the average to enjoy adverts containing their favourite celebrities (31% vs. 26% of the general population), while they are also more likely to notice adverts on posters or billboards (36% vs. 32%).
YouGov BrandIndex data indicates that, on the whole, consumer perception of Ryanair is gradually improving. Among all respondents, its Purchase Consideration score (that measures whether someone would think about buying from the brand) is four points higher than this time last year.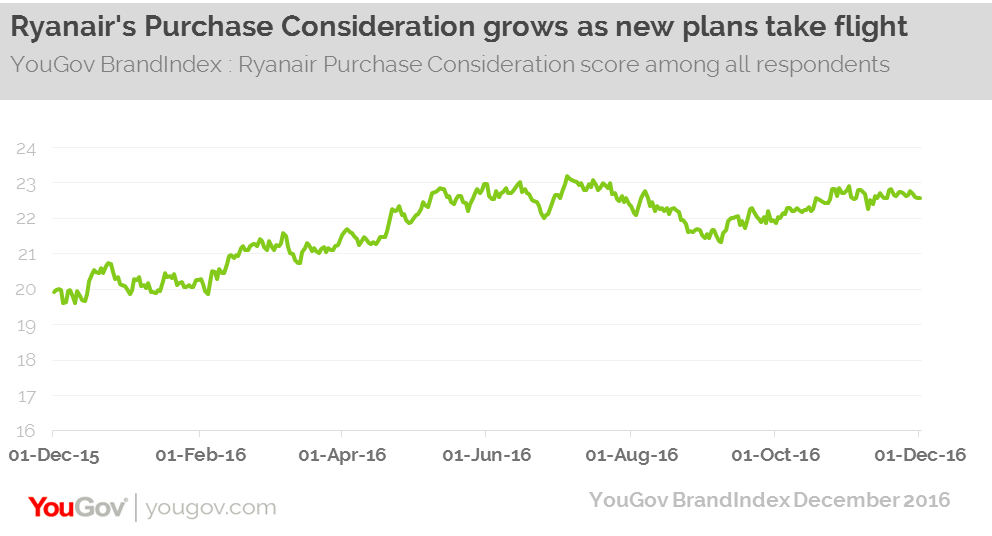 Taking all of this into account, it seems that existing tour operators should take Ryanair's move very seriously. Despite some consumers' reservations, the brand continues to attract customers that want cheap travel. Putting all of their needs in one place is another way of offering that.
Image PA
This article originally appeared in City A.M.