Over 15% of London's likely voters have yet to decide which mayoral candidate they will vote for – who are they and what might the campaigns do to win them over?
With just seven days to go before the mayoral election both the Conservative's Zac Goldsmith and Labour's Sadiq Khan are locked in an all-out effort to win the support of crucial undecided voters. 
YouGov's polling shows that over 15% of likely voters are yet to decide who they want as Mayor. This would be more than enough to either lock in Khan's poll lead or provide hope for a last minute upset by Goldsmith. 
But who are these undecideds and what might the campaigns do to win them over even at this late stage? 
To answer this, YouGov  connected all the data London's undecideds have shared with us to get a better sense of who they are, what they want and who they trust. Our research shows that London's undecideds are mainly women (63%) from outer London (67%). 
Politically, London's undecideds are less likely to have voted Labour in last year's general election than the rest of London (37% compared to 44% for London as a whole). They are more likely to have historically chosen the LibDems in the 2010 and 2015 elections. 
As to where they get their news, London's undecideds clearly favour the free papers over any paid-for newspaper. The Metro is their most popular read with 47% readership followed by the Evening Standard with 44% readership. 18% of London's undecided's listen to Heart Radio and 66% use Facebook at least once a week.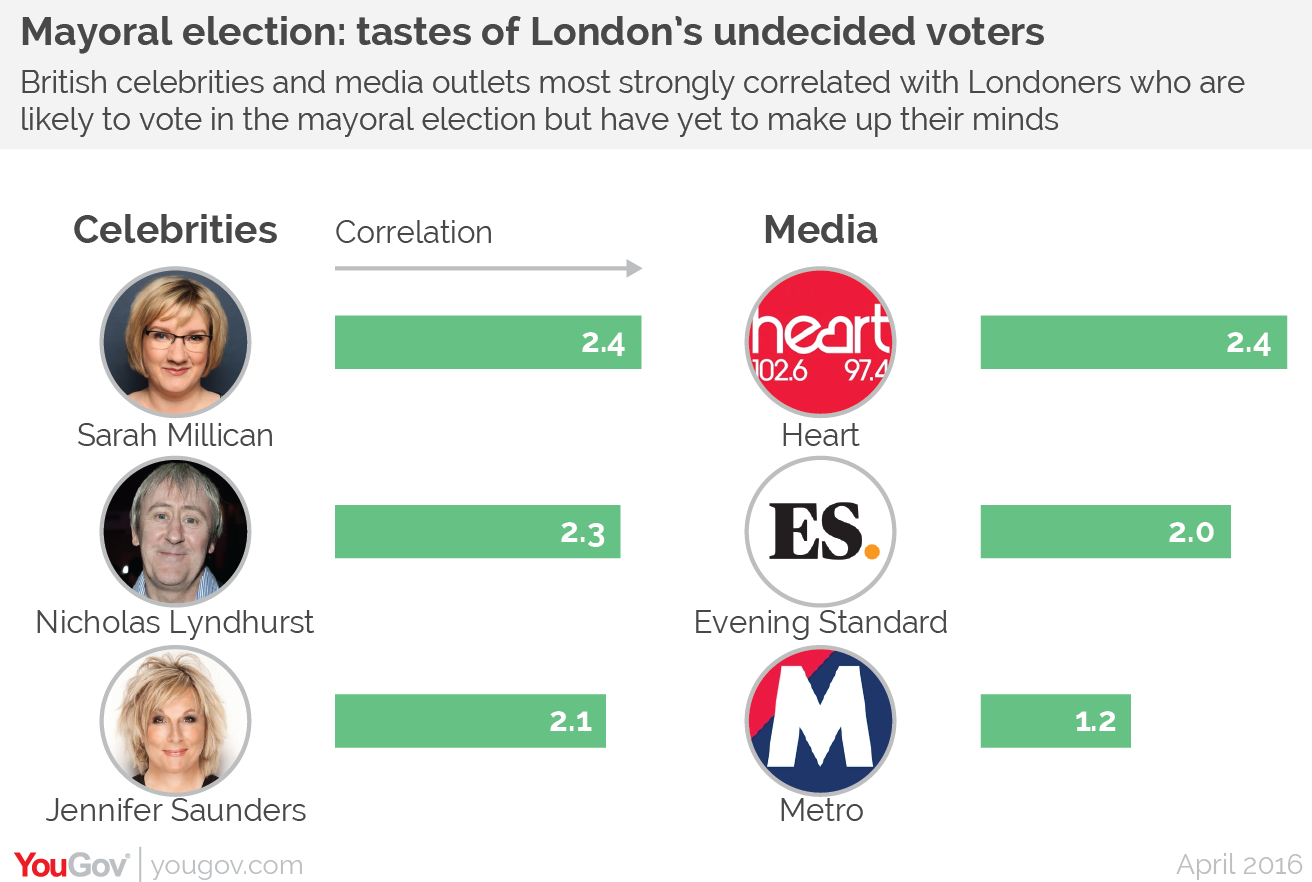 Perhaps unsurprisingly it's not politicians or businesspeople who command their attention but female comedians who score the highest approval numbers amongst London's undecideds. 
So as the campaign draws to a close don't be too surprised if you see an endorsement for a mayoral candidate by a Sarah Millican or a Jennifer Saunders in the Metro next week. Probably followed up by an interview on Heart Radio and backed up by Facebook ads. 
That's the kind of message and medium that might just cut through with these crucial voters.