A new report from YouGov entitled New Generations and the Future of Radio 2016 indicates that there is a generational gap emerging in terms of attitudes towards radio, while the listening habits of younger age groups are a warning to the industry in general.
While 29% of adults overall rate radio among their top three most important media activities, only 10% of those aged 16-24do so. This compares to 48% of over 55s. Radio is the media activity least likely to be missed by 8-15 year olds. Only 11% say they would miss it a lot. This compares to 82% that would miss using the internet a lot.
For a long time, the radio was the place not just to listen to music, but to discover it too. The study shows that overall, 60% of regular music listeners listen via radio stations, 34% via online radio, 33% by an MP3 player and 26% do so on a smartphone.
However, among 16-24 year olds who regularly listen to music, 54% use online video, 50% use online streaming services, 38% use smartphones and 35% use radio stations.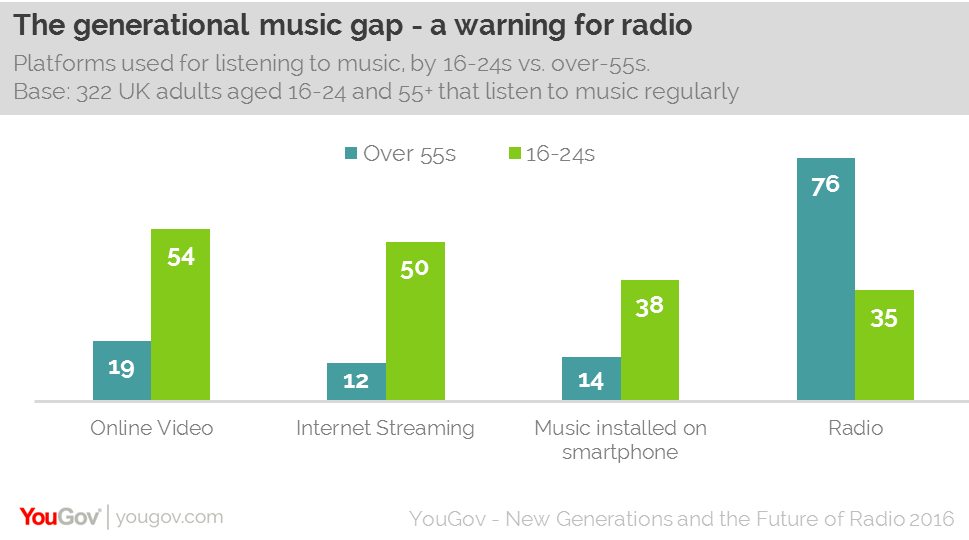 To put it simply, between September 2014 and December 2015, the use of radio stations for music among 16-24s fell, while the use of internet streaming services rose. Platforms such as Spotify are now, for many young people, where they go to access and discover new music. 
In terms of the long terms prospects for the industry, there are warning signs slowly but surely emerging. Agreement with the statement ''radio will remain important both in the car and in the home (in 20 years time)'' decreases from 54% of over-55s to just 16% of 16-24s. Additionally 28% of 8-15s expect to be listening to the radio less than their parents do when they become adults.
Tom Rees, Director, YouGov Reports said: ''For the moment, radio is in a relatively strong position, and does command a solid degree of loyalty among its listeners. The slow transition to digital has meant that those tuning in have greater choice than ever before. 
However radio organisations must be mindful of the changing listening habits of younger age groups, and need to work out how they can once again become a central part of their lives.'' 
Image PA