Britain remains a majority Christian society, but only minorities now believe in the central details of the Christmas story
In the 2011 census, 59.3% of British people described themselves as Christian. New YouGov research for the Sunday Times shows that this Christmas, 82% of British parents with children in primary school say their child's school has a nativity play with some religious content. They divide 42-40% over whether the play is traditional or more modern, but most people (62%) say it's better for nativity plays to be traditional, telling the story of Jesus's birth, rather than modern and relevant to Britain today.
However, despite these traditional tastes and being majority Christian, only a minority of British people believes in the factual details of the Christmas story. A majority of people (55%) think that Jesus was not born to a virgin mother, compared to 24% who think he was. 18% do not believe Jesus Christ actually lived at all.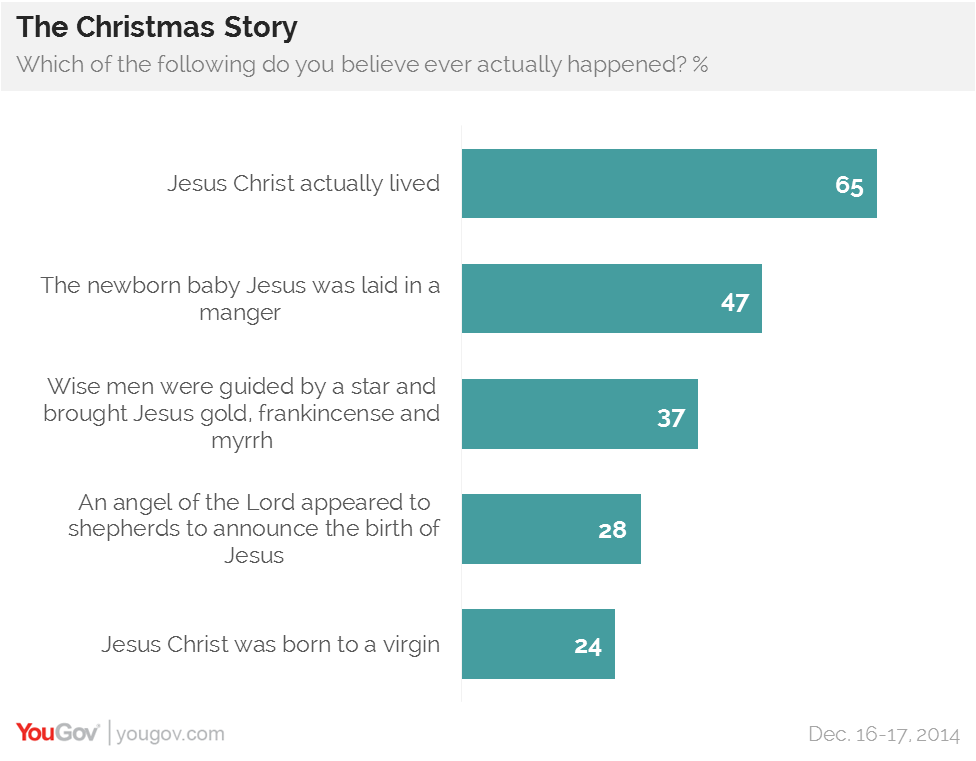 The most widely believed detail of the Christmas story is that the new born baby Jesus was laid in a manger, which 47% of people believe to be true compared to just 29% who do not. However, the percentages quickly diminish from there: 37% believe that the three wise men were guided by a star and brought gifts, 28% believe an angel of the Lord appeared to the shepherds, and just 24% believe Jesus was born to a virgin mother.
A re-working of the nativity story, told from the perspective of a shepherd boy left to look after the three wise men's sheep while they search for Jesus, will air on Christmas Eve on BBC One.