Panic buying in supermarkets seems to have subsided, but lockdown restrictions remain in place, so what can YouGov Plan and Track data reveal about the effects COVID-19 has had on the FMCG sector?
The early days of the COVID-19 (coronavirus) pandemic were characterised by, among other things, scenes of panic shopping up and down the country as Brits feared essential goods could run out. Now, with lockdown well and truly established, Britons are getting used to changing their habits to conform to social distancing. The question is, how have these changes affected British eating habits, and what effect has this had on brands in the FMCG sector?
Fewer Brits are buying groceries, but have the volume of purchases changed?
Our data initially shows a substantial drop in Britons saying they are likely to purchase groceries in the next thirty days, a 12 percentage point drop in fact compared to 2019, falling from 95% to 83% in the 13th week of the year. However, this number now seems to be rising.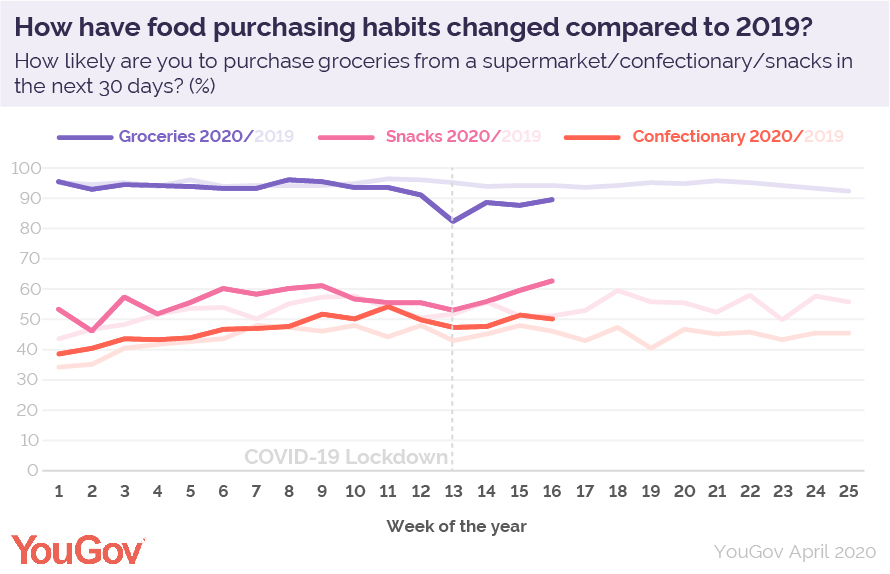 This drop will not necessarily translate to fewer purchases being made in supermarkets, however. Tesco's Chief executive Dave Lewis said the supermarket had seen less footfall but basket sizes were larger than ever. Social distancing and lockdown restrictions mean it's likely that fewer people per household are shopping for food, and are also likely to be doing bigger shops to last longer periods.
Also in evidence of this, YouGov's COVID-19 Consumer Monitor shows that 44% of Britons spent more in store on groceries in the past two weeks, and another 35% say the overall amount they are spending on groceries in store has not changed.
Elsewhere we can see that the purchase of snack foods has seen the opposite, with a 12 percentage point rise versus this time last year, and up 10 percentage points since lockdown down began. Britons were also not put off their Easter chocolate despite the lockdown restrictions in place, with likely hood to purchase confectionary products also up on 2019.
How have Britons eating habits changed?
So, if Brits are buying the same amount, or in fact more, from supermarkets, how has being on lockdown altered dietary habits? Most Britons (53%) say the quality of their diet is about the same as it was before lockdown, however that increase in snack purchasing is going somewhere, with 25% of Britons saying they are eating less healthily than before, compared to 8% who say their eating is healthier compared to pre-lockdown.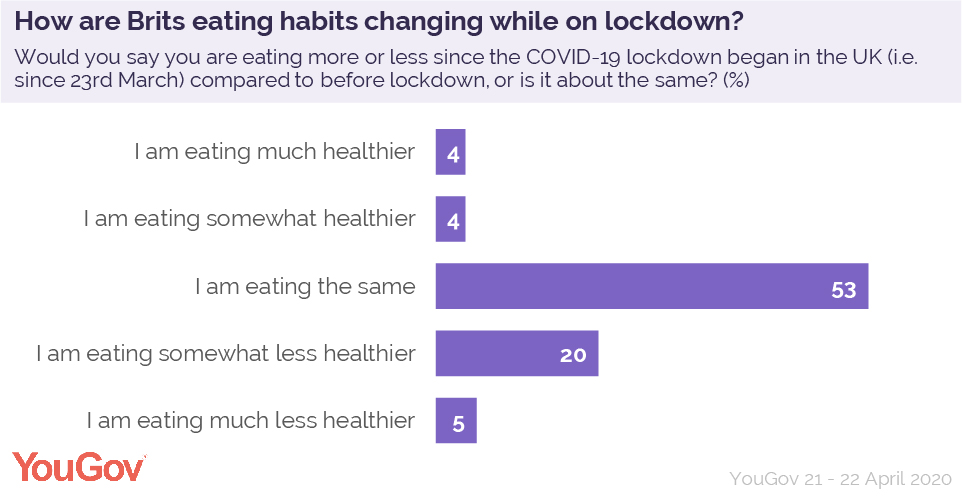 With a quarter of Brits eating less healthy foods, another two in five (40%) of adults say they are also eating a larger quantity during the lockdown, while just under half (47%) are eating the same amount.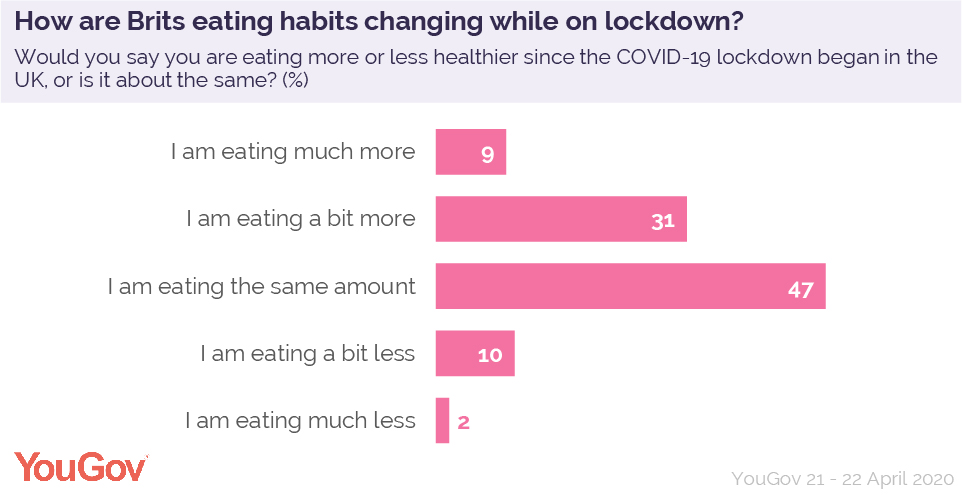 Only 12% of Britons say they have cut down the amount they are eating during lockdown.
Are parents trying to replicate their favourite restaurant dishes for the kids at home?
So, we have seen that Britons are spending the same amount, if not more in supermarkets, so has there been a shift in what Britons are buying? One interesting shift YouGov Plan and Track data reveals is a boost in sales of cooking sauces, especially among parents.
Looking at three major brands of cooking sauces - Dolmio, Patak's, and Uncle Ben's - we can see all three brands have seen postivie changes in their Current Customer BrandIndex scores among the general population, however this change is especially pronouced among Britons with children in their household.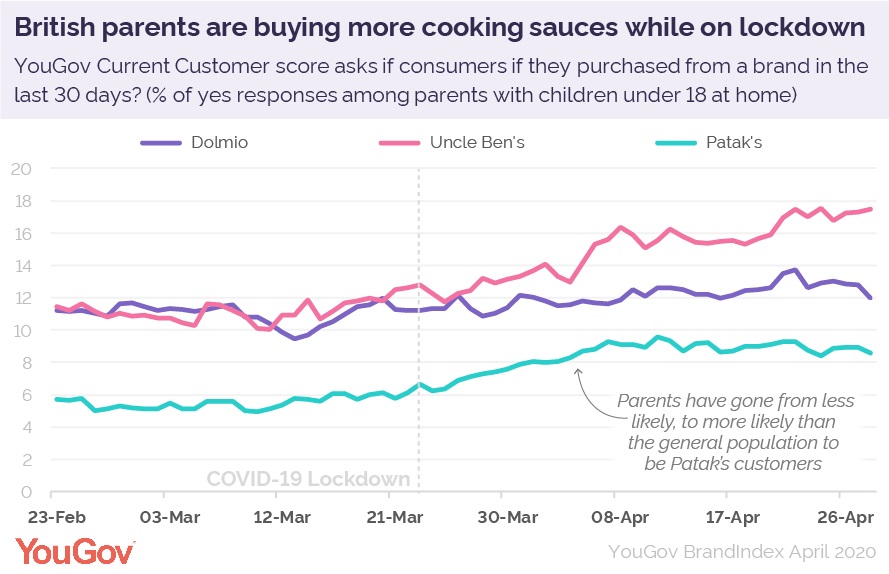 For example, the percentage of parents purchasing Uncle Ben's has risen from 13.9 to 19.5, an increase of 5.6 percentage points. Dolmio has seen a rise of 2.3 percentage points at its peak following the beginning of the pandemic among parents, and for Patak's, parents have gone from being less likely to be customers, to more likely to be customers than the general population.
This could be as a result of parents attempting to replicate their favourite cuisines at home, given restaurants are closed, with Chinese, Italian and Indian cuisines all topping the charts as parents favourite cuisines just behind British food.
This increase on use of cooking sauces could also come as a result of increased time pressure on parents, many of whom will be not only working from home, but first time teachers for their children as well. Those with children under 18 at home are most concerned with cost (60% of parents), and ease of preparation of foods (51% of parents), slightly more than Britons without children at home.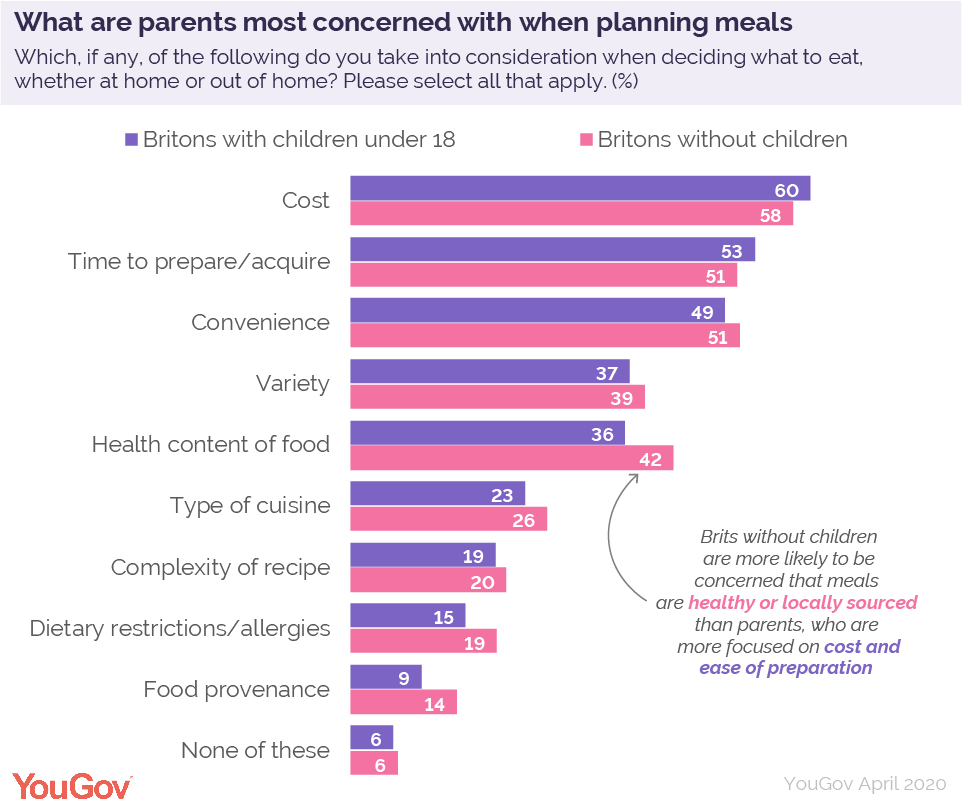 However, those without children are more likely to spend time on planning meals with healthier foods (42%), with greater variety (39%), or foods that have been locally sourced or are in season (14%).
A wider look at the impact on brands in the sector
How have these changes in shopping and habits affecting brand rankings? Comparing the last weeks since lockdown with the same time frame in 2019 shows that, in terms of purchases, long-lasting foods such as tinned and frozen brands have seen big increases in their scores, as well as confectionary and snack brands as we suggested earlier.
Looking at Current Customer scores, it is worth considering the impact that the Easter holiday may have had for the likes of Cadbury's and other chocoloate brands, but Cadbury has still seen a 5.3 percentage point increase on the same period during 2019.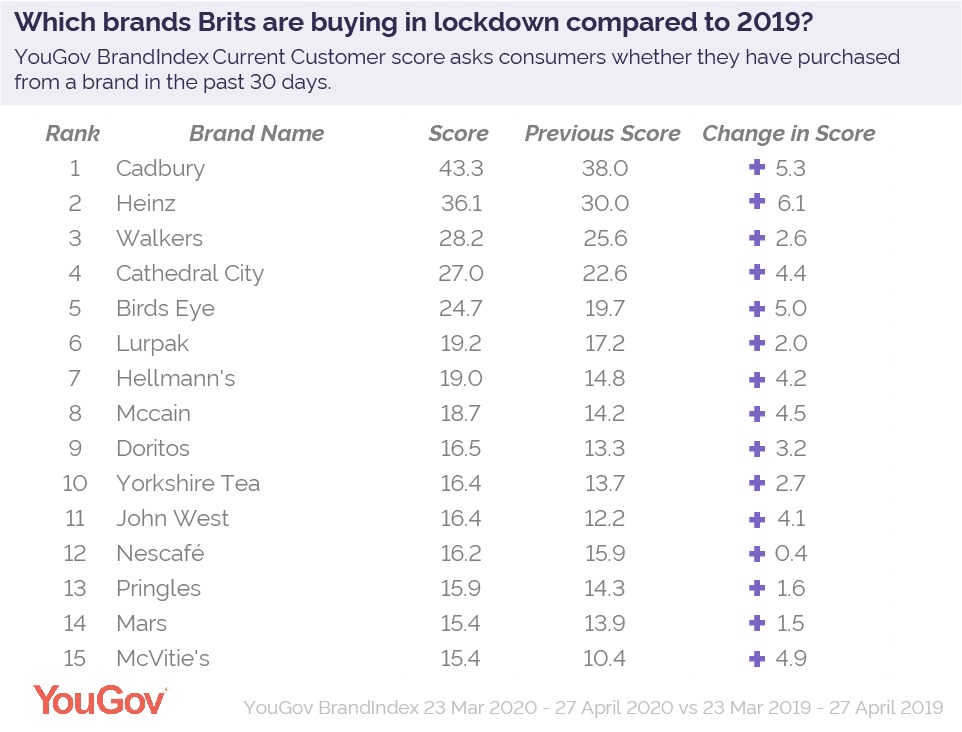 Heinz has also seen a big jump in its score, possibly driven by purchases of its tinned goods as Brits look to stock up on longer-lasting foods, as well as its announcement of a direct-to-consumer website. On a similar note, frozen food brands Birds Eye and McCain's have also seen improvements in their respective scores.
The story is similar when we look at which brands within the FMCG sector Britons think are good value for money, with Cadbury topping the rankings again.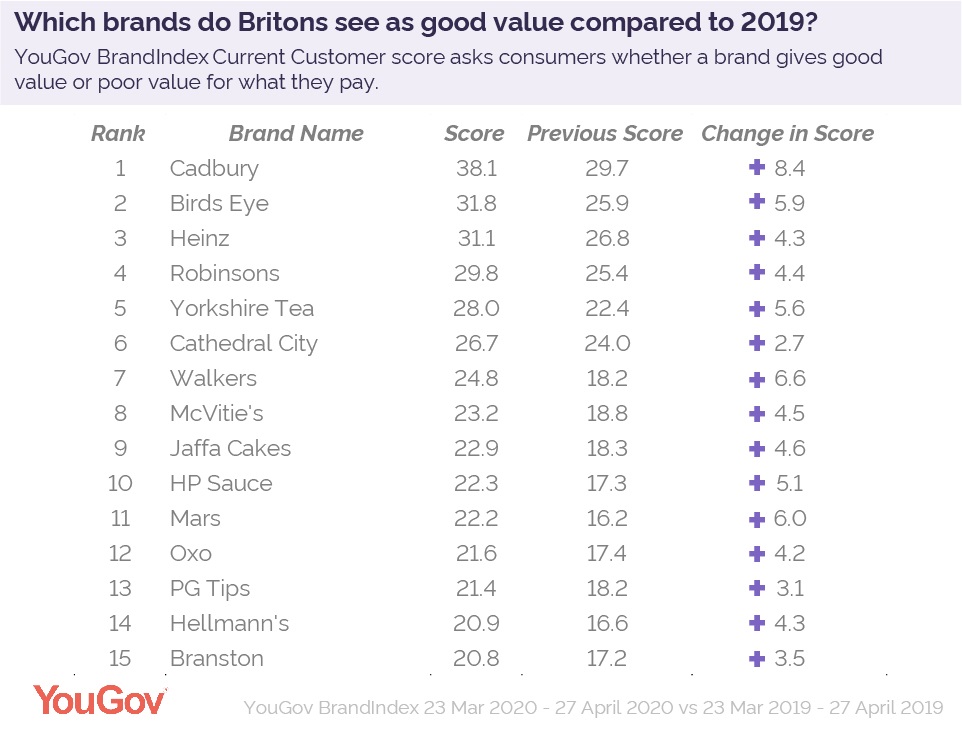 Brits, as well as being keen customers also see Birds Eye and Heinz as good value for money, however these rankings are mostly dominated by the confectionary and snack food brands which look to be benefitting from Brits snacking on lockdown.
Tea brands Yorkshire Tea and PG Tips have also seen a strong increase in their scores compared to this time last year, suggesting Brits on lockdown are finding more time for tea breaks (which would make sense with all those biscuits and chocolates they've purchased). 
Learn more about YouGov Plan and Track here