Each month, we assess which brand has had the biggest uplift in Ad Awareness in the past 30 days.
This time, it is fruit drink brand Robinsons that has shown the greatest improvement.
Robinson's Ad Awareness score (whether a respondent has seen an advert for a brand in the past two weeks) peaked at 21% in mid-July, an improvement of 15% from the middle of June.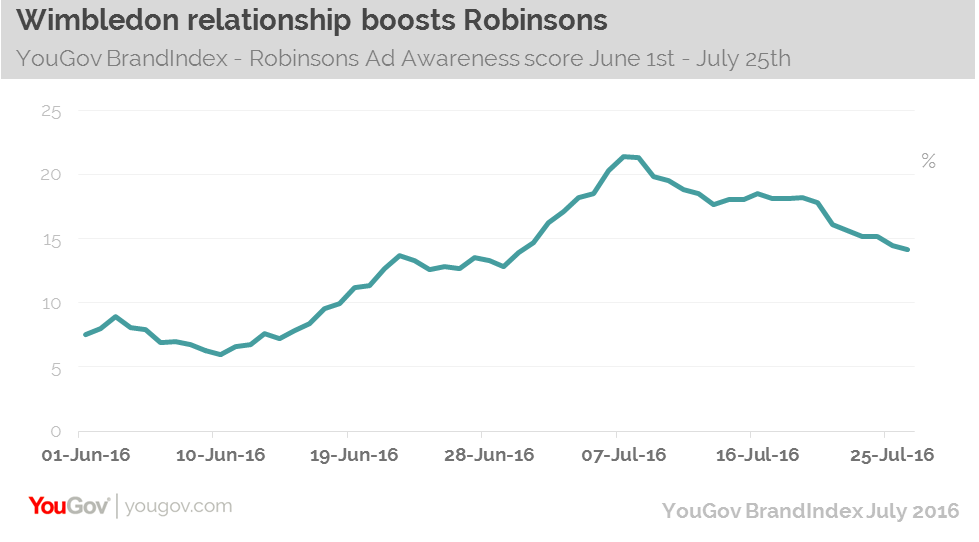 Robinsons has shown the success of focussing a large proportion of its marketing efforts around one major sporting event – Wimbledon.
It has now become as synonymous with the event as strawberries and cream, thanks to a long-standing relationship not just with the tournament, but leading British players. Bottles of the juice are often sipped by players in between points.
Robinsons has not stood still however, it introduced a series of new features this year. Limited edition flavours were on sale and bottles were tennis themed. This supported the main broadcast advert that aired throughout the event.  
It also embraced 'digital thermal advertising', so that consumers see the advert when it is hot (and when they're more likely to be thirsty).
It also installed a 3D billboard close to Waterloo station which incorporates the tennis theme. What's more Robinsons used its social channels more than ever before, pushing its #TasteOfWimbledon in order to generate involvement from fans.
| | |
| --- | --- |
| Find out if we track your brand | |
All in all, it is a relationship that works – as YouGov Profiles data shows. Among those with an interest in tennis, 15% say they drink Robinsons, compared to 8% of consumers generally.
The association is working in other ways. Among those with an interest in tennis Robinson's Attention score has risen by 10 points in the past month.
It's clear that the 'eggs in one basket' approach is a continued success for Robinsons, and with the increased attention a British winner brings, it can be content with its marketing efforts for another event.  
Image PA