The brand that achieved the greatest improvement in Ad Awareness in May according to YouGov BrandIndex data is M&M's.
The advert is a risqué attempt, part-humour and part soap opera; a husband returns to his house to find his wife in bed with of all things, a red M&M.  
The brand has consequently seen a rise of 11% since the campaign was launched in late March, reaching a high point of 21% in the last week of May.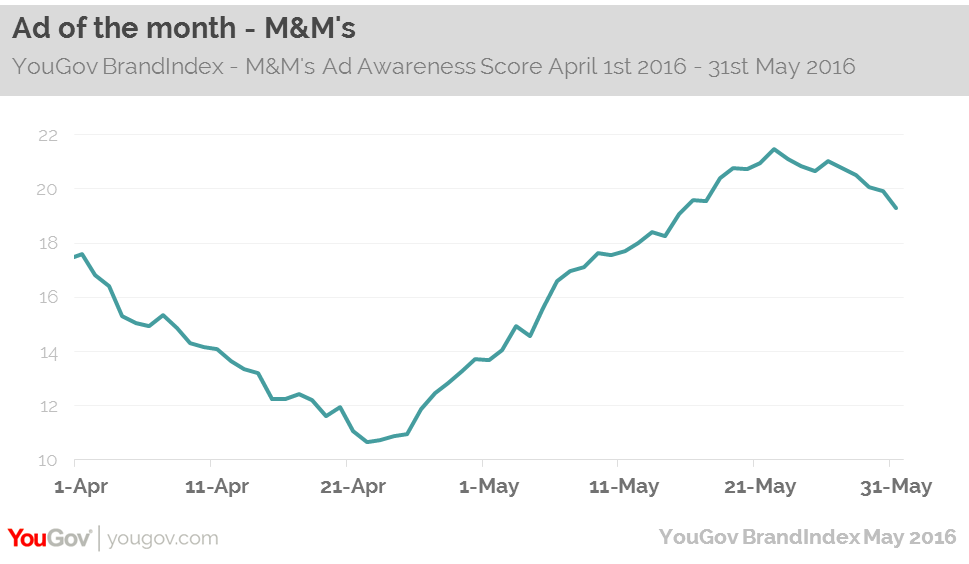 The bonus in this case is how other metrics have risen on the back on the campaign.
For example, M&M's overall Index score (which is a combination of Impression, Quality, Value, Reputation, Satisfaction and Recommend) is currently at its highest point in 2016.
Of course, what counts in the final reckoning in how many packets are bought. There is encouragement here for M&M's too.
It's Purchase Consideration score (whether a respondent would consider buying a product) has risen steadily over the later part of the month. It is also at its highest point this year, having increased by four points to +18.  
The campaign then is another example of work well done for M&M's. The long-running mascots have given the brand a unique proposition over the years, and continue to entertain audiences around the world, while clearly separating the company from the competition. 
Find our more about BrandIndex
Image PA