Following last weekend's dramatic conclusion to the Premier League season, YouGov's SportsLab asked football fans to review the season! Which team, player, and manager outperformed the rest to top the fans' chart? Read it here!
1176 football fans who follow the Premier League chose to take part in our survey looking back on the last season of Premier League football

How would you review the 2011/12 Premier League season? What are you looking forward to in 2012/13? Share your thoughts using Disqus below!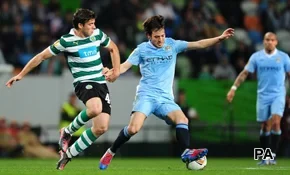 Most exciting team to watch
Not too much of a shock, perhaps, but the top choice in this category was Manchester City, chosen by 25% of our respondents.
City were title-winners this year and achieved this in style, scoring a huge 93 goals along the way.
Another team recognized for their attractive brand of football, particularly in the first half of the season, were Tottenham Hotspur, chosen by 16% of respondents.
Beyond these two clubs other teams who gained support for being exciting to watch this year were Arsenal (12%), Newcastle (11%), Manchester United (8%), and the newly-promoted Swansea (8%).
Game of the season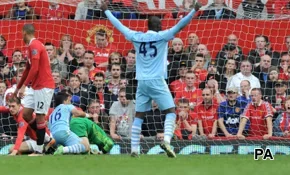 With so many teams playing inspiring and interesting football, this season has featured some gripping fixtures. The top game fans picked though was Man City's thrashing over local rivals United last October.
The 6-1 defeat was United's greatest loss at Old Trafford since 1955 and as well as expanding City's lead at the top of the table, it was a warning to all teams that the "Noisy Neighbours" were a genuine title threat. Three goals in extra time brought the score to 6-1 and Ferguson described the defeat as his "worst ever day".
A very close second for the best game award, was the final day fixture between Manchester City and QPR. City were playing for the Premier League title while QPR were playing to avoid relegation, making it a massive game, before the players had even stepped onto the pitch.
City needed to match or beat Manchester United's result from their game on the same day, and QPR had to get points if Bolton beat Stoke. QPR captain, Joey Barton got sent off early in the second half, but the real excitement came in the last 5 minutes. At the 90 minute mark, Manchester City were 2-1 down, and with United winning at Sunderland, it looked like they had blown their chances.
However, two late goals from Dzeko and Aguero meant City stole the top spot from United winning their first Premier League title in 44 years.

Manager of the Year
Despite managing Manchester City to their first title since 1968, it was not Roberto Mancini but Newcastle Manager, Alan Pardew, who was crowned Manager of the Year by a third (31%) of Premier League followers in SportsLab. Pardew guided Newcastle to 5th in the Premier League in only their second season since promotion from the Championship.
Wigan's Roberto Martinez was the second most popular choice with 16% of the votes after securing Wigan's place in the Premier League following another relegation battle, and Mancini came in 3rd, with 15% of the vote.
Player of the year
· Arsenal's Robin van Persie emerged the clear winner. Van Persie, also voted this year's PFA Player of the Year, received 30% from Premier League football fans in the Lab, reflecting a fantastic season in which he scored 37 goals and captained Arsenal to 3rd place in the Premier Leagu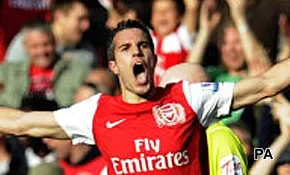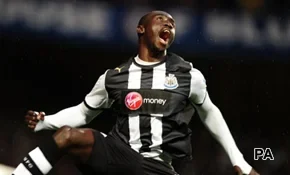 A number of new faces to back in the 2011/12 Premier League – yet the overwhelming choice of SportsLab respondents for signing of the season was Newcastle's Papiss Cisse with 30% of the votes: a player who only joined the League in the January transfer window. Since making his debut in February, Cisse proved his value with 13 goals in 14 games, clearly making an impact on football fans across the country.
In addition, another player who proved an excellent signing was Manchester City's Sergio Aguero who scored 23 goals in the Premier League, and was picked as the top signing by 17% of SportsLab football fans. In third, and joint fourth place was Everton's Nikita Jelavic (9%),Tottenham's Scott Parker (8%), and Newcastle's Demba Ba (8%)
Team of the Year
We have taken the top performers in each position, as chosen by SportsLab football fans, to create a Team of the Year, which is based on a standard 4-4-2 formation. The results of which are explained in more detail below.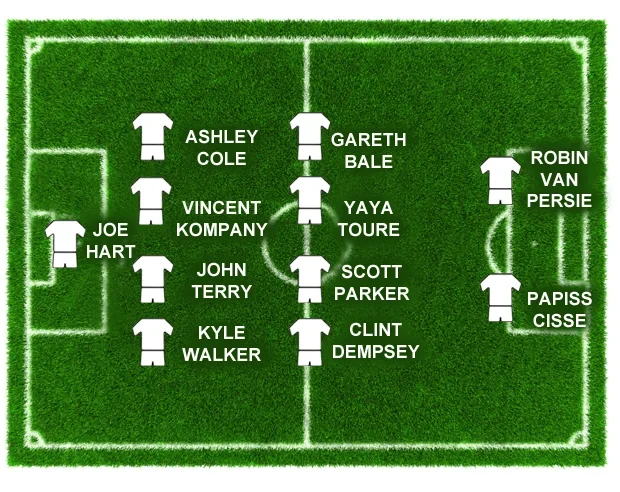 Goalkeeper
Goalkeeper – Joe Hart
Unsurprisingly the top performing goalkeeper chosen by SportsLab respondents was England's Joe Hart. The Manchester City keeper was the comprehensive winner with 52% of respondents selecting him, a long way ahead of the second choice, Swansea's Michel Vorm with 10%.
Defence
Right Back – Kyle Walker
Left Back – Ashley Cole
In the full back positions, two players came out clearly ahead of the rest. Tottenham Hotspur's Kyle Walker was the most popular choice of full-back, selected by 21% of respondents. For the second full-back position, Chelsea's Ashley Cole was the pick of 16% of participants. Beyond these two, the other full-backs who SportsLab fans felt had played well this year were Leighton Baines(10%), Patrice Evra (9%) and Pablo Zabaleta (9%).
Centre Back – Vincent Kompany
Centre Back – John Terry
64% selected Man City's Vincent Kompany – a strong endorsement for his performances in leading Manchester City to the Premier League title. The dominance of Kompany in this category is illustrated best by the difference in support for the second best centre-back. This was John Terry, who was selected by only 6% of respondents, whilst Liverpool's Martin Skrtel was the third best, chosen by 5% of SportsLab football fans.
Midfield
Right Midfield – Clint Dempsey
Left Midfield – Gareth Bale
From a selection of the top Wide-Midfield players in this year's Premier League, a high 46% of SportsLab football fans chose Gareth Bale as the best player in this position. The Tottenham winger had an excellent season, achieving 10 goals and 10 assists in the Premier League. Fulham's Clint Dempsey came second with 16% of the vote, who scored 17 goals this season. Manchester United's duo, Antonio Valencia and Nani also received some support from respondents, being chosen as the best Wide-Midfielder by 10% and 6% respectively.
Centre Midfield – Yaya Toure
Centre Midfield – Scott Parker
The decision on the best Central-Midfielder produced a clear first choice amongst SportsLab football fans, of whom 35% chose Manchester City's Yaya Toure as the best Central-Midfielder this year. The battle for the second best player proved very close between City's David Silva and Tottenham's Scott Parker. In the end, Scott Parker proved to be the more popular of the two by a tiny margin, with 12% of respondents selecting him, to 11.5% for Silva. In addition, not far behind these two in the choices of SportsLab fans were Paul Scholes (10%) and Steven Gerrard (7%).
Strikers
Striker - Robin Van Persie
Striker – Papiss Cisse
Once again Robin Van Persie was comfortably the most-selected player in the best Striker category, with 55% of respondents selecting the Arsenal captain. The battle for SportsLab's second place much closer, with Newcastle's Papiss Cisse selected by 11% of participants.
Cisse's inclusion is significant as he only joined the Premier in January transfer window, however his 13 goals during the second half of the season clearly helped him secure his position in the SportsLab team. Following Van Persie and Cisse in third and fourth was Wayne Rooney (10%)and Sergio Aguero (7%).
Playoff Final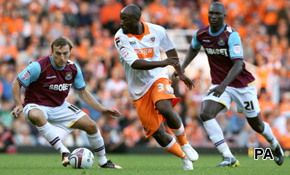 Reading and Southampton have already secured the two automatic promotion spots from the Championship to the top division, but there is one more place up for grabs to be decided on Saturday in the Championship playoff final.
Following semi-final wins over fellow top 6 finishers Cardiff and Birmingham, West Ham and Blackpool will play at Wembley in a game that is said to be worth £90 million to the winning team.
61% of SportsLab fans predict a West Ham win this weekend whereas 35% back Blackpool. The Hammers finished the season 11 points above Blackpool and stayed in a three horse race for automatic promotion right up to the last few weeks of the season, they also beat Blackpool in both Championship meetings this year. Both teams were relegated last season and will be desperate to return to the Premier League.
What about next year?
SportsLab fans predict that there are only really two contenders for next year's Premier League title. 40% predict Manchester City to regain their trophy while 35% think the red Devils will win the top prize. The next nearest candidate is Arsenal with 6% of fans thinking they'll win the league.



How would you review the 2011/12 Premier League season? What are you looking forward to in 2012/13? Share your thoughts using Disqus below!