YouGov data reveals the personality traits that set people who like France apart from those who back Holland
For years YouGov has been surveying our UK panel of respondents about everything from political opinions to their favourite films or even hobbies, and it has allowed for interesting and often surprising findings about how different aspects of people's lives overlap. Previously YouGov probed the strange correlation between supporting the Lib Dems and liking sci-fi television, and what sets apart Jonathan Ross and Graham Norton devotees.
Using a similar analysis, YouGov looked at two data points: the way people in Britain describe their own personalities, and the national football team they like (including over 5,500 England fans and nearly 2,000 who like teams elsewhere). The map shows the adjectives that people who like each country's national team are especially likely to use to describe themselves relative to other sports fans on YouGov.com.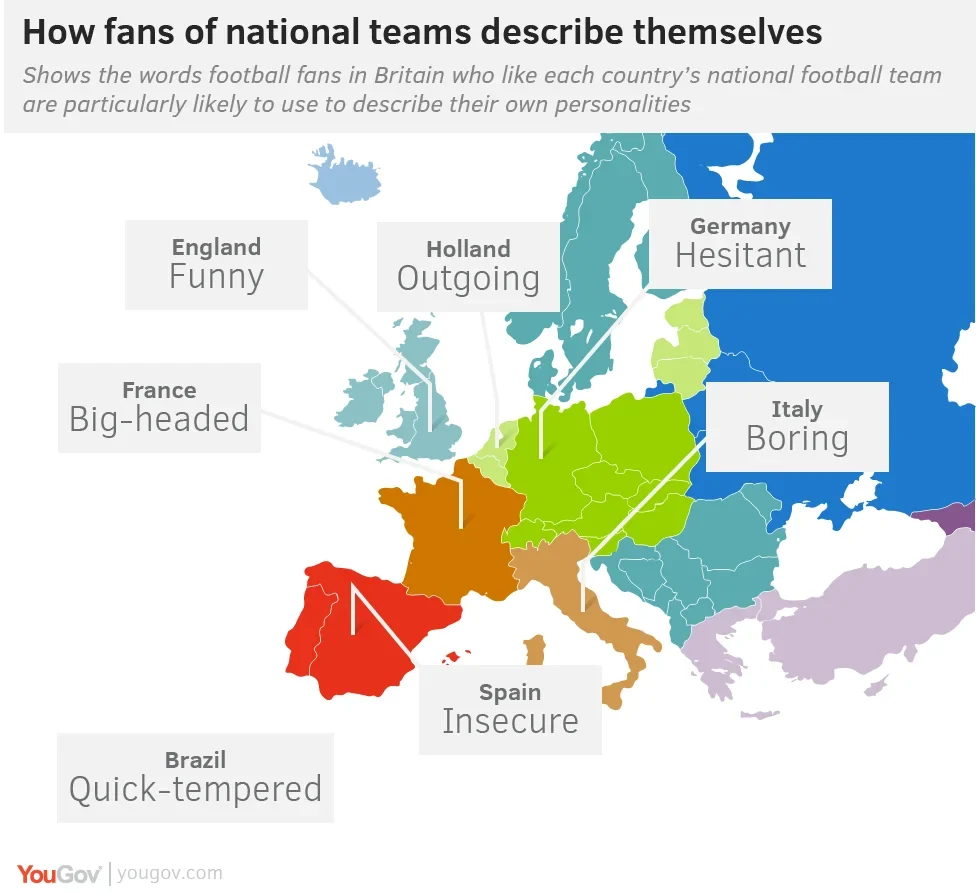 Several of words fit the team's own profile, while others are less intuitive.
Those who like the Dutch national team, which brought us "total football", are particularly likely describe themselves as is "outgoing". Fans of the Italian team, famous for its tactical, defensive style of play are particularly likely to describe themselves as "boring". The adjective for fans of France – "big-headed" – evokes memories of the "ego-driven disaster" that famously ended their 2010 World Cup campaign. Outside of Europe, the Brazilian team, known for passionate and intense football – as well as the odd challenge – is appreciated by people who are more likely to describe themselves as "quick-tempered".
Perhaps less fitting is the fact that fans of Spain are more likely to call themselves "insecure"; although the adjective a Spain fan is next most likely to use is "perfectionist", a phrase more suitable for the precise, tika-taka style of recent Spanish teams. "Hesitant" may also seem like an odd for the German team after their recent 7-1 demolition of Brazil, but German football culture has traditionally been known for a careful, disciplined approach.
Image: Getty