43% of Wimbledon fans think Andy Murray will be knocked out in the semi-finals – 31% expect him to get to the final
For the first time since 1937, a British tennis player is the defending champion at Wimbledon. But Andy Murray hasn't had the best year. After back surgery in September he failed to get past the quarter finals of the Australian Open for the first time in five years, and he hasn't won a tournament since his Wimbledon victory last July.
A new YouGov survey finds that most Wimbledon fans will be surprised if Andy Murray gets past the semi-finals.
Of those interested in Wimbledon (46% of the general public), 74% think Murray will at least get to the semi-finals, but the biggest group (43%) expect him to not get any further. 16% think he will get knocked out in the quarter-finals and 4% think he will go out even before then.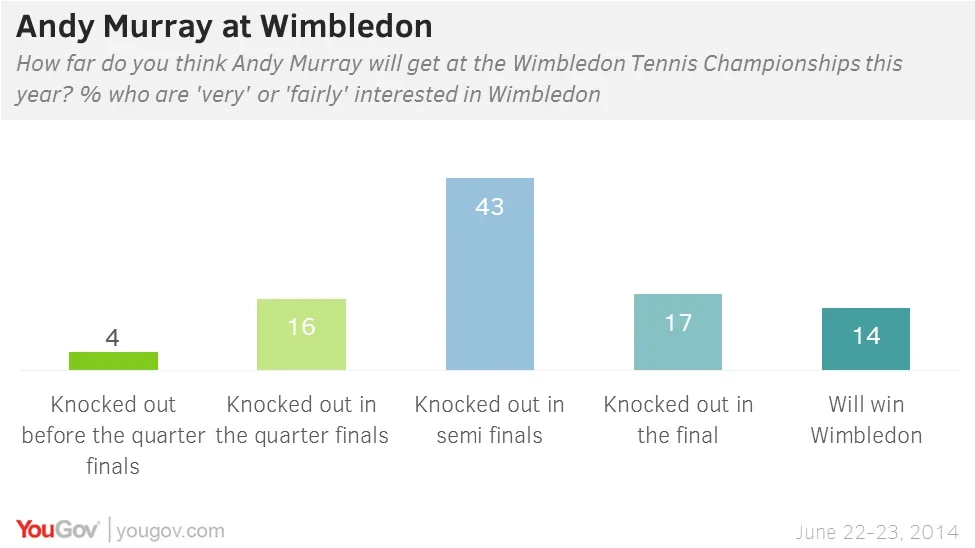 Nearly a third (31%) of Wimbledon fans are hopeful that Andy Murray will get to the final, however. 14% expect him to win the final and 17% predict he will lose it. Hopes are significantly higher in Scotland, where 24% of the general public think he will win the Championships and 14% think he will get knocked out in the final.
After being perceived as more a Scottish than British sportsman since 2011, YouGov found that once he had won Wimbledon he became seen as slightly more British by 45-44%. Before this year's tournament gets into full swing, however, he has reverted to being seen as Scottish, by 48-41%.
Image: Getty