With the 2003 Iraq invasion increasingly out of favour, the British public oppose sending any arms, troops or air support to aid the Iraqi government today
Militants led by the Islamic State in Iraq and the Levant (ISIS) have taken control of large swaths of northern Iraq, with the Iraqi military looking increasingly incapable of stopping them. The crisis, which may have been brewing for many months but has only reached the public eye in the last week, has many some observers raising new questions about the 2003 invasion of Iraq as well as the subsequent withdrawal of Western forces from the country.
YouGov has tracked public opinion about the war in Iraq going back to the beginning of Western involvement there, and the latest polling suggests fewer British people believe in the decision to invade Iraq in 2003 than ever before. As of June 12th-13th, only 23% of British people think the United States and Britain were right to go to Iraq, the lowest YouGov has ever recorded. About half (51%) say it was the wrong thing to do, while a quarter (26%) don't know.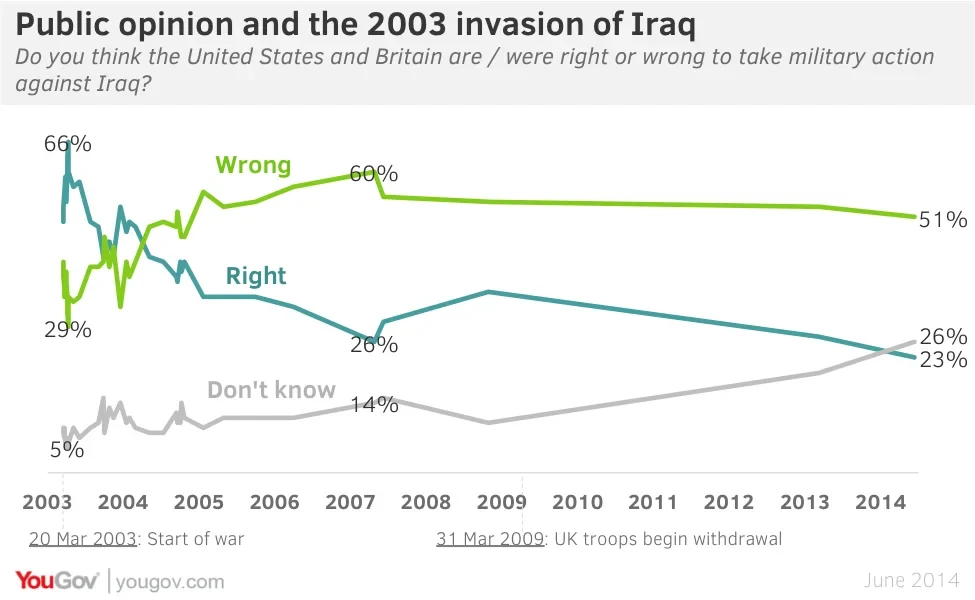 Additionally, there is broad support for the decision by Western countries to withdraw troops from Iraq. 72% say this was the right decision, and only 12% say it was wrong according to a new YouGov poll for the Sunday Times.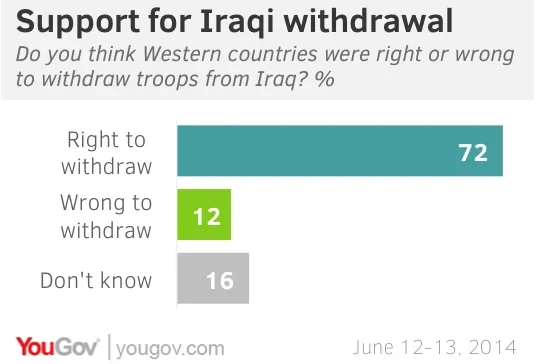 While most British troops left the country in 2009, Americans forces remained until 2011.
Public disillusionment with British and American involvement in Iraq's affairs extends to the current crisis. Presented with four possible interventions, ranging from sending advisors to help the Iraqi army to sending British and American troops to fight there, the public reject all but one. However, even the most favoured option – sending military advisors – is supported by only 44% and opposed by 38%. Three-quarters oppose sending troops to Iraq, and 51% oppose providing military air support. Providing arms to the Iraqi army is opposed by 49-26%.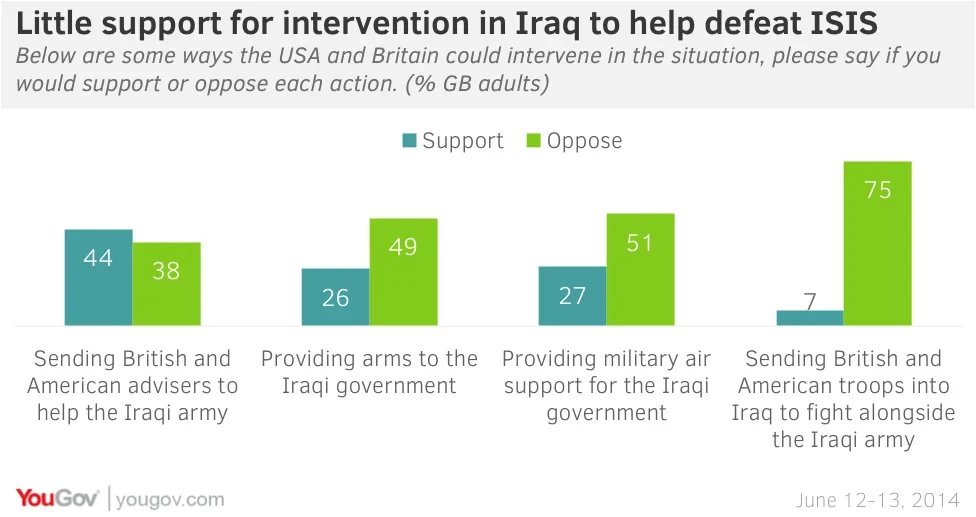 As Sunni insurgents march towards Baghdad, a senior Shia cleric in Iraq has issued a call to arms, threatening to push the country deeper into chaos and bloodshed. Whether Western governments will in fact increase their involvement is not clear. US President Barack Obama – whose opposition to 2003 Iraq invasion was a centrepiece to his first presidential campaign – has refused to rule out intervention, while insisting no American troops would be sent back into Iraq.
Image: Getty
See the full Sunday Times results