It often takes time for economic recovery to translate into a tangible feel-good factor. Yet, with green shoots well and truly springing forth for the UK economy, people's morale seems to be getting a real boost.
The latest findings from YouGov and the Centre for Economics and Business Research show that higher economic optimism within the labour market is contributing to increased consumer confidence as the recovery continues.
Our consumer confidence index has shot up to a near seven-year peak – its score of 113.9 is the highest since July 2007. It has risen by 12.7 points in the last year and now stands just 1.7 points behind its highest level ever, recorded in April 2007 prior to the financial crisis, suggesting that the recovery is not just a blip but may be here to stay.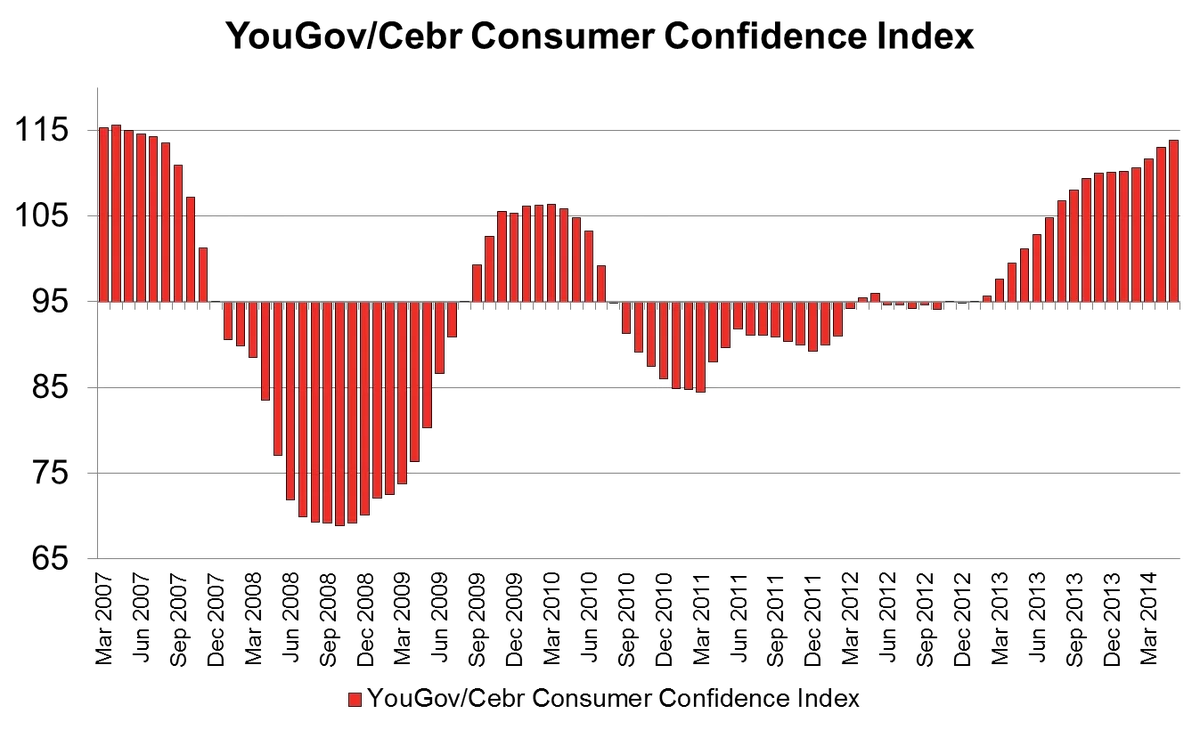 Previously, I have commented on how the recovery was dependent on homeowners who were boosted by rising prices, as well as consumers who were beginning to feel their household situation improve. But there are also positive signs for workers overall, even those not on the property ladder.
The latest findings show that workers are now beginning to play a crucial role in driving the recovery. Increased business investment is leading to more companies focusing on recruitment, and the research finds that more people are getting pay rises, promotions, bonuses and new job starts.
The percentage of those who have experienced a pay rise, bonus or promotion in the last 12 months is now at 45 per cent – up from 41 per cent in May last year and 40 per cent in May 2012.
This is complemented by the finding that those who have started a new post has risen to 19 per cent from 16 per cent last year and 15 per cent in May 2012.
Furthermore, just 23 per cent of workers say they have seen colleagues made redundant in the last year – as opposed to 28 per cent in May 2013.
With such promising signs emerging from the labour market, it is little surprise that consumer confidence is bouncing back.