YouGov CEO, Stephan Shakespeare, assesses why consumer confidence is key to the next election
Since YouGov started tracking consumer confidence in 2009, the number of people expecting their household financial situation to get worse has always far outstripped the upbeat group of Britons who expected things to get better.
This split reached its worst in 2011 when for a few months more than half, or 55 per cent, of all British households expected to be worse off in a year's time.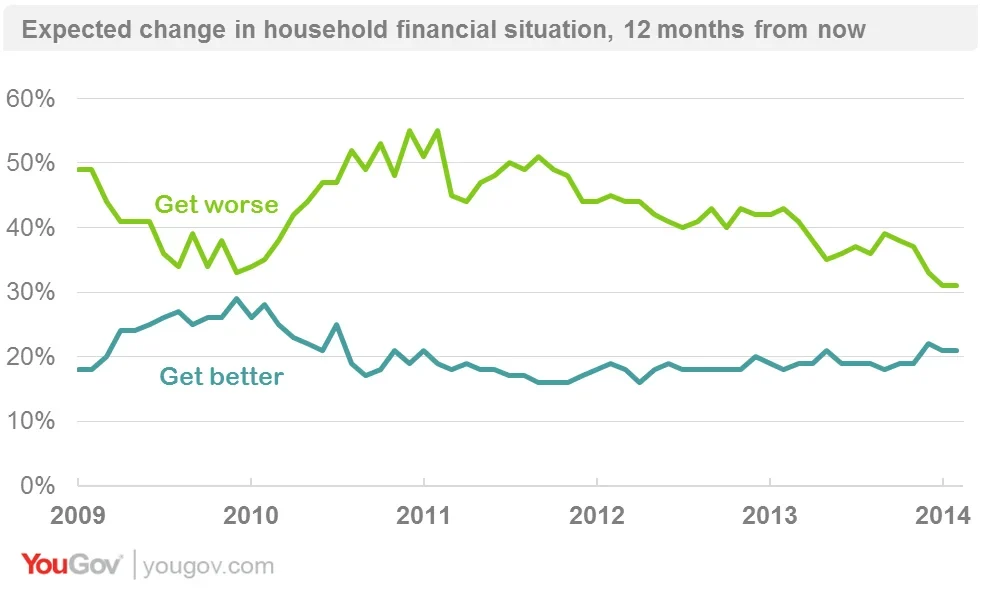 However, if the pace of change in consumer confidence that we have seen over the past year continues at its current rate, then by the end of 2014 those who believe they will be richer in a year will finally outnumber those who think they will be poorer.
Many things could happen between now and December to knock this trajectory off course, from the changing price of oil and wheat to the Scottish referendum, but there is no denying the significance of this change in circumstance now being a real possibility.
This would mean that approximately four months before the next General Election, set for May 2015, there would be a nation of voters feeling more confident about their personal finances than they have since the economic crisis began.
With today's Budget, the Conservative chancellor George Osborne is expected to try and woo working class voters and pave the way for a parliamentary majority from 2015.
Policies that have been floated already, including an extension of the Help to Buy mortgage scheme, a tax break for childcare and changes to the income tax regime, are all designed to try and close the gap between the wider economic recovery and people's pocketbooks.
This economic disconnect has arguably been one of main causes of the recent political gap between the Conservatives and Labour.
Support for Ed Miliband's party currently stands at 40 per cent, compared with 32 per cent for the Tories. Meanwhile, on economic management, the Conservatives lead Labour by the same margin, or 32 per cent compared with 24 per cent.
When we ask people who they trust to keep down living costs, a third (32 per cent) say Labour while just over a quarter (27 per cent) choose the coalition.
Closing the cost of living gap with Labour could now be within sight for the Conservatives, and that could be the deciding factor in who wins the next election.
This article orginally appeared in City A.M.