YouGov CEO, Stephan Shakespeare, asks if the improved economic figures tell the whole story.
After the longest recession on record, Britain is back. Last year the economy grew by 1.9 per cent, its fastest pace since 2007, and the IMF projects growth of 2.4 per cent this year – making us Europe's fastest-growing major economy.
But do these robust figures tell the whole story? Last week, we convened an online focus group of people drawn from the so-called squeezed middle to try and get a fuller picture of post-recession Britain.
What we found is that people are deeply sceptical about the recovery, with many saying they think the employment figures are being "manipulated". Indeed, the latest YouGov/Cebr Consumer Confidence Index shows that just 8.7 per cent of households saw their financial situation improve in the last month, while a quarter said it got worse.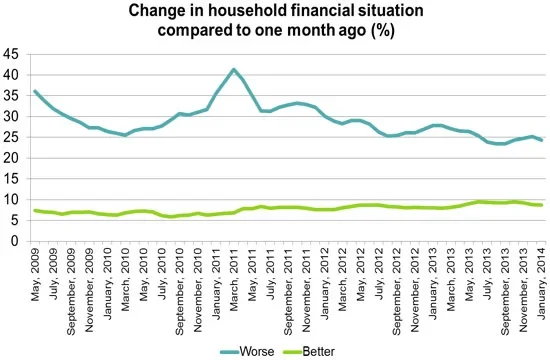 Many of the participants in the focus group told us how they hadn't had a pay rise in years, and based on what they see at work they questioned whether the employment figures are driven by low-paid, part-time jobs.
While people may be unconvinced of the employment figures, our research shows they do believe that house prices are on the rise; 59 per cent say their houses will be worth more in a year's time, up from just 26 per cent who agreed last January.
The trouble is, even homeowners in the group didn't think this was a good thing, with many fearing their children would have no chance of ever owning a home.
Looking to the year ahead, most said that barring a big rise in energy prices they do not expect things to get much worse, but they also don't anticipate things getting better.
It would seem the recession has left ordinary Britons with deep wounds, and that will take more than a few quarters of growth to heal.