Yesterday, supermarket chain Tesco entered the tech world by launching its very own tablet computer, the Hudl. The move places Tesco in direct competition with Apple's iPad, Google's Nexus and Amazon's Kindle Fire.
Analysts have been impressed with the tablet's spec. It runs the latest version of Android and has the same built-in storage as the Nexus and iPad Mini.
Crucially, however, the Hudl can be bought at the cheaper price of £119 (or for just £60 using Tesco Clubcard points).
Tesco has insisted that its competitive price has not affected the quality of the product, which it claims beat similarly priced products "hands down".
As with other devices, the Hudl can be used for internet browsing, streaming movies and music and accessing on-demand services.
Furthermore, the device also includes a Tesco launcher icon that enables users to access Tesco's other consumer services such as online grocery shopping, banking and clothing.
News that Tesco, better known for selling grocery products, has entered the high-tech tablet market caused a significant increase in the brand's social media activity.
Yesterday, 41.2% of UK Twitter users were exposed to a mention of Tesco on their feeds, compared to just 10.9% the previous day. Leaving no ambiguity as to what caused this significant increase in reach, we can see that the most popular words mentioned alongside Tesco were 'tablet', 'hudl' and 'Android'.
The launch also had a notable impact on Facebook. Yesterday 7.4% of UK Facebookers heard a mention of Tesco compared with just 3.9% the previous day.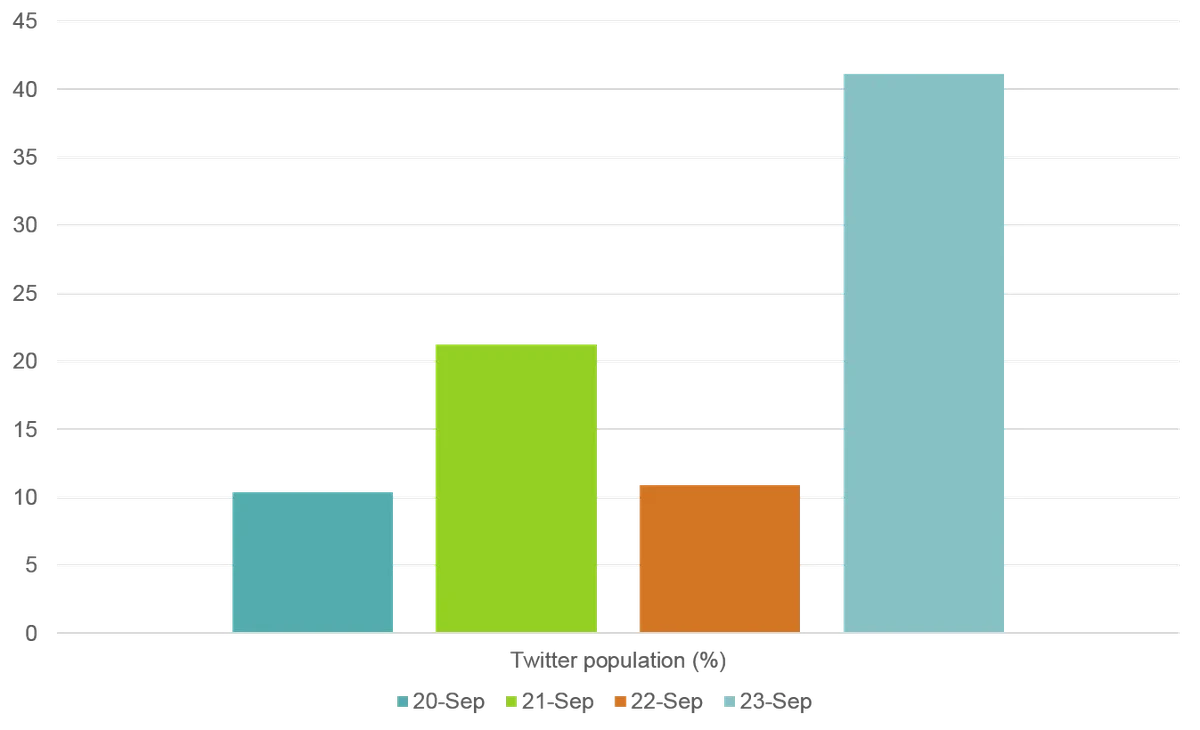 How the launch of a Tesco table will resonate with consumers will be interesting to monitor. However, by taking a selection of related Twitter comments yesterday, we can get a feel for consumer perception in the immediate aftermath of the launch.
Some comments focussed on Tesco's all-encompassing product offering:
'Is there nothing Tesco don't do? Tesco In Challenge To iPad With Hudl Tablet #megabrand #tesco'
Other users commented on the comparable spec and competitive price:
'I *just* bought a Nexus 7 but I'm seriously considering returning it for the Tesco Hudl. Comparable specs, £80 less'
However others highlighted the irony of a major grocery store entering the tablet market:
'Now even supermarket chains are making cheap Android tablets - It's the Tesco Value Tablet!'
Overall the increased social media attention combined with a comparable spec at a competitive price seems to have resonated positively amongst consumers. It will be interesting to monitor consumer reaction and uptake of the Hudle and to see how incumbent tablet manufacturers react to Tesco entering this lucrative marketplace.