YouGov CEO, Stephan Shakespeare, discusses the recent launch of London Pride's 'Made of London' advertising campaign
Fuller Smith & Turner has launched a 'Made of London' campaign across all media to promote its London Pride ale to capital dwellers.
The campaign first broke in late May and moved forward with a step-up in exposure last week as digital, outdoor and underground spots were added.
It tells the story of London Pride's history, focusing on its relationship with the city after which it is named.
It is still early days for the campaign, but it appears to have had an immediate impact across the marketing funnel.
By looking at YouGov's BrandIndex and focusing only on respondents living in Greater London, we see that there has been a significant increase in ad awareness, brand perception and purchase intent. Over the last week, the percentage of Londoners aware of London Pride advertising has increased from 1% to 5%, while the index score has jumped from +14 to +21.
Furthermore, purchasing intent has leapt from 4% to 9%, moving the brand from sixth to first in the purchase intent league table of beers among Londoners; a phenomenal success by any measure.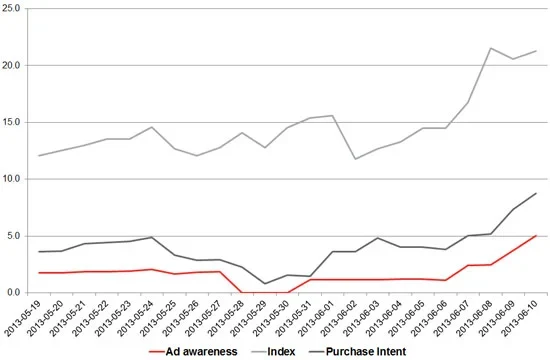 By looking specifically at the Index score we can further see the impact. Given it is a London-only campaign and that prior to its launch the London score was very similar to that of the nation as a whole, the rest of the country effectively acts as a control group. Since the launch we see that a nine-point gap has opened up between London and the rest of the country.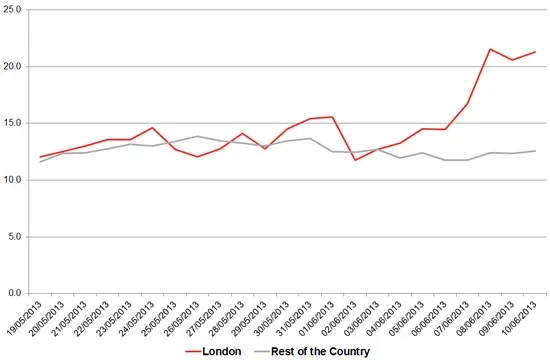 This is a clear example of how an advertising campaign can make a real impact on views of a brand. The key will be how long they are able to sustain the uplift.