Heathrow is now ranked No 1 with consumers, according to YouGov BrandIndex
London's Heathrow Airport scored a major victory today when a committee of MPs rejected the idea of building an airport in the Thames Estuary in East London.
The House of Commons Transport Committee warned that the Thames Estuary airport, dubbed 'Boris Island' for the London Mayor's enthusiastic support of the proposal, would be "hugely expensive", harmful to estuary wildlife and could lead to the closure of Heathrow, Britain's largest airport.
The committee said that the best option for expanding the capital's airport capacity would be to add a third and even a fourth runway to Heathrow. This will be music to Heathrow bosses' ears, as the airport's owner, BAA, has been waging a robust PR campaign arguing that there must be "one hub or none".
Heathrow ranked No 1 with consumers
Using BrandIndex, we have been following this debate closely from a consumer perception perspective. At the end of last year, we told how the on-going debate over airport capacity was hurting Heathrow's consumer perception scores.
Then in February we reported that the airport was ranked six overall with consumers (Manchester was #1), and suggested that to improve its consumer perception it should consider working on its approach to customer experience, particularly its longish connection times.
Today, according to the latest BrandIndex Index scores (a composite of six key measures of brand health) Heathrow has knocked Manchester from its perch and taken the No 1 spot, with a score of 21.3, compared to 19.4 for Gatwick Airport, and far ahead of former top dog Manchester, which today comes in at 13.7.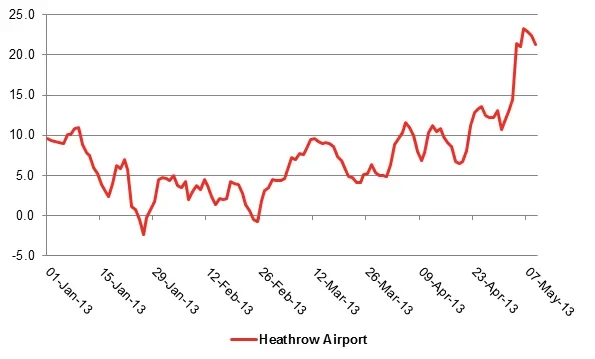 The government is not expected to make a decision on the airport capacity debate until after the next election, in 2015. So while Heathrow's battle is far from over, right now it is winning the debate and its brand is strong as ever.
Top 10 airports according to Index:
Heathrow Airport (21.3)
Gatwick Airport (19.4)
Manchester Airport (13.7)
Amsterdam Schiphol Airport (13.5)
New York JFK (11.2)
Edinburgh Airport (9.2)
Singapore Changi (8.8)
Glasgow Airport (8.1)
Paris Charles de Gaulle (6.7)
Birmingham Aiport (6.6)