Ever wondered what the difference is between Diet Coke and Coca-Cola Zero? According to our friends at The Huffington Post the soft drinks are "nearly identical" and the only quantifiable distinction is that Coke Zero uses a different kind of potassium to imitate sugar – the real difference between the two Coca-Cola sub-brands is marketing.
Diet Coke, the calorie-free alternative to classic Coca-Cola, debuted in 1982. Conventional marketing thinking was that the 'diet' bit was scaring off male consumers, and so in 2005 the company released Coca-Cola Zero to appeal to men who are watching their waistlines but don't want to be associated with being on a diet.
But is it working? And do the same assumptions about male and female consumers still hold true today?
Looking to BrandIndex, YouGov's brand perception tool, we see that while classic Coca-Cola and Diet Coke are both in rude health, Coca-Cola Zero – the least established of the three brands – is struggling.
If we start at the broadest level – the UK-wide Index score (a composite of six key image attributes) – we see that Coca-Cola original leads the pack with an Index score of 11.6, followed by Diet Coke at a none-too-shabby 6.3. However, Coca-Cola Zero is an unambiguous laggard – in negative territory with an Index score of -1.8.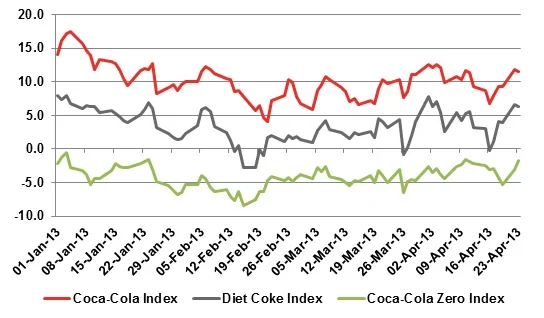 Coke Zero struggling amongst young men
If we dig deeper into the data, however, we can see even more interesting differences in how the three brands are viewed amongst different consumer demographics.
For instance, while Coca-Cola classic enjoys strong brand perception amongst men (9.4) and women (13.9), Diet Coke suffers from fairly weak perception with male consumers (0.5 vs 12.4 for women).
Interestingly, while Coca-Cola Zero is intended to appeal to young men, it actually has the best brand perception amongst women (1.1 vs -4.6 for men). What Coca-Cola marketeers will likely find most troubling is that, according to BrandIndex, Coke Zero suffers from particularly poor consumer perception with young men, who are meant to be the primary target for the brand. When we filter for young men (aged 18-34), Coke Zero's Index score drops even further to -7.1.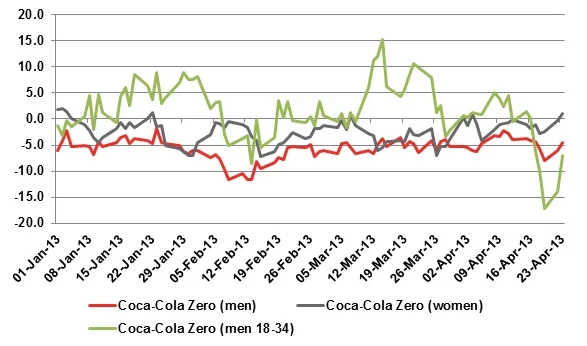 However, things may not be as dire as they seem for Coca-Cola Zero. Original Coca-Cola has been around since 1886 and Diet Coke since 1982, so at just eight-years-old Coke Zero is definitely the baby brand and therefore it has plenty of time to mature. Also, Diet Coke has had considerable marketing power behind it recently, including a return of 'The Diet Coke Hunk' and a recently released advert starring teen country music sensation Taylor Swift.
Meanwhile, in a sign that the company is definitely not giving up on Coca-Cola Zero, it was recently announced that this summer consumers will be able to enjoy a caffeine-free version of the beverage, with a shiny new gold and black label.