YouGov CEO, Stephan Shakespeare, discusses the success of Pret A Manger and what this means for its new store locations.
It has been a good year for sandwich chain Pret A Manger, with sales up 17% to £443m and profits also up by 17 per cent to £61.1m.
Along with the upbeat results earlier this week, it also announced plans to create 1,000 new jobs worldwide, including 500 in the UK and ambitions to open 50 new stores, half of them in the UK.
So what is behind Pret's success and what does that mean for those planning the new store locations?
Looking at YouGov's BrandIndex it is easy to see what is driving Pret's progress. If we start at the broadest level – the UK-wide index score (a composite of six key image attributes) we can see that it has a pretty good score of +12 as of Monday this week, and that crucially the company outperforms rival Eat (currently on +5).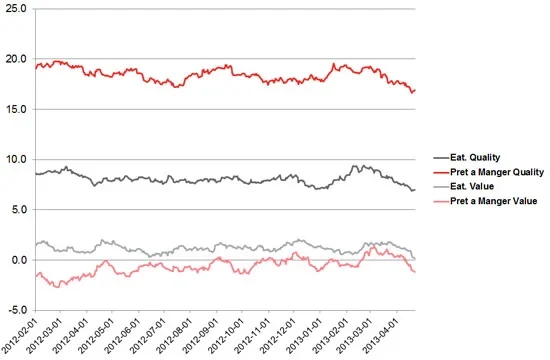 As we dig further into the data we pick up a number of interesting points.
Both Pret and Eat have a majority of their stores located in London and when the data is cut to include just those that live in the capital both brands make significant gains – Pret rises to a very good score of +24, while Eat also more than doubles its score, rising to +14.
Going further we can break down the index score into the individual attributes and it is there that the real story shines through as we see the differing perceptions that drive the overall gap between Pret and Eat.
On value for money, for instance, Eat actually has a small lead, although both perform quite weakly with Eat just above zero and Pret just below it.
But when we turn our attention to quality Pret A Manger enjoys a big lead – a score of +17 against one of +7 for Eat.
It is this ability to own the quality perception in the sandwich chain market that has enabled Pret to dominate, particularly in the key market of London, where its quality score has consistently been over +30.
As Pret A Manger considers where in the UK and abroad it will open its new shops, my advice would be to continue picking areas where quality is prized more highly than value.
This article originally appeared in City AM