UK consumers see rising energy prices as the 'biggest threat' to their household finances over the coming year
UK consumers believe that a rise in energy prices is the biggest threat to their standard of living over the coming year, according to recent findings from our Household Economic Activity Tracker (HEAT). The nationally representative tracker found that UK consumers are more worried about rising energy prices than they are about unemployment, inflation and taxes.
Consumers were asked to state what they expected would be the biggest threat and biggest benefit to their household's standard of living over the coming year out of six economic measures: unemployment, energy prices, inflation, taxes, state benefits, and interest rates. They were asked to rate the impact of developments in each measure on a scale of 1 to 10, where 1 means major benefit and 10 means major threat.
Energy prices will 'affect everyone'
The consensus among consumers was that rising energy prices would be the most significant threat to their households' economic well-being with an overall rating of 7.8. Unemployment was perceived to be the second biggest threat, with a rating of 7.4, and rising inflation was the third-largest threat at 6.9. Consumers perceived a degree of threat on the other economic measures covered by the survey, but not to the same degree as the above three.
Commenting on the findings, Joe Twyman, YouGov Director of Political and Social Research, said:
"The UK's consumers are aware that Britain's major energy suppliers are all expected to raise prices over the next few months, and the results of our survey clearly indicate they are very concerned about the impact that change will have on their household's finances. The degree to which consumers are worried about energy prices compared to things like unemployment is particularly interesting and is a reflection of the fact that the rise in energy prices this winter in something that is going to affect everyone."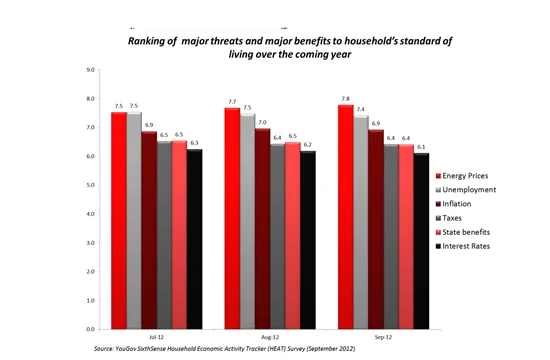 For more information contact YouGov PR Executive Harris MacLeod
Click here for more information on YouGov's Household Economic Activity Tracker
And see the full original press release here