Last Wednesday the government scrapped the award of the West Coast Mainline franchise to First Group.
Although the public will take a dim view of the technical flaws in the bidding process (by 51 per cent to 18 per cent in a YouGov/Sunday Times poll they thought former transport secretary Justine Greening should resign) there is little doubt that Virgin is preferred to First Group among customers.
The headline stories from YouGov's BrandIndex are that Virgin is well regarded and its reputation has improved since the initial announcement, while First Group's reputation worsened since the initial announcement.
The original decision, in mid-August, to take the West Coast franchise from Virgin led to an unusual phenomenon in which Buzz about the Virgin Rail brand dropped dramatically, while at the same time its Index score (a composite of six key image attributes) rose.
This makes sense in the circumstances; people were hearing bad news about Virgin, but that news reminded them of their positive experiences or generally good impression of the company.
Looking at Buzz (positive minus negative news) it had been in the low single digits but fell to -12 by 24 August.
Buzz around Virgin Rail was already recovering before last week's announcement on the collapse of the franchising competition, which added fuel to its upward trajectory (reaching +9 on Monday).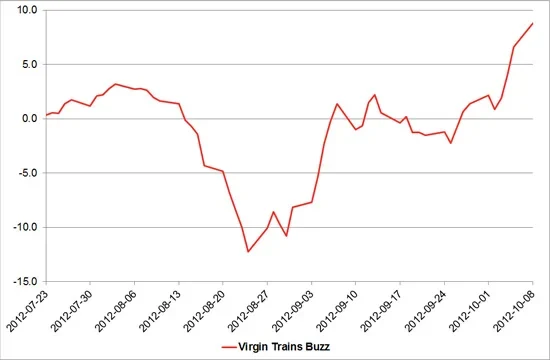 Virgin has long been seen as one of the best domestic train companies in the UK, vying with National Express for top spot for most of 2012.
Its Index score rose from +9 to +17 (and clearly into the lead) after the First Group announcement, and has held firm there since.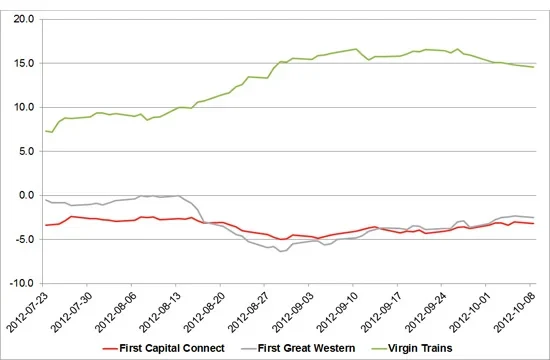 The First Group brands, by contrast, have fallen, with First Great Western in particular suffering, going from 0 to as low as -6 before recovering slightly.
So while the battle of the bids rages on, so far Virgin Rail is winning the battle of the brands.
This story originally appeared in City AM