Nearly eight years on from the referendum, Scots are as split as they were in 2014 with 45% saying they'd vote for independence, 55% against it
Nicola Sturgeon today launched a campaign for a second referendum on Scottish independence with the publication of the first of a series of papers setting out her case for an independent Scotland.
YouGov's latest tracking data on an independence vote shows that, if there was a vote today, the outcome would be identical to how it was in 2014, with 55% saying they would vote No and 45% Yes. Since the referendum, support for remaining in the UK has tended to be above support for leaving, and while in 2020 we saw the biggest Yes lead of any YouGov poll at 53%, this support has dwindled in subsequent polls through 2021 and 2022.
This latest poll represents the largest lead for No since December 2019, and symbolically shows that a new campaign for independence will be starting at where it was back in September 2014. Indeed 79% of those who voted Yes previously still would, while 87% of those who voted No are also sticking to their previous voting preferences.
As was the case in 2014, age is a major factor in voting preferences on independence. Those in favour of leaving the UK will be encouraged that most of those who were too young to vote last time are generally more supportive of independence. Those aged 16-24 (the majority of whom were not of voting age in 2014) split 59% to 41% in favour of independence, but this isn't enough to offset the strong lead for remaining part of the UK amongst older voters (those aged 65 or over split 70% to 30% in against independence).
You only have to look at current Holyrood voting intention to see how much of a dividing line independence still is in Scottish party politics. Over three-quarters (77%) of those who voted 'Yes' in 2014 would vote SNP in an election for the Scottish Parliament, while those who voted 'No' are far more likely to back the Conservatives (32%) or Labour (35%).
Is there an appetite for another referendum?
Nicola Sturgeon has reiterated that her plan is to hold another vote on independence before the end of 2023. This timeline is seen as a bit too soon for most Scots, though, with just 28% saying they think there should be a referendum next year compared to 59% who do not think there should be. There is more appetite for holding one a little later, with the public split 42%/41% on whether there should be a referendum in the next five years.
Another challenge that Sturgeon might face in her bid for another referendum is that it ranks fairly low on the list of issues the public think the Scottish Government should prioritise. Just 16% think it is a top concern, way below other issues such as the economy (54%), health (51%) and education (28%). It is also only the third highest issue for those who voted for independence last time, at 31%, way below the economy (51%) and healthcare (48%).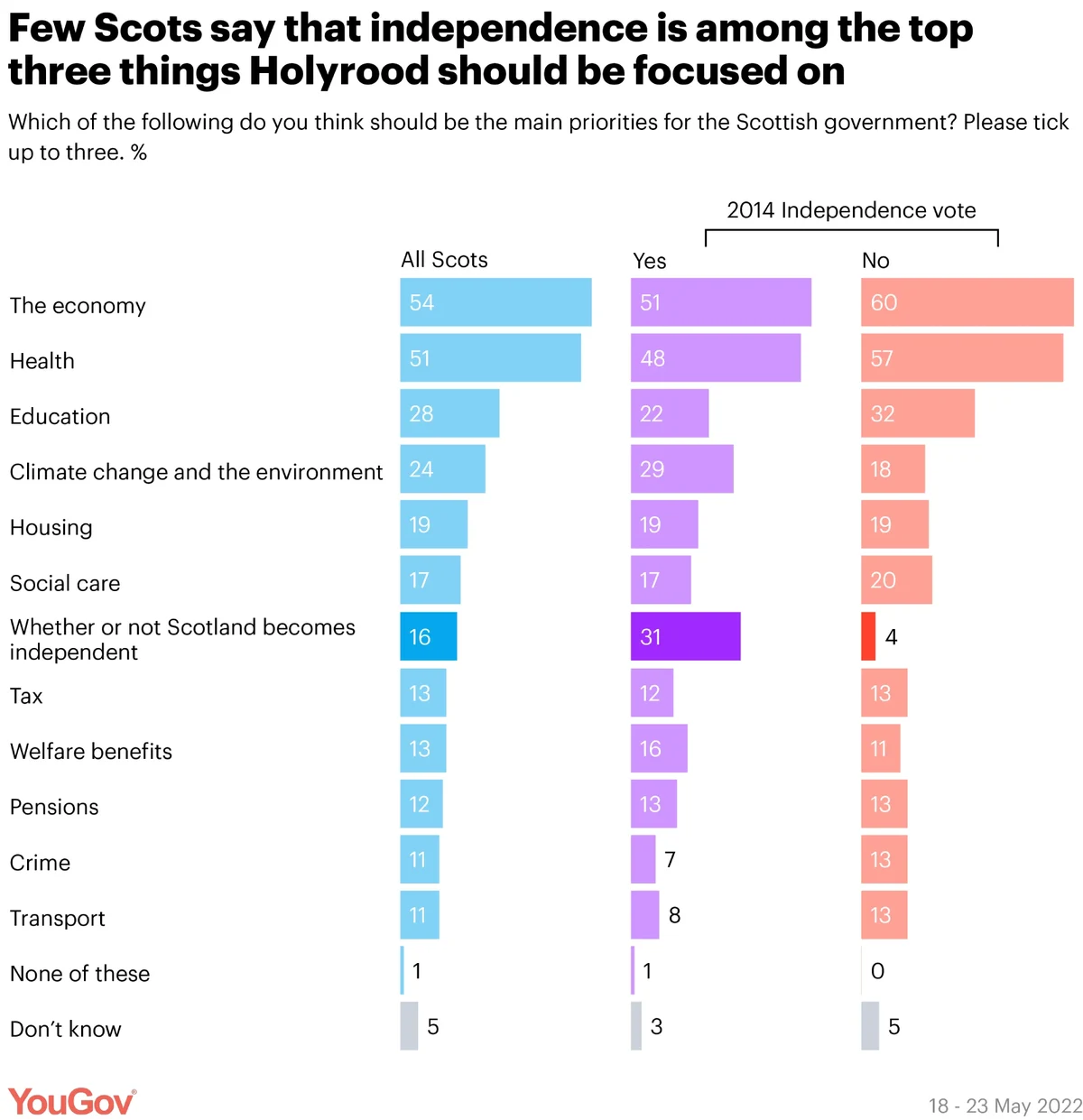 Assessing the First Minister's personal attitude to Scottish independence, 55% of the public think she has spent too much time on the issue, compared to just 10% who think she has not dedicated enough time to the independence debate. A quarter (24%) think she's got the balance about right. Eight in ten previous No voters (80%) think she is spending too much time on the issue, with 33% of those who voted Yes feeling the same.
See full results here