Breathe a big sigh of relief, Great Britain, as the sentiment surrounding the 2012 Summer Olympics is once again blazing.
On SportsIndex, the 2012 Games were beginning to build momentum when news broke over the G4S security scandal just two weeks before the event began.
After this, all of the measures for the Olympic Games plummeted; most notably Buzz nearly dropping to zero and Index down to +3.8.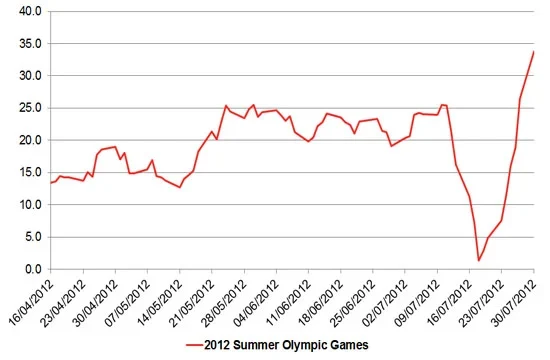 However since bottoming out around 18-19 July, both the Buzz and Index scores for the Olympics has been significantly increasing.
This is due in part to much reassurance from Olympic officaials who stated that the Games will indeed be safe and secure and paved the way for the truly exciting positive build-up to the opening ceremony and Games.
Both Index and Buzz have now reached truly Olympic heights, with Buzz having gained well over 30 points to stand at +33.8 and Index gaining 20 points to rest at +23.9.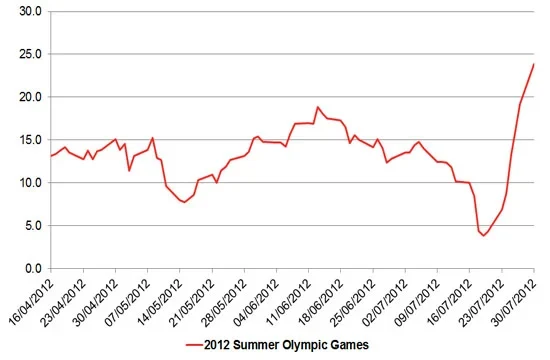 Using SoMA, YouGov's social media analysis tool, we can see that social media is also abuzz, and the chatter is overwhelmingly positive.
Reach (the percentage of UK Twitter users reading something about the Olympics) has been higher than 75 per cent every day since last Wednesday, peaking at an incredible 86 per cent on the day of the opening ceremony.
Discussion has been heavily positive over that time with a slight touch of negativity creeping in over the weekend in regards to empty seats.
But even that has been largely drowned out by good news – neither empty nor seats has been in the top 10 words associated with the Olympics on any day so far. There may have been concerns in the lead up to London 2012 but they certainly seem to have captured the imagination of the nation now that it is upon us.
This article also appeared in today's City AM