A survey of over 1,000 Britons living with disability reveals their experience of life in the UK
In our previous research, we have looked at how adults living with disabilities in the UK have been affected by COVID-19, as well as their experience of work and employment. The third part of the YouGov Disability Study takes a more general look at how adults in the UK with disabilities feel they are treated and how accessible they find life in this country.
How disabled adults feel they are treated in society
The vast majority (78%) of adults with disabilities believe that society treats them much (41%) or slightly (37%) worse than those without a disability. More than six in ten (63%) of the population as a whole agree, however, there is a discrepancy to the degree to which they think disabled people are treated worse with a quarter (24%) saying much worse and 37% saying slightly worse.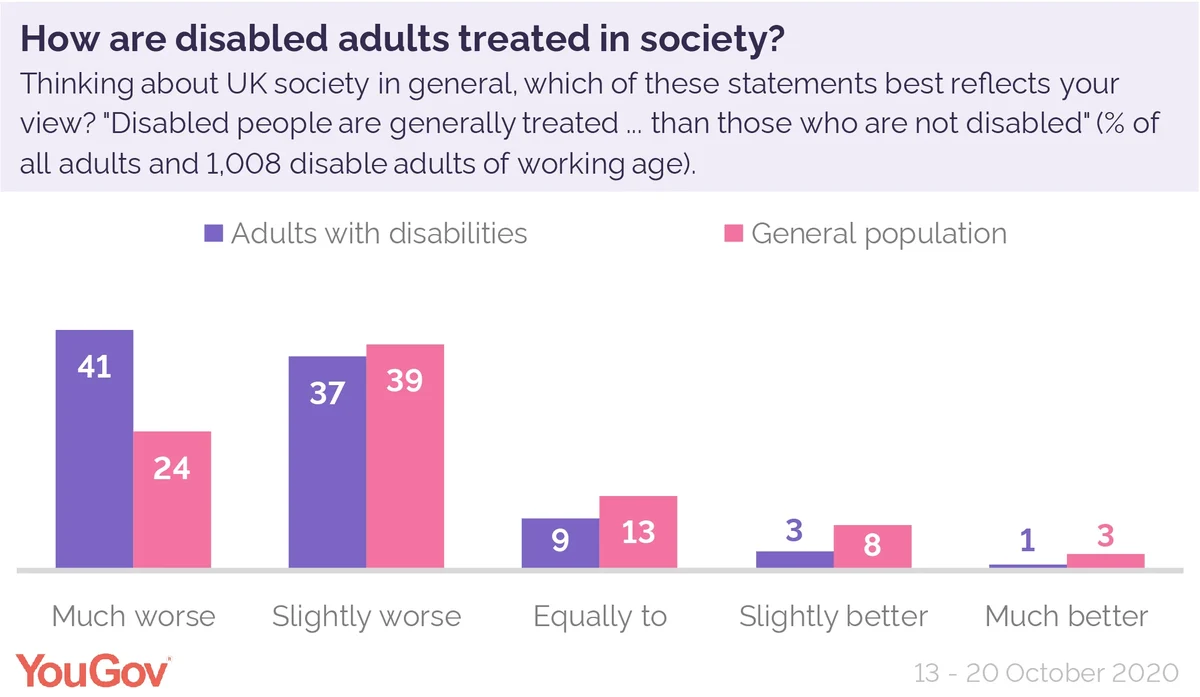 One in eleven (9%) of people of a working age living with a disability say they are treated equally to those who are not disabled, compared to one in eight (13%) of the overall population. The general public (11%) is more likely than people living with disabilities to believe that disabled people are treated better than those without a disability.
There are notable differences between how women and men living with a disability think disabled adults are treated. Women are more likely to think that disabled people are treated much worse (46% to 36%), although similar proportions (38% men vs 36% women) believe disabled people are treated slightly worse. However, among those living with a disability, men are more likely than women to believe disabled people are treated either equally (13% vs 6%) or better (7% vs 3%).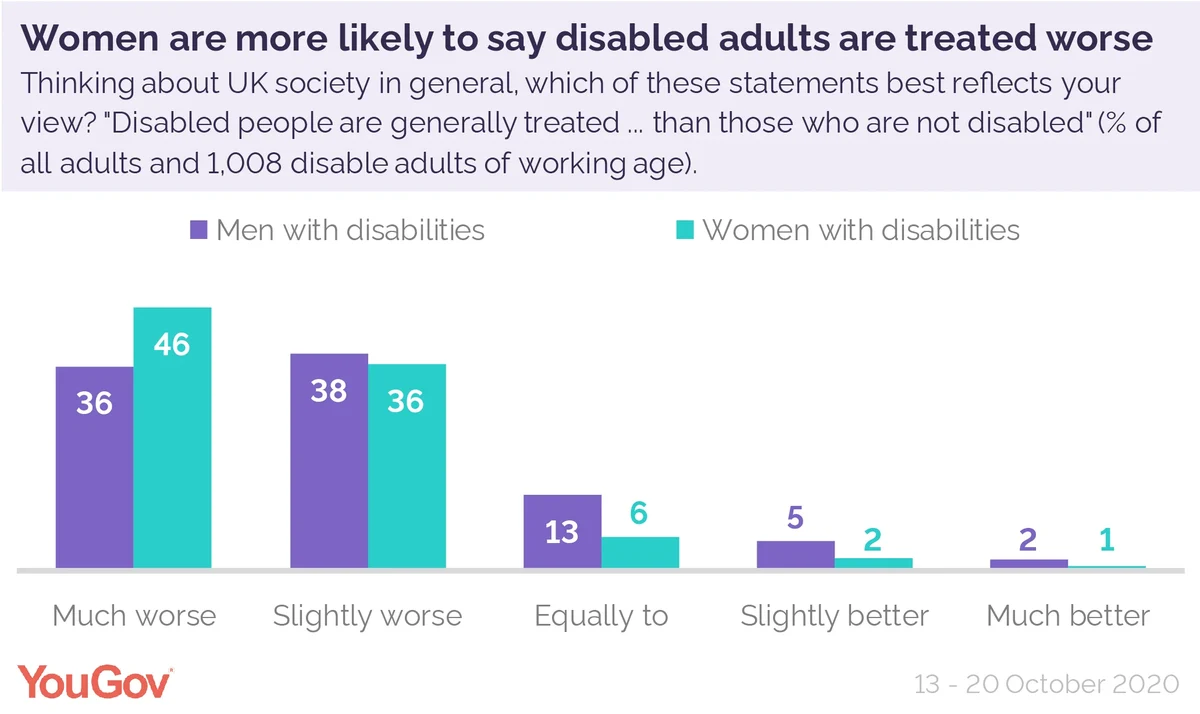 Breaking down the results further show that adults who live with a learning, social, or memory disability are the most likely to feel disabled people are treated much worse than those without a disability (53%). Many adults with a mental health disability (49%) agree, as do those who live with hearing or vison impairments (44%).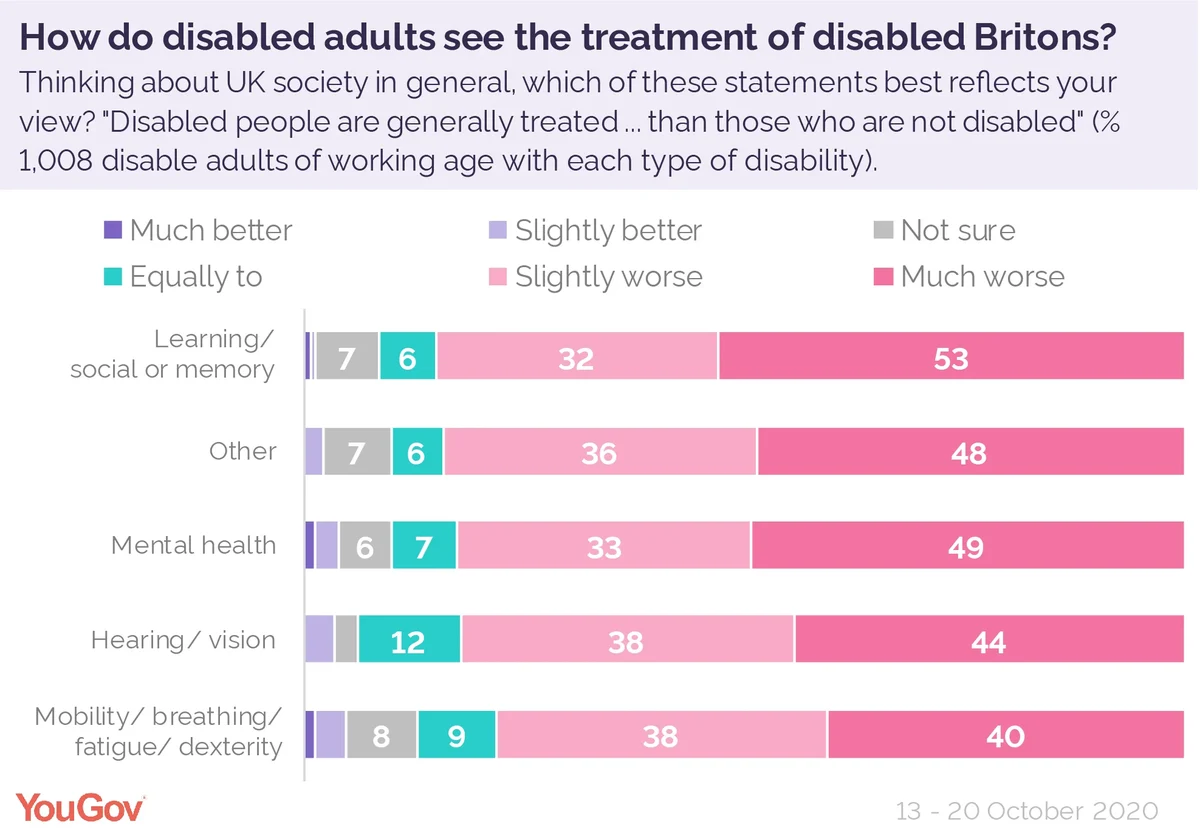 How accessible is life in the UK?
YouGov's research also explored how accessible or inaccessible adults living with disability find different avenues of life.
Over half (53%) say that pubs, bars, and nightclubs are inaccessible to them to some extent, with 16% saying these places are very inaccessible. This is highest among younger disabled adults, with six in ten (60%) of those aged between 18 and 35 reporting that pubs and bars as not accessible to some extent. Among disabled adults aged between 50-65, 47% say pubs and bars are inaccessible compared to 38% who find them accessible.