A snap YouGov poll finds public support for the new, looser lockdown measures
Life in England takes another step towards normality on July 4th, with the Government announcing that restaurants, pubs and hairdressers will reopen, alongside museums, cinemas and other attractions.
People across England will also now be able to visit people from one other household, indoors, so long as they remain one metre apart – the newly-reduced social distancing rule.
A snap YouGov poll of yesterday's announcements finds Britons largely support the loosening of the lockdown. Close to two-thirds (64%) support proposals to open venues like hairdressers, cinemas, museums and galleries, while 73% support being able to be indoors with another household. Six in ten (60%) support both changes.
By contrast, these measures are opposed by 30% and 19% respectively, with 17% opposing both.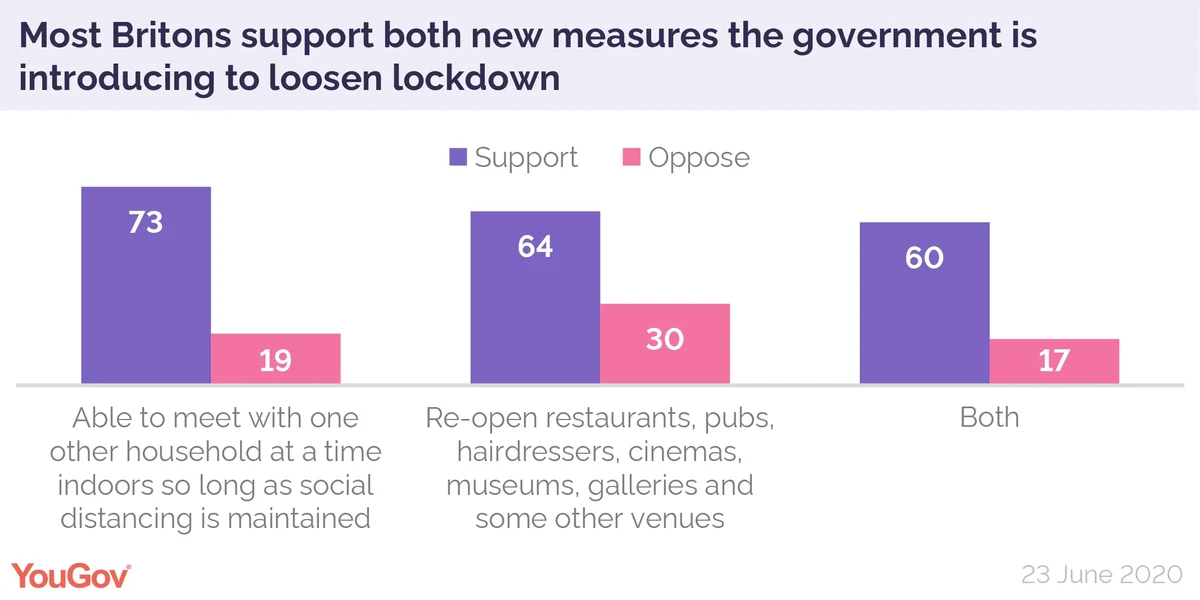 Conservatives tend to be more likely to support the respective policies (75% for the venues policy, 82% for the households policy), although they are nevertheless backed by a majority of people across all voting groups. Almost two thirds of Labour voters (59%), for instance, back the venues policy, and 66% the households policy.
Britons increasingly think that the Government is moving at the right pace on lifting restrictions
Scientists have expressed concern that Britain's lockdown is being lifted too quickly, but the results show that the public tend to think the Government is proceeding at the right pace.
Approaching half of Britons (47%) believe that the Government has struck the right balance, including 72% of those who support both policies. Most Conservative (59%) and Leave voters (53%) fall into this group.
By contrast, only a little over a third (37%) of the populace think the Government is moving too fast. This tends to be the most common attitude among Labour voters (47%), Lib Dem voters (also 47%) and Remain voters (44%).
Only 7% think the changes do not go far enough.
This represents a shift in attitudes from mid-May. Similar polling at that time on the then-newly announced measures to encourage some people to return to work and allow unlimited exercise were seen as moving too fast by 46% of Britons, compared to 35% who thought they were about right.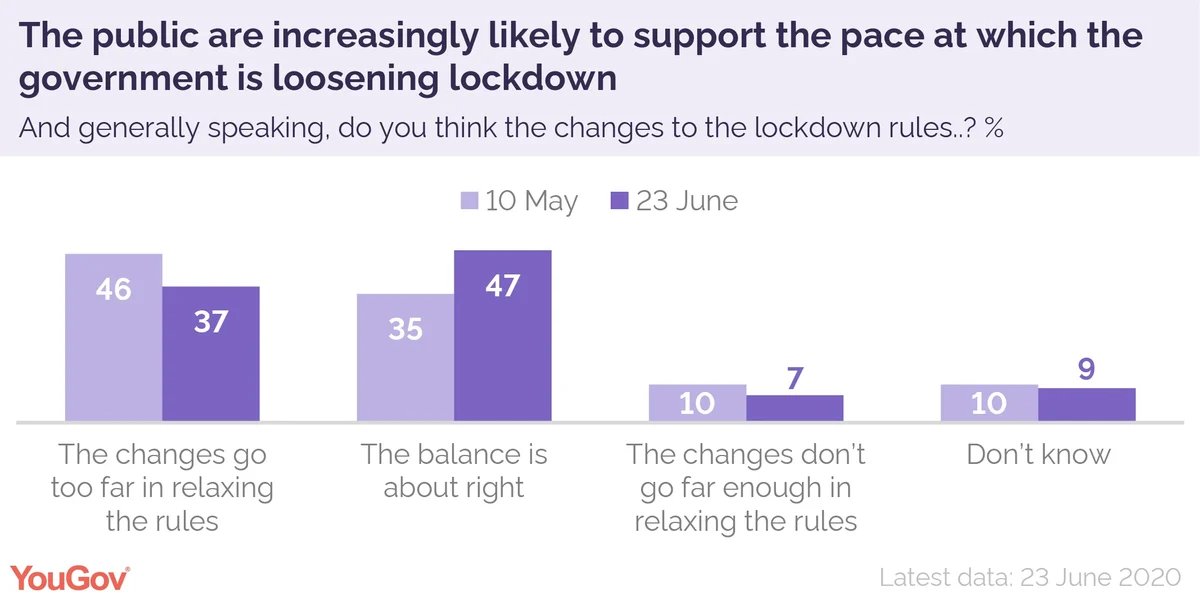 It would seem, then, that the public's attitudes towards lifting lockdown are converging with those of the Government.
That is not the same thing, however, as the public believing the Government has been handling the crisis well. At time of writing, net approval for the British Government's management of the COVID-19 outbreak is the fourth worst in the world – tied with Trump's America on -10.
When three quarters of Britons think the national coronavirus situation is improving, and a large majority support Government policy, the fact that most Britons (53%) think the Government is doing a bad job just goes to show how far Boris Johnson has lost public goodwill.