Google, Amazon and Marks & Spencer still UK's healthiest brands, BrandIndex top 20 shows
Google, Amazon and Marks & Spencer's remain the healthiest brands in the UK in the eyes of consumers for the third year running, according to the annual YouGov BrandIndex league table of brands today.
YouGov's BrandIndex measures how consumers perceive brands on a daily basis in terms of quality, value, customer satisfaction, corporate reputation, general impression, and likelihood of consumers to recommend the brand. The average score across these six attributes is taken to create a single composite figure called the Index score.
The three top brands lead the way on the Index score - but the importance of perception and how long it takes to cultivate a positive image among the public is shown by the fact that the top 20 contains only one new entrant, with the top six being the same as 2010 – BBC, Heinz and Sony again following the top three.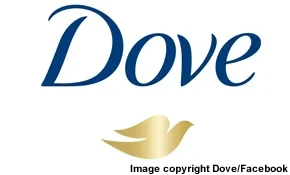 Cosmetics brand Dove is the only new addition to the leader board, appearing at the expense of mobile phone operator Nokia. Dove's on-going 'real beauty' campaign – skilfully using social media – has clearly struck a chord.
The top six are exactly the same as 2010 – with BBC, Heinz and Sony following the top three – but Amazon has slightly closed the gap on Google, and actually led the way in December. So 2012 could well see a new top brand.
Top 3 brands on BrandIndex 2010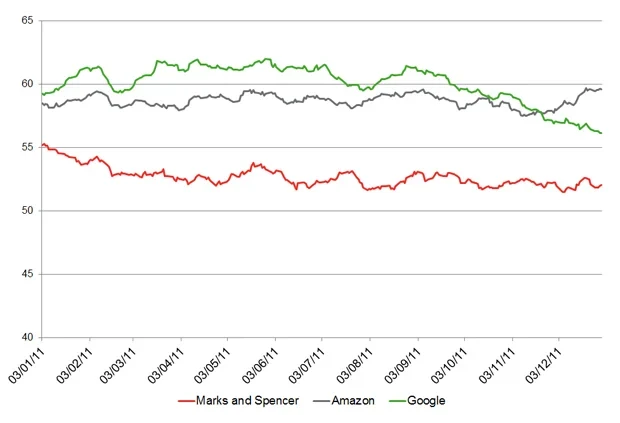 The tough economic environment may help explain why so few brands have managed to improve their perceptions. Amazon is one of only three brands in the top 20 whose perception score has risen. The other two are Fast Moving Consumer Goods (FMCG) brands, toothpaste name Colgate and cheese producers Cathedral City – with the latter benefiting from an advertising lift.
Top 3 brands on BrandIndex 2011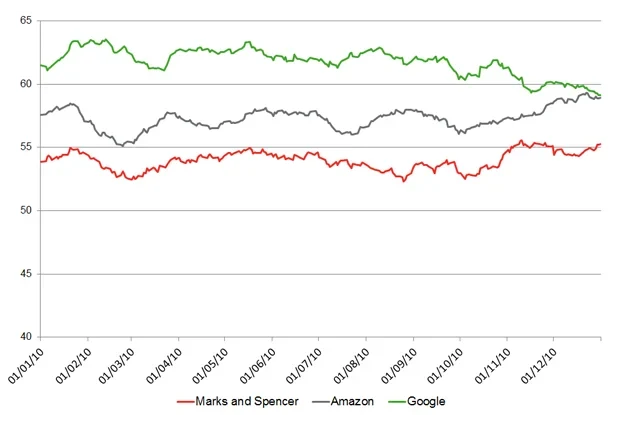 When it comes to the top 20 brands, FMCG names are the most common, accounting for seven entries (three of which are confectionery brands Cadbury, Thorntons and Maltesers); four technology brands and two broadcasters (BBC and Channel 4) complete the list. Cadbury, booksellers Waterstones and electronics firm Bosch are the only brands to have dropped places in the overall top 20.
Three brands which seem to dominate the news and consumer discussions are, comparatively, fairly low down in the overall ratings. Apple, Facebook and Twitter are 40th, 182nd and 615th, respectively, in the list.
Microsoft was the most highly-rated brand in the IT/Office Technology sector, while Nokia took the honours in the Mobile/PDA sector. Skype won out in the Telecoms sector and Money Saving Expert scooped the lead in the online services sector. Virgin Atlantic was the most-highly rated airline; the Post Office led the way for high-street banks, and Premier Inn topped the list of Travel Agents/Hotels/Guides.
Sarah Murphy, YouGov's Associate Director, BrandIndex, said 'It's been a tough year for the leading brands; very few have managed to improve their perceptions in consumers' eyes. However, many outside the leaders have certainly bucked that trend, most notably British Airways, Android – Google's operating system for smartphones and tablet computers – and mobile phone manufacturer HTC who achieved the highest increase in consumer ratings from 2010 to 2011.'
A version of this article also appears in City AM