BrandIndex scores show airline brand resilience as it recovers from PR crises to climb past rivals
British Airways had a difficult time in 2010 with strikes, snow and the Icelandic ash cloud all causing flight delays and cancellations – and the first two of these impacted heavily on consumer perceptions on YouGov's BrandIndex. The brand's Index score (a composite of six key measures of perception: general impression, quality, value, corporate reputation, satisfaction and recommend), which had been +25 in the middle of December 2009, twice dropped into minus numbers following the strikes. Although it had recovered some of that ground by the end of the year, British Airways remained as only the fifth best perceived airline in the UK, well below its traditional place scrapping with Virgin Atlantic for top spot.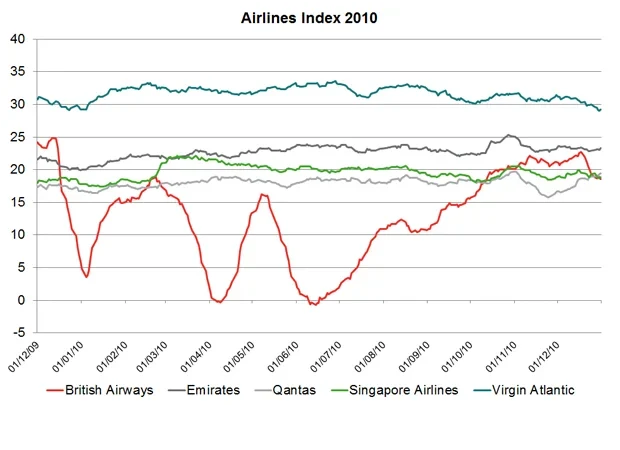 But British Airways has always had a resilient brand, with the public prepared to forgive and forget quickly. That allows it to recover from these dips quicker than most (one only has to look at the 2010 chart to see how quick the rebound was after the first two strikes for evidence of that: the decline was very steep but the recovery started almost instantaneously and was nearly as steep). In 2011, the PR crises of 2010 were avoided and that has allowed BA to continue its recovery – this time without the fallbacks, seeing a slow but steady rise from +17 to +26. The climb saw it overtake Qantas and Singapore Airlines early in 2011, move past Emirates in the late summer to take second place, and it is now closing in on Virgin Atlantic, which has seen a very slight decline through 2011 from +30 to +27.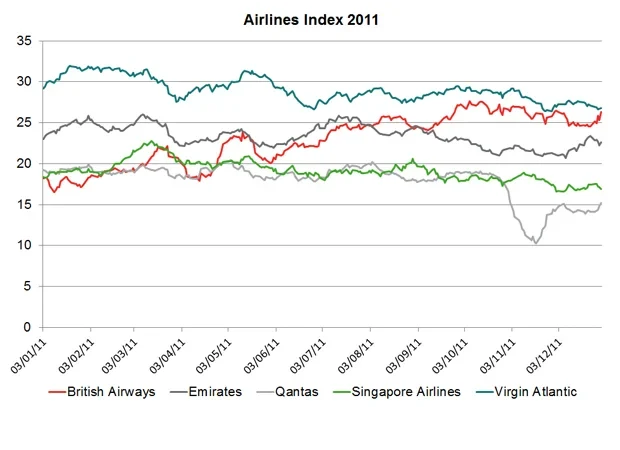 If current trends continue and British Airways suffers no more setbacks then 2012 could well be the year where it regains its mantle as Britain's favourite airline.
This article also appears in CityAM