Lots of exasperation, not that much enthusiasm and a big dollop of don't know: support for Boris Johnson's EU deal and implications for the election
Brexit is going to play a big part in determining who wins the general election, especially if the Conservative Party has any say in the matter. Boris Johnson's deal with the EU may not have majority support among the public but more people support it than don't. And when we look in more detail at why people support it, it's clear that the Tory tagline, "get Brexit done" – or at least the sentiment it encapsulates – is resonating with voters.
When YouGov interviewed a representative sample of 1,689 adults in Britain on 27th and 28th October, 39% said they supported Johnson's deal, while some 32% opposed the deal, leaving 30% who didn't know.
And, when asked to give their reasons for supporting or opposing the deal in their own words, there is just one dominant reason people give for supporting the deal: getting Brexit done. No other identifiable category from our manual coding of these freeform responses accounted for even 10% of supporters' main reasons.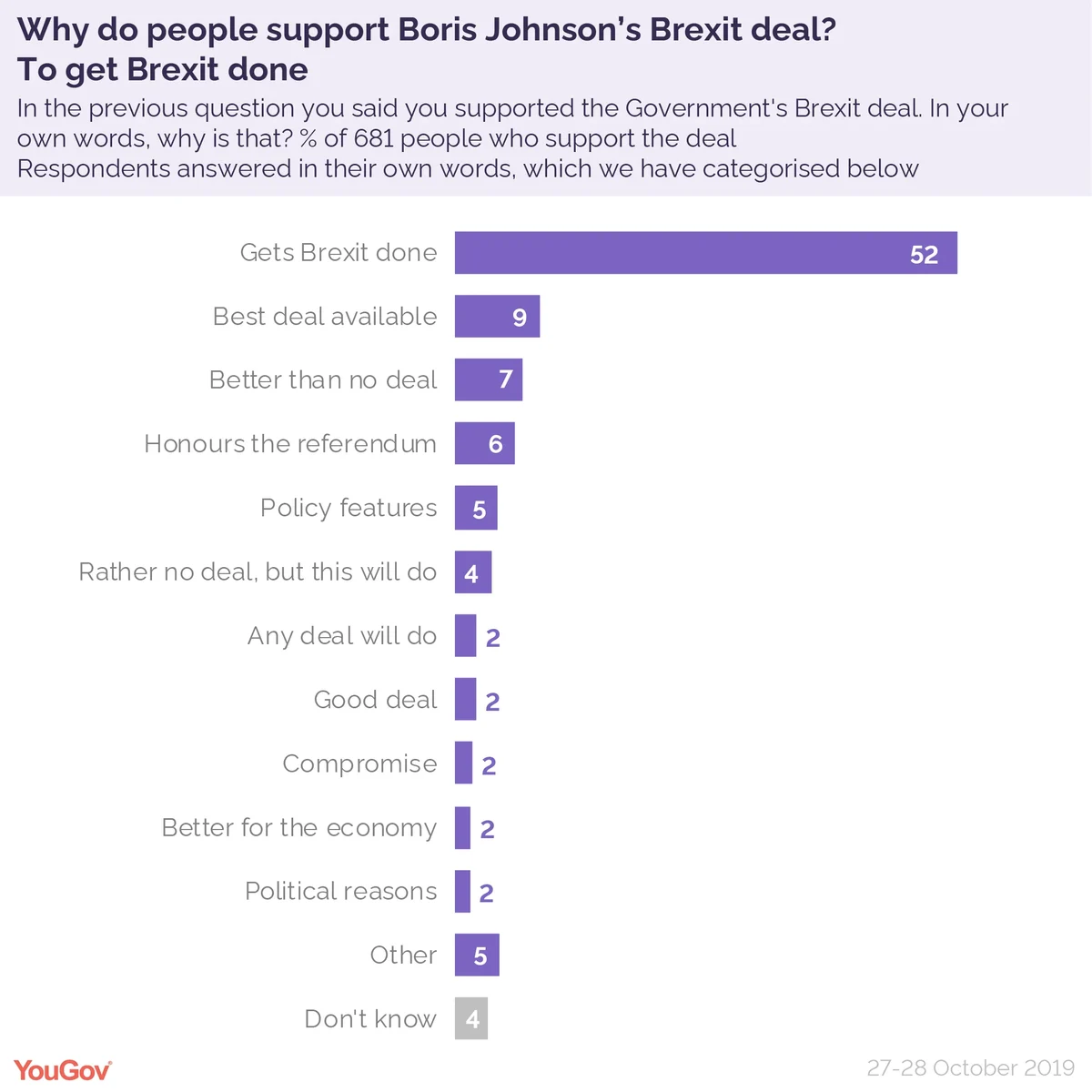 True, our "get Brexit done" category doesn't include only those repeating Johnson's campaign slogan word for word. But it is nevertheless testimony to how many people share the sense of exasperation it captures. Respondents said their support was because, "it needs dealing with", "to end the impasse", "just get on with it", "just to get out", and "want to get it over and done with". Many also expressed frustration with how the process had "gone on too long" and how it was a "farce", "rubbish" and "nonsense", and how they were, "just fed up", "bored" or "sick of it". There was the odd expletive too.
Back in January when YouGov asked the 23% who supported May's deal for their reasons, the mood among them was one of unenthusiastic acceptance of a satisfactory deal. May's deal was justified as being the "best deal available", "delivering Brexit" and "better than no deal". There was already then substantial demand for politicians to get on with it, but now that is the overwhelming mood among supporters of Johnson's deal.
Interestingly, the call to get Brexit done appeals almost as much to Remain voters who support the deal (52%) as it does to their Leave counterparts (54%). And those supporters of the deal who voted Labour in 2017 are actually more likely (56%) to be motivated by getting it done than those who voted Conservative (53%).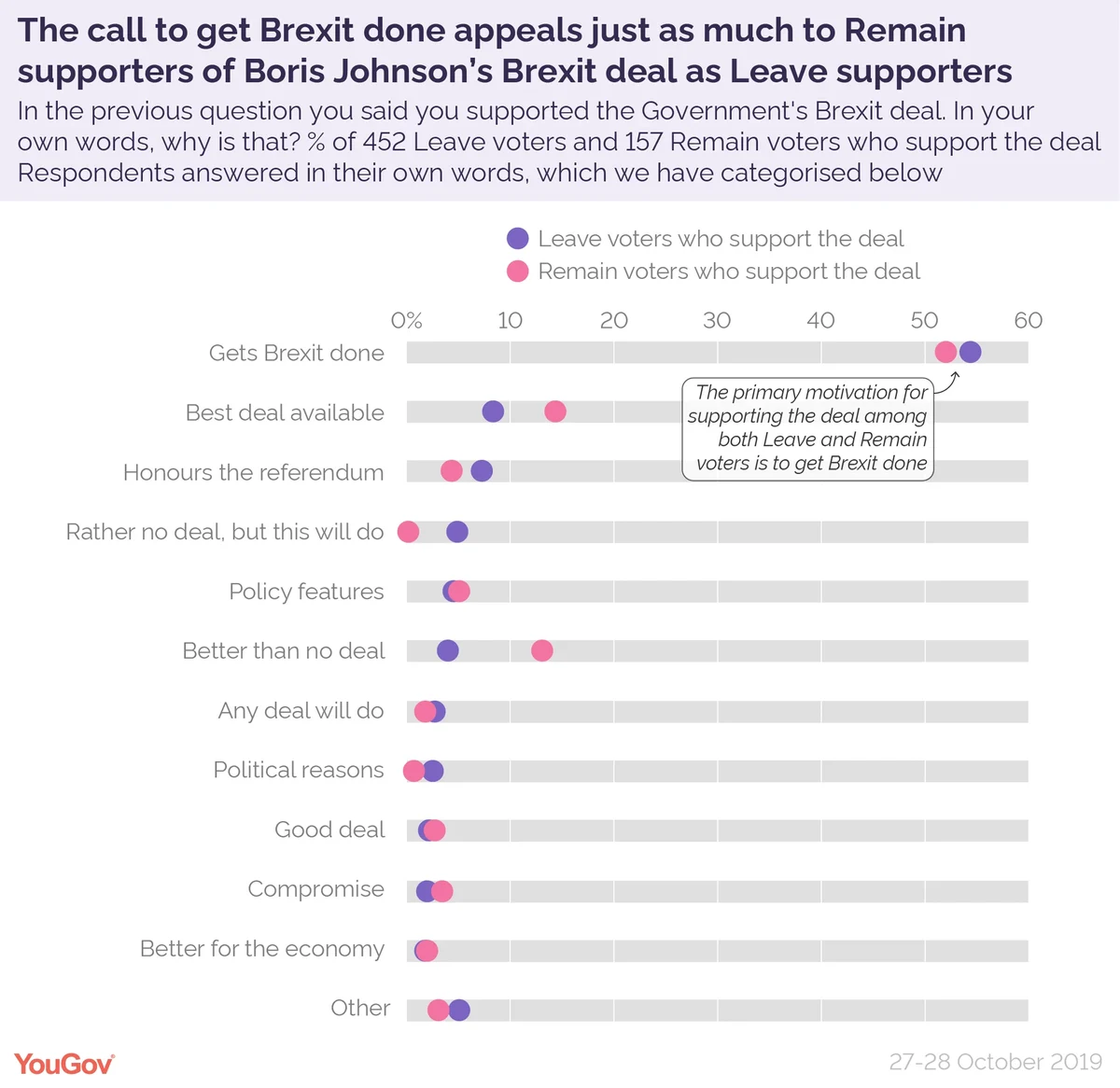 Digging deeper, it's pretty clear that the details of the deal aren't what matters. Talk to the advocates of leave and they will tell you that the most important virtue of Johnson's over May's deal is that it allows scope for Britain to reach agreements with non-EU countries on trade in goods. Yet just 2% (a mere 15 of the 681 supporters of Johnson's deal) mentioned trade deals, some without acknowledging that as a benefit of this particular deal and all without drawing any contrast with May's deal. A further 1% (just nine respondents) said Johnson's deal is better than May's, but only one said anything about how that was the case. There were a further 2% of supporters (15) who claimed that Johnson's deal resolved the Irish, Northern Irish or backstop problem, but often with reasoning compatible with support for May's deal or with no explanation at all.
The paucity of references to features of the deal shows that support for Johnson's deal is barely, if at all, based on evaluations of the deal. Instead most people who want Johnson's deal just want any Brexit settlement, and they want it now.
As for those who oppose the deal (something we'll look into in more detail in another post) the biggest reason is that they don't want to leave the EU at all, especially, of course, if they voted Remain back in 2016. Among those who voted Leave and oppose the deal, however, the biggest single reason is that they want a harder Brexit (a 'cleaner break' as some would put it) than Johnson is offering them. Among those currently intending to vote for the Brexit Party, however, only 40% oppose the deal. On this basis, the Brexit Party is in danger of losing around half of its support to the Tories.
Whether Labour voters are quite so likely to be won over, however, is a moot point. Concerns about leaving the customs union, weakening workers' rights and environmental protection were mentioned by many who oppose the deal. Hostility to a trade deal with the USA was mentioned by some. Even the lack of an official economic assessment of the consequences of the deal was raised, despite the Chancellor, Sajid Javid, saying that Treasury estimates are not necessary because it is "self-evidently in our economic interest."
We should remember, too, that a third of voters are still unsure what they think of the deal, and that the campaign should (we use the word advisedly) be a period where people learn more about the deal, including the arguments for and against – a debate that we hope (based on the somewhat surprising fact that the responses threw up very few accusations hurled at "Leavers" or "Brexiteers" among opponents of the deal and very few complaints about "Remainers" and "Remoaners" among its supporters) might turn out to be slightly less poisonous than some assume.
And if that debate does take place, then, with so many people still unsure about Johnson's deal, who knows? Just as Theresa May's call for "strong and stable" government wore thin over the course of her 2017 campaign, so too could "get Brexit done".
Photo: Getty