Perception of the prime minister has now reached a new all-time low
As Brexit carnage continues to rain down on Labour and the Conservatives, new YouGov data reveals quite how badly public perception of the parties and their politicians has been hit.
Our results show that Theresa May's net favourability score has slumped from -39 in late March to a new all-time low of -49, with 21% of Britons having a favourable view of the PM and 70% an unfavourable one.
This leaves the prime minister as unpopular as her main rival Jeremy Corbyn who, at -50 (19% positive, 69% negative), is only doing marginally better than his score of -53 in March, which was itself his own all-time low.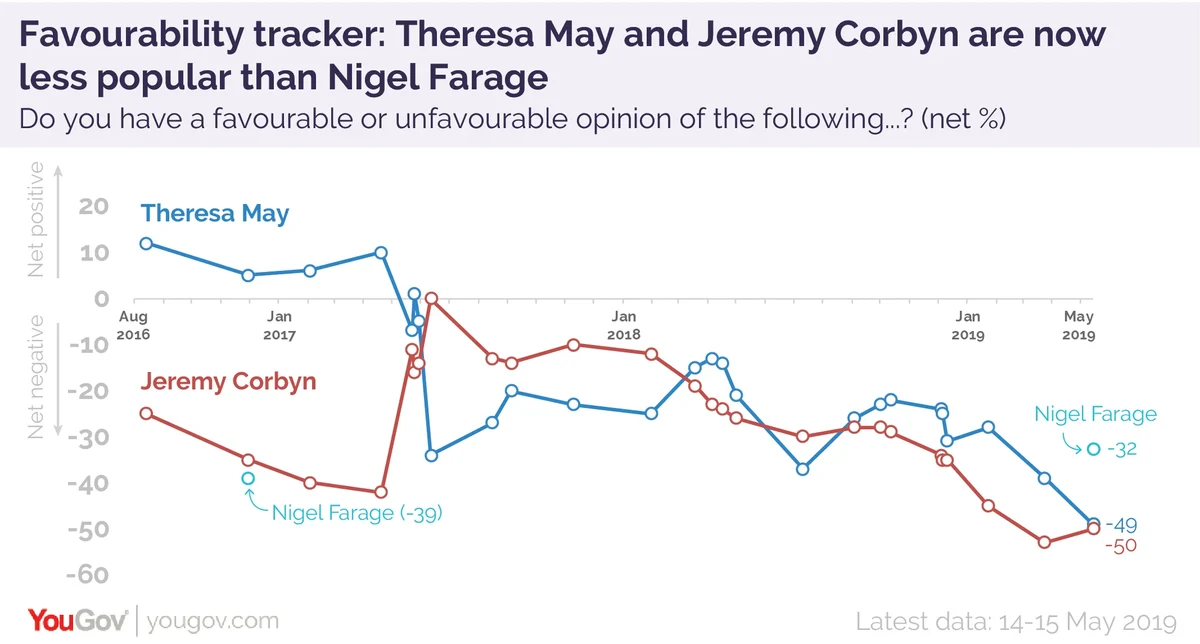 The Conservative and Labour parties' own scores mirror those of their leaders, with the Tories receiving a new all-time low of -46 (from -39) and Labour having moved up fractionally from March's all-time low of -37 to -35 now.
May and Corbyn's scores make the two party leaders less popular than Nigel Farage – the only other politician of comparable fame on the survey. Currently the Brexit Party leader has a net favourability score of -39, with 27% of people holding a positive view of him and 59% a negative one.
Technically the most popular – or rather, least unpopular – party leader we asked about is Change UK's Heidi Allen, with a net favourability score of -11. This figure disguises the fact that Allen is very poorly known by the public – fully 70% have no opinion of her, with just 10% having a positive view and 21% a negative one.
The more well-known Vince Cable comes next, at -18 (23 favourable, 41% unfavourable). This represents a significant improvement on the -30 he found himself on in March, with the Lib Dem leader's image doubtless having improved as a result of the local election campaign and results. His party likewise posts its least bad score since we started tracking in 2016, at -15 (compared with Change UK on -19).
UKIP leader Gerard Batten score -23, but as with Heidi Allen a whopping 71% of Britons don't know enough about him to have an opinion. A mere 3% of people have a favourable view of Batten, while 26% see him in unfavourable terms.
UKIP itself, far more well-known than its current leader, receives a net favourability score of -55, making it the most unpopular party, and far more badly regarded than the Brexit Party on -24. Despite the relative youth of the latter party, awareness levels do not seem to a factor in scoring, with 18% of people not having a view on UKIP and 20% on the Brexit Party.
Photo: Getty