Expectations that a second referendum would follow May's deal being voted down in the Commons have fallen
The consensus in Whitehall is that Theresa May's deal will not pass a Commons vote this evening. If it doesn't, 35% of the British public believe a No Deal Brexit is the most likely outcome, according to our latest research.
One in five (21%) think the deal's failure would result in a second referendum, while 12% think that the current deal would eventually pass at a later date. Just 10% think a better deal would be negotiated with the EU, and then accepted by the Commons.
This represents a significant shift from the last time that YouGov asked the public these questions back in December.
A month ago only 28% thought Britain would leave without any deal if Parliament rejected May's deal. Roughly the same amount (26%) thought there would be a second referendum, while 25% thought a deal would be accepted (14% believed that would be the same deal, and 11% believed it would be a better deal).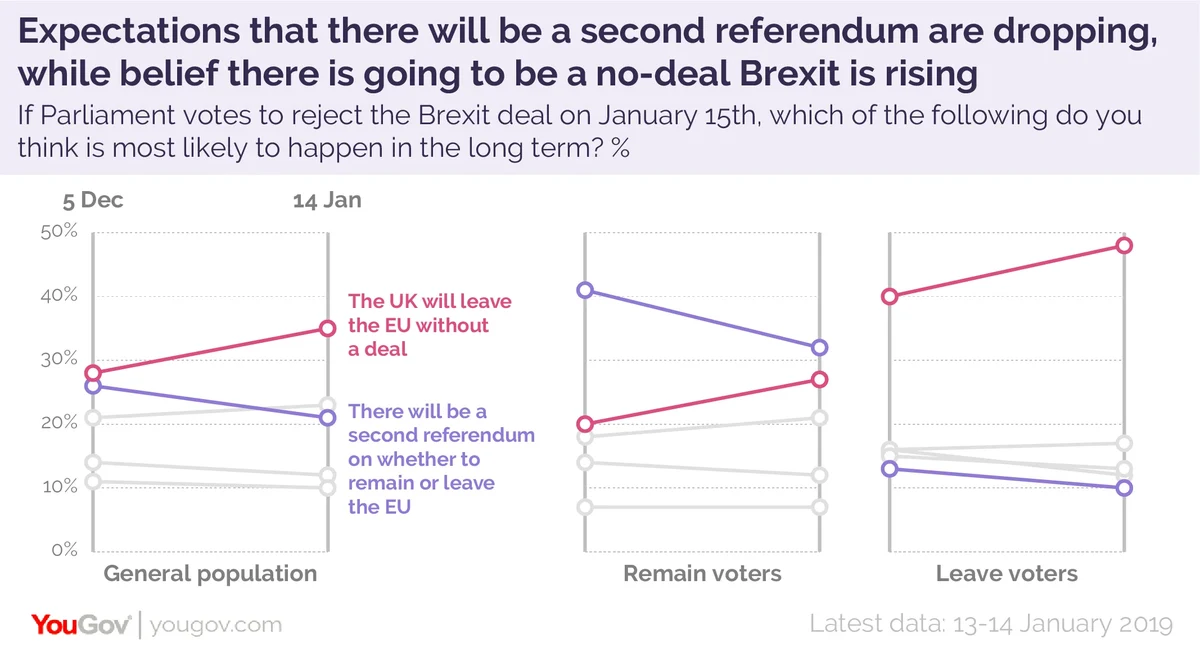 Expectations have moved in the same direction amongst both Leave and Remain voters. Half of Leave voters (48%) now think a No Deal Brexit is most likely if the deal doesn't pass Parliament, up from 40% who felt this way in December. Amongst Remain voters, a second referendum is still seen as the most likely outcome (32%), though this has slipped from 41% in December. Conversely, 27% of Remain voters now think the UK will leave without a deal if May's deal is rejected, up from 20% who thought this in December.
Photo: Getty