Last month, travel and holiday booking giant Thomson unveiled a new campaign as part of a major rebranding exercise.
The change comes as parent company TUI drops the Thomson name in a bid to consolidate its international offering.
To minimise confusion about the name-change, TUI has produced a 20 second TV advert, which shows a man diving into a pool while a strapline says "Thomson is changing to TUI".
While undertaking a brand revamp can be fraught with difficulty, even for established companies, YouGov brand tracking data indicates that people are noticing TUI's efforts.
Its Ad Awareness score (whether or not someone recalls seeing an advert for the brand in the past two weeks) has risen steeply, from a score of +2 to +25 since the advert's release on the 20th September.
The new campaign has also prompted a rise in TUI's Buzz score, which measures whether people have heard something positive about the brand in the past two weeks. Since the campaign began, this metric has risen from +1 to +7. The knock-on effect of this is that there has been an increase in the amount of people discussing the company. TUI's Word of Mouth Exposure score has also jumped notably, rising from +1 to +6 since mid-September.
Naturally, it is important for a revamp to register both with the public at large and a brand's target demographic. TUI is achieving particularly high cut-through with those who say they are likely or very likely to use a travel or leisure service within the next twelve months. Among this group, its Ad Awareness score has soared from +3 to +29.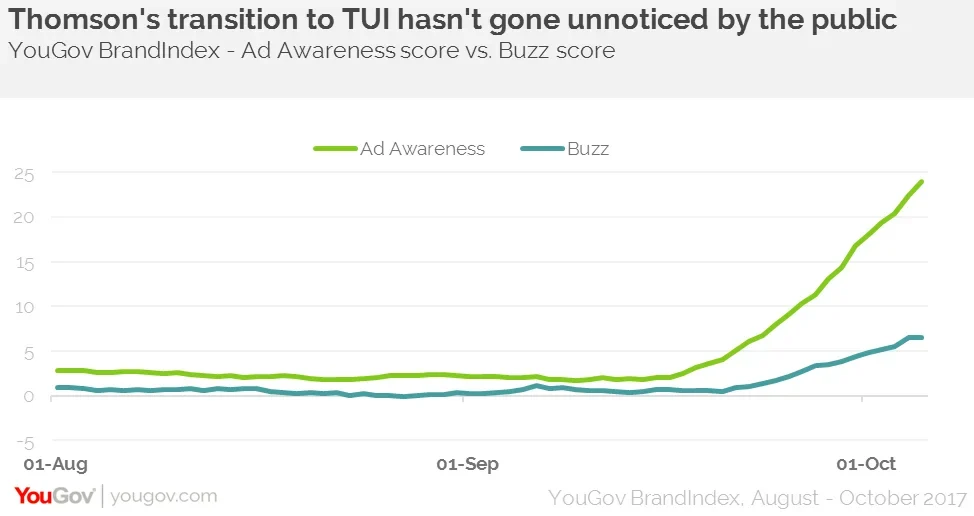 The rebrand comes at a crucial moment in TUI group's journey. YouGov's Millennial Travellers report explores the behaviours of younger holidaymakers and shows that they are far more likely to book flights separately and use independent platforms like Airbnb when making travel plans.
Unifying the brand's presence across Europe is central to the group's attempt to remain relevant to its current customers, and a new generation of travellers.
This article originally appeared in City A.M.
Image: Getty