One in five people in Belfast have worn fake tan in the past year
New YouGov Omnibus CityBus research across 16 cities reveals that Belfast is the UK's fake tan capital, with one in five (19%) people in the city saying they have worn fake tan in the last 12 months. Belfast takes the self-bronzing title by some margin – Sunderland, in second place, is on 15%, with Liverpool in third on 10%.
Distance from the equator dosn't seem to be a key driver when it comes to getting sunshine from a bottle. The survey found that people in more northerly locales - such as Glasgow (8%) and Newcastle (6%) - were all less likely to use fake tan than those in Northern Ireland's capital.
| Find out more about our Omnibus services | READ MORE |
| --- | --- |
Belfast also tops the table when it comes to tanning moisturiser use, with 15% saying they had built up a tan using the product during the last year.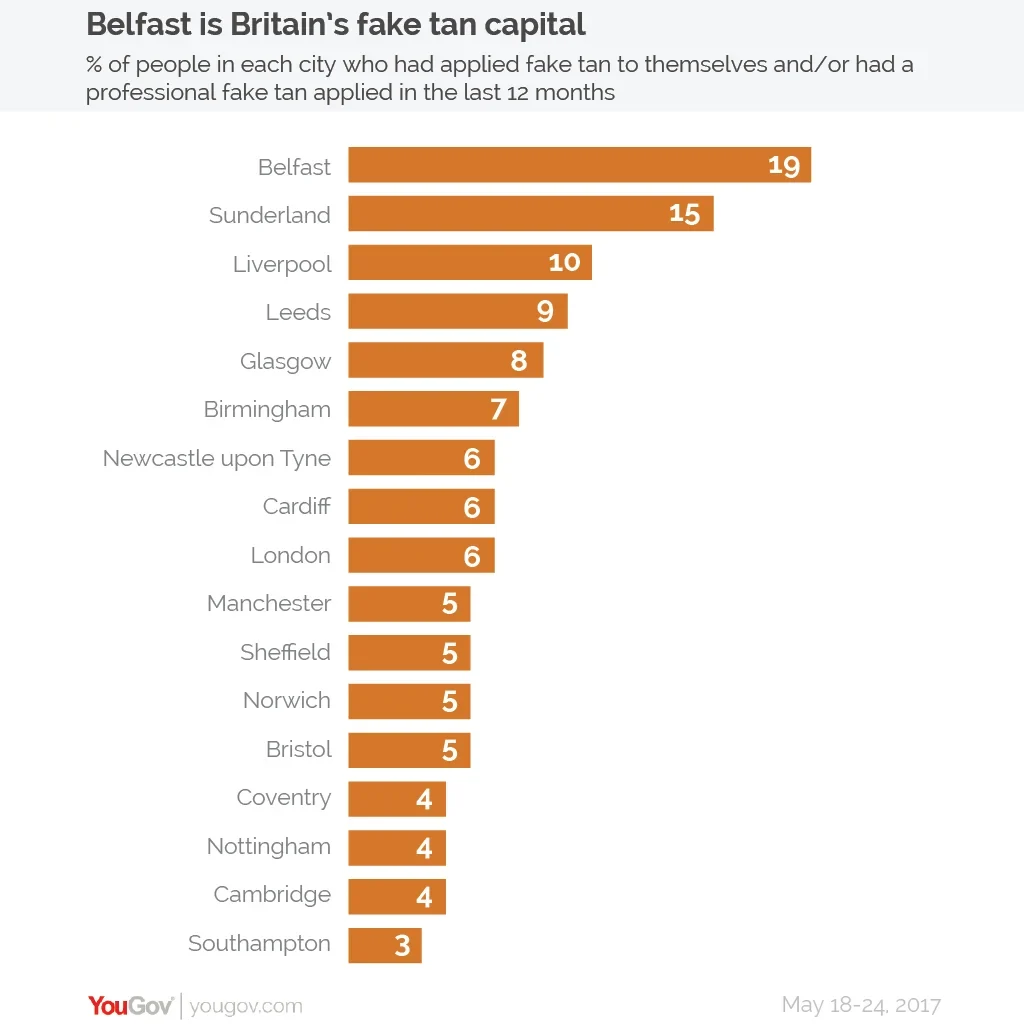 Of course, fake tan isn't the only way to maintain a sun-kissed look and the research also looked at which city's residents are most likely to use a sunbed. It finds that people in Sunderland (7%) are the most likely to lie down and lap up the UV rays from a tanning bed.
Sheffield is traditional sunbathing capital, with almost a third (32%) of people in the steel city getting bronzed in the classic way over the last twelve months, slightly ahead of Liverpudlians (31%).
Outlook is cloudy, but with a chance of tanning
Belfast also tops the list when it comes to people considering applying fake tan in the next 12 months, with over a quarter (26%) of those in Northern Ireland's capital considering doing so. In fact, they are equally as likely to say they would consider getting a fake tan as they would to consider getting one by sunbathing. In this, they are tied with Cambridge as the city least prepared to lie back and get sun-kissed in the natural way.
Belfast's tanning salons be warned though: the days of fake tans may well be numbered. Recently, scientists announced that they had invented a new chemical that causes skin pigment to darken without exposure to UV light. Creating fake tan this way is in fact only an added bonus for the scientists' real goal: to help reduce rates of skin cancer by making skin more resistant to harmful UV rays.
Photo: iStockphoto