Theresa May's perceived lack of interest in health and the NHS could hurt her
It looks as if the Tories have the voters all wrapped up, and that's true for now, but it could unravel in the future. Theresa May's strength is based on the uncertainties of Brexit, but she needs to heed the rumblings on health.
YouGov's recent polling shows the top issue for the public is Britain leaving the EU, but on 63 per cent it's just a nose ahead of the health service on 61. That's followed at a distance by immigration and the economy on 40 per cent and 38.
Having established what the voters care about, we asked them what they thought mattered most to the party leaders. It revealed big gaps on both sides: Theresa May is perceived as placing most importance on Brexit, but with health barely in her sights. Jeremy Corbyn is the reverse.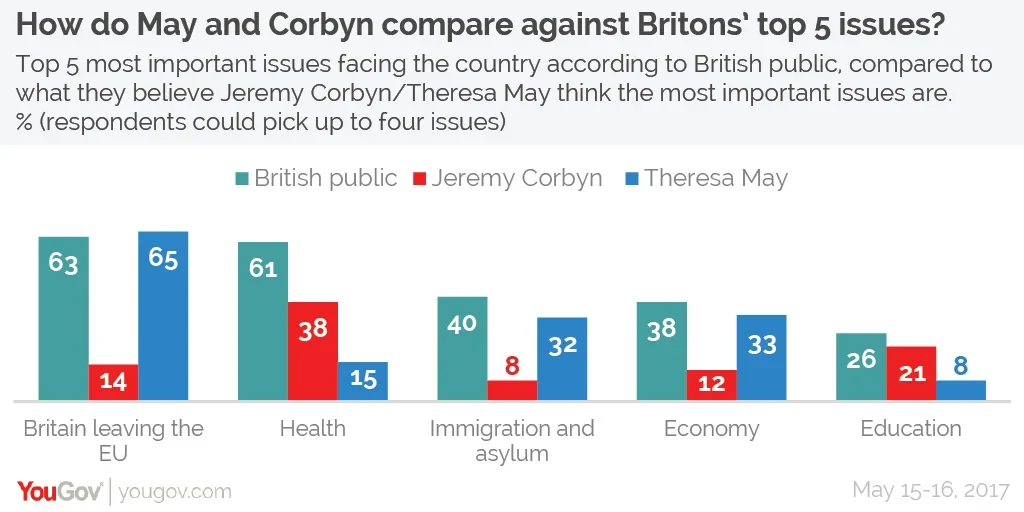 Labour supporters care most about the health service and Tory supporters care most about Brexit, so at first glance it looks as if the two leaders are well aligned with their voters. But it's not so: Labour and Conservative voters put nearly equal emphasis on both issues so both leaders are out of touch.
None of this shakes the near-certainty of a Tory victory on June 8, but this disconnect could start to matter afterwards. If Brexit fails to deliver a stronger economy with better public services, the Tories will have five years to flounder with their big majority.
And what will happen to Labour? Most commentators treat the election as a one horse-race where all that matters is who will win, and dismiss Corbyn as a laughable loser.
But we know that important sections of the electorate really like him, and feel he speaks for them. One of these groups is the young — Corbyn leads easily among the under-25s not just on policy but on "best prime minister". If the election were held only among the under-fifties, Corbyn could beat May. And Labour policies are supported across the whole electorate. Capping rents, nationalisation and abolishing tuition fees are popular policies, as indeed are most of Corbyn's manifesto pledges.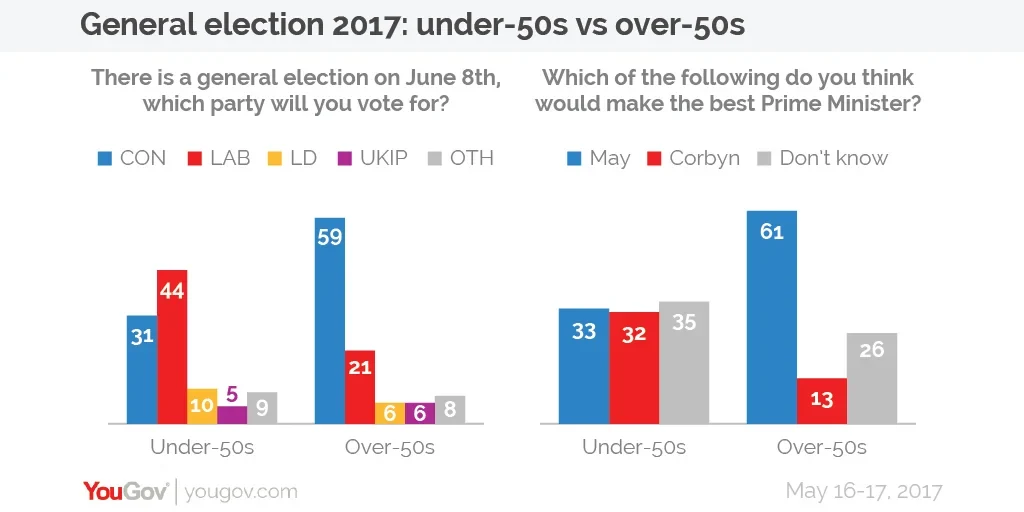 Scorning Corbyn and his supporters could be perilous, because voter groups who feel marginalised have shown themselves capable of flexing their muscles and ending up on top. If Labour after this election ejects not only Corbyn but his mission, without a clear idea of embracing both the centre of politics and the frustrated margins, they could be even worse off. Party loyalties across the spectrum are weaker than ever, and there is no security for any of them.
Photo: PA
See the most important issues results here and the voting intention/best PM results here
This commentary originally appeared in the Evening Standard